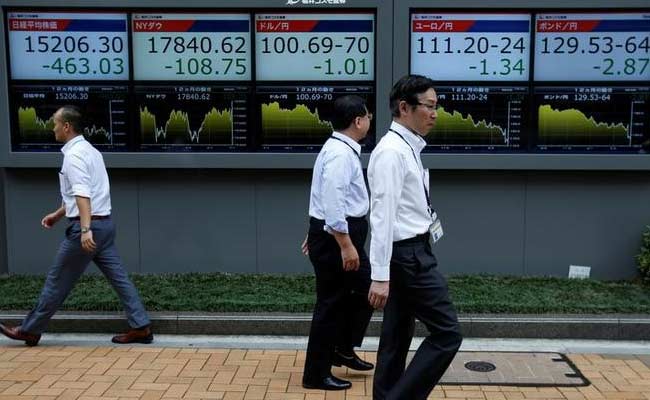 MSCI's broadest index of Asia-Pacific shares outside Japan tacked on 0.1%. Tokyo: Asian shares steadied in early trade on Monday after China agreed to return a US drone it had seized, easing worries about rising diplomatic tensions between the world's two biggest economic powers.
MSCI's broadest index of Asia-Pacific shares outside Japan tacked on 0.1 per cent after falling to its lowest level in three weeks on Friday. Japan's Nikkei dipped 0.2 per cent from one-year high.
Financial markets briefly turned "risk-off" in late US trade on Friday following news that a Chinese Navy warship had seized a US underwater drone in international waters in the South China Sea.
The Dow Jones industrial average ended down 0.04 per cent to 19,843.41 on Friday, while the S&P 500 lost 0.18 per cent to 2,258.07.
The furore appears to have been defused for now after the two countries said on Saturday China will return the drone.
"I think the markets' trend will continue. Share prices will edge higher and so will bond yields. The dollar will remain strong. One key question is whether the Dow Jones will hit the 20,000 mark," said Koichi Yoshikawa, executive director of financial markets at Standard Chartered Bank in Tokyo.
Expectations that US President-elect Donald Trump will boost fiscal spending, growth and inflation have prompted investors to bet on a faster pace of US rate hikes, boosting US bond yields sharply.
The 10-year US Treasuries yield stood at 2.579 per cent in Asia on Monday, near its two-year high of 2.641 per cent touched on Thursday.
As higher US yields shore up the dollar, the dollar's index against a trade-weighted basket of six major currencies jumped to a 14-year high of 103.56 last week.
It last stood at 102.71.
The euro traded at $1.0451, bouncing back from last week's low of $1.03665, its weakest since January 2003.
The dollar traded at 117.80 yen, off Thursday's ten-and-a-half-month high of 118.66.
The Australian dollar dropped to a six-and-a-half-month low of $0.7267 on Friday and last stood at $0.7293, dragged by the dip in the price of copper and some other commodities.
London copper hit its lowest level in more than three weeks on Friday on rising inventories and signs of softer demand from China.
Oil prices held firm after Goldman Sachs boosted its price forecast for 2017 and producers showed signs of adhering to a global deal to reduce output.
Brent futures rose 0.2 per cent to $55.34 a barrel, while US West Texas Intermediate crude added 0.3 per cent to settle at $52.06 per barrel.
["source-ndtv"]

American and British spy agencies have tried to intercept data from passengers' mobile phones on commercial airlines including Air France, French media has reported, citing documents from US whistleblower Edward Snowden.
The French flag-carrier was an early target of the US National Security Agency and its British counterpart GCHQ as it was seen as a terrorist target and it carried out tests in 2007 on allowing the use of mobile phones on its aircraft.
"The use of mobile phones with Internet connections in the sky gave rise to the creation of specific programs at the NSA and GCHQ," said Le Monde, which has access to Snowden's archive in partnership with news website The Intercept.
While it is not normally possible to make phone calls on planes, some carriers allow passengers to connect to a cabin Wi-Fi, allowing them to use internet-based functions on their handsets.
In 2012, at least 27 airlines allowed passengers to use mobile phones on board, including British Airways, Aeroflot, Etihad, Cathay Pacific, Lufthansa and Singapore Airlines.
But Air France was "such a symbol of the surveillance of communications on board airlines that the British spy agency used a drawing of one of their planes to illustrate how the interception worked."
Asked about the British and American surveillance claims, Air France told Le Monde: "We are visibly not the only ones to have been targeted and we know absolutely nothing about these practices."
According to the report, internal documents from the two agencies describe the results of the "impressive" programs – codenamed "Thieving Magpie" and "Homing Pigeon" – which allowed data to be collected "almost in real time".
In order to spy on a telephone, all that was needed was that the aircraft be cruising at an altitude above 10,000 feet, the report said.
Secret aerial stations on the ground could intercept the signal as it transited through a satellite.
"The simple fact that the telephone was switched on was enough to give away its position, the interception could then be cross-referenced with the list of known passengers on the flight, the flight number, and the airline code to determine the name of the smartphone user," the report said.
The mobile phone's function could also be disrupted, it said, forcing the user to input their access codes and thereby allowing the British spy agency to intercept the information.
Snowden, a former National Security Agency contractor, leaked thousands of classified documents to the press in 2013 which revealed the vast scope of US surveillance of private data that was put in place after the 9/11 attacks.
After fleeing his home in Hawaii, he now lives in exile in Russia where he has sought asylum.
Should he ever return to the United States, Snowden would be tried for espionage and other charges carrying up to 30 years in prison.
["source-ndtv"]
The US Supreme Court on Tuesday sided with Samsung in its big-money smartphone patent fight with Apple, throwing out an appeals court ruling that the South Korean company had to pay a $399 million penalty to its American rival for copying key iPhone designs.
The 8-0 ruling, written by Justice Sonia Sotomayor, held that a patent violator does not always have to fork over its entire profits from the sales of products using stolen designs, if the designs covered only certain components and not the whole thing.
The justices sent the case back to the US Court of Appeals for the Federal Circuit in Washington to determine how much Samsung must pay. But they did not provide a road map to juries and lower courts on how to navigate similar disputes in the future.
Apple spokesman Josh Rosenstock said in a statement that the US company remained "optimistic that the lower courts will again send a powerful signal that stealing isn't right."
Samsung told Reuters in a statement the ruling was a "victory for Samsung and for all those who promote creativity, innovation and fair competition in the marketplace."Following a 2012 jury verdict favouring Apple, Samsung initially was hit with nearly $930 million in penalties, later cut by $382 million, for infringing Apple's iPhone patents and mimicking its distinctive appearance in making the Galaxy and other competing devices.
Samsung in December 2015 paid its Cupertino, California-based rival $548 million. But Samsung took the matter to the Supreme Court, saying it should not have had to make $399 million of that payout for copying the patented designs of the iPhone's rounded-corner front face, bezel and colourful grid of icons that represent programs and applications.
With the products that used iPhone designs, Samsung went on to become the world's top smartphone maker.
Tuesday's ruling followed a ferocious legal battle between the world's top two smartphone manufacturers that began in 2011 when Apple sued Samsung for patent and trademark infringement. It was one of the most closely watched patent cases to come before the top US court in recent years.
The legal dispute centred on whether the term "article of manufacture," on which design patent damages are calculated in US patent law, should be interpreted as a finished product in its entirety, or merely a component in a complex product.
In court papers, Samsung, Apple and the US government all agreed that the term could mean a component.
But Apple urged the Supreme Court to affirm the appeals court's ruling because Samsung presented no evidence that the article of manufacture in this case was anything less than its entire smartphone as sold. Samsung, meanwhile, said that it did not have to present such evidence.
Sotomayor, writing for the unanimous court, said that the law is clear. The term "article of manufacture is broad enough to encompass both a product sold to a consumer as well as a component of that product," she wrote.
Period of uncertainty
The justices nevertheless refused to devise a test for juries and lower courts to use to discern what a relevant article of manufacture is in a particular case, a task that could be fraught with difficulty when considering high-tech products.
"No doubt whether with Apple-Samsung, or some other design patent case, we are going to have a period of uncertainty where courts will be trying to formulate a test and what the boundaries are," Richard McKenna, an expert in design rights at the law firm Foley & Lardner in Milwaukee, said in an interview.
In court papers, Apple said its iPhone's success was tied to innovative designs, which other manufacturers quickly adopted in their own products. Samsung, in particular, made a deliberate decision to copy the iPhone's look and many user interface features, Apple said.
Samsung argued that it should not have had to turn over all its profits, saying that design elements contributed only marginally to a complex product with thousands of patented features.
Design patent fights very rarely reach the Supreme Court. It had not heard such a case in more than 120 years.
The case is Samsung Electronics Co, Ltd v. Apple Inc, in the Supreme Court of the United States, No. 15-777.
 
["source-ndtv"]

Samsung's new budget Galaxy J1 Mini Prime smartphone is now available online in the US. Priced at $89.99 (approximately Rs. 6,000) for the unlocked variant, the handset is up for grabs via Amazon.com. It's worth noting that Samsung, at the time of writing, has not officially announced the handset or listed it on the company website.
The Samsung Galaxy J1 Mini Prime is also available via eBay at a different price of $86.99 (approximately Rs. 5,900). The new Galaxy J1 Mini Prime looks like the Samsung Galaxy J1 (2016) which was launched earlier this year.
For specifications, Samsung Galaxy J1 Mini Prime features a 4-inch WVGA (480×800 pixels) display and offers a pixel density of 233ppi. It is powered by a quad-core Spreadtrum SC9830 processor clocked at 1.2GHz clubbed with 1GB of RAM. There is 8GB of inbuilt storage and the handset supports expandable storage via microSD card (up to 256GB).
The Android 6.0 Marshmallow-based Galaxy J1 Mini Prime supports dual-SIM cards (both Micro-SIMs). It sports a 5-megapixel autofocus rear camera with LED flash and also houses a 0.3-megapixel front camera. The handset measures 126.6×63.1×10.8mm and weighs 123 grams. It supports GPRS/ EDGE, 3G, Wi-Fi 802.11 b/g/n, Bluetooth 4.1, GPS, and Micro-USB connectivity options. Unfortunately, the handset doesn't support 4G.
It is backed by a 1500mAh removable battery. The Galaxy J1 Mini Prime will be available in Black, Gold, and White colours.
 
["source-ndtv"]
The 45th President-elect of the United States, Donald Trump, is said to have spoken to Apple CEO Tim Cook about manufacturing the company's products in the US.
In an interview with the New York Times, Trump recounted a recent phone call with the Apple CEO where he said, "Tim, you know one of the things that will be a real achievement for me is when I get Apple to build a big plant in the United States, or many big plants in the United States, where instead of going to China, and going to Vietnam, and going to the places that you go to, you're making your product right here".
Bringing manufacturing back to the United States was one of the promises of Donald Trump's presidential campaign. But as The Verge reports, convincing American companies to manufacture in the US isn't going to be easy. Relatively cheaper labour isn't the only reason a majority of electronics are manufactured in China. A product like the iPhone is made out of many separate components, which are also made in China. To get all those parts exported to the United States only to assemble there will reportedly more than double the manufacturing cost.
Currently, it is estimated that it costs Apple $224.80 (roughly Rs. 15,300) to manufacture one iPhone 7, which ultimately retails for $649 (roughly Rs. 44,240) in the US.
Although Apple didn't confirm the conversation between Cook and Trump, just last week there were reports of the Cupertino company considering manufacturing iPhones in the US. Also, Trump is said to do his bit in offering "a large large tax cut for corporations" and removal of regulations, among other things to ease setting up manufacturing in the United States again.
Apple has tried manufacturing low-volume products locally like the Mac Pro in 2013. Other electronics makers like Motorola also tried manufacturing their Android smartphones in the US around that time, only to shut it down a year later after being acquired by Chinese giant Lenovo.
["source-ndtv"]
The government wants smartphone makers to lock out most apps when the phone is being used by someone driving a car.
The voluntary guidelines unveiled Wednesday are designed to reduce crashes caused by drivers distracted by phones. The National Highway Traffic Safety Administration also wants automakers to make infotainment systems easy to pair with smartphones.
Drivers could still make calls but the phones and automaker systems would lock out the ability to enter text. Internet browsing, video not related to driving, text from books, and photos also would be locked out. Navigation systems would be permitted, but with guidelines on how to avoid driver distraction.
Fatal crashes caused by distracted drivers are on the rise, and that's contributing to a spike in traffic deaths during the past two years. The government says 3,477, or about 10 percent, of the more than 35,000 traffic fatalities last year involved distracted drivers. That's up 8.8 percent over 2014. Traffic deaths spiked 10.4 percent in the first six months of this year and rose 7.2 percent last year, after years of declines.
"With driver distraction one of the factors behind the rise of traffic fatalities, we are committed to working with the industry to ensure that mobile devices are designed to keep drivers' eyes where they belong -on the road," NHTSA Administrator Mark Rosekind said in a statement.
Automakers already are moving this direction, with many offering Apple CarPlay and Android Auto that pair smartphones to car touch screens and allow limited use of the phone apps. NHTSA wants phone makers to develop technology that can determine if someone is driving a car and then disable most of the apps. But at present, that technology doesn't exist. In its absence, the agency wants phones to have a "driver mode" that would be activated by the smartphone user.
General Motors, for instance, has the Apple and Android pairing system in about 40 models worldwide. Already, it prevents use of many phone functions that could cause distraction, spokesman Vijay Iyer said. The system, he said, won't let drivers type a text message, but it does allow text by voice. "The fundamental direction is to keep your hands on the wheel, eyes on the road and minimize distraction and offer up other means of interaction, primarily voice," he said.
NHTSA will take public comment for 60 days before deciding whether to put the guidelines in place. Unlike a federal government rule, auto and cellphone makers don't have to obey the guidelines.
["source-ndtv"]
Apple is reportedly studying possibilities of moving iPhone production from China to the US. A new report by Japanese publication Nikkei Asian Review, which has had an excellent track record with Apple leaks, claims that the Cupertino-based company has asked two of its major manufacturers – Foxconn and Pegatron – to explore plans to move manufacturing to the US.
Apple's move to studying the ideas to change its manufacturing base to the US is inspired by President-elect Donald Trump's previous pledge where he claimed that America-based companies will be pushed to manufacture at home instead of other countries.
In its report, Nikkei Asian Review cites a person familiar with the matter as saying, "Apple asked both Foxconn and Pegatron, the two iPhone assemblers, in June to look into making iPhones in the US. Foxconn complied, while Pegatron declined to formulate such a plan due to cost concerns."
On manufacturing the iPhones in the US, Apple's CEO Tim Cook had previously told CBS' 60 Minutes program that "America simply did not have enough skilled workers for the production of iPhones." Several Apple devices sport the 'designed in California' tag at the rear though the products are mostly made in China.
Nikkei also quotes an industry executive familiar with the iPhone production process who also claimed that it would be difficult to produce the iPhones in large quantities in the US.
"To make iPhones, there will need to be a cluster of suppliers in the same place, which the US does not have at the moment. Even if Trump imposes a 45 percent tariff, it is still possible that manufacturers will decide to continue production overseas as long as the costs together with the tariffs are lower than the amount they need to spend on building and running production lines in the US," executive told Nikkei.
Another industry source told Nikkei, "It is not easy to make iPhones in America, unless the US government subsidises local companies for producing domestically."
Some of the third-party suppliers that are major suppliers for Apple's iPhones include TSMC (Taiwan Semiconductor Manufacturing Co) which supplies chips for iPhones; Japan Display and Sharp supplies panels for iPhones, and SK Hynix and Toshiba supply memory chips for iPhones.
Out of several suppliers, Sharp has been one of the companies that is ready to move manufacturing to the US while TSMC has been "clear that it would be much more expensive to make chips outside of Taiwan," according to Nikkei.
At this moment, it isn't clear whether Apple has made its mind to start manufacturing in the US though if this turns out to be true then we might see increase in iPhone prices in future.
["source-ndtv"]
Ever since OnePlus unveiled an upgraded version of its 2016 flagship smartphone, the OnePlus 3T, there has been a lot of speculations that the company may discontinue the sales of the OnePlus 3 – especially since it was listed as out of stock in several regions including the US and Europe. While the company's support handle earlier this week reassured users that the OnePlus 3 will not be discontinued, and the stock would be replenished, a new report citing company officials claims that the smartphone has in fact been discontinued for the US and Europe.
Android Authority claims to have confirmation from OnePlus stating that the OnePlus 3 will be discontinued in the US and Europe, where it would sell the OnePlus 3T instead.
We reached out to OnePlus to confirm whether this was the case with India as well. The company in an emailed statement said, "We will continue to sell the OnePlus 3 in India." On being asked whether the company intends to launch the upgraded OnePlus 3T in India, the company responded, "About OnePlus 3T, we will keep you posted on its availability."
While the new OnePlus 3T looks identical to the original OnePlus 3 though there are plenty of upgrades under the hood. The new variant packs an all-new Snapdragon processor SoC, a bumped front-facing camera, a new 128GB storage model, and even a new colour variant. The OnePlus 3T smartphone despite featuring upgrades has been given a modest price hike. It will go on sale starting November 22 in the US, November 26 in Europe, and November 28 in the UK.
Coming to pricing, OnePlus 3T 64GB will be available at $439 (roughly Rs. 29,800), while the 128GB model will come at $479 (roughly Rs. 32,500). To recall, the OnePlus 3 was launched at $399 (priced at Rs. 27,999 in India) for the 64GB model.
Considering that the OnePlus 3 is just merely five months old in the market and it has already received an upgrade in the form of OnePlus 3T, it will be interesting to see how the company sells both the phones in various markets.
["source-ndtv"]
A federal judge on Thursday directed Amazon.com Inc to set up a year-long process to reimburse parents whose children made in-app purchases without permission, but rejected a US regulator's request for a $26.5 million lump-sum payout.
US District Judge John Coughenour, in Amazon's hometown of Seattle, issued his order more than six months after finding the online retailer liable, in a case brought by the Federal Trade Commission.
The FTC in July 2014 accused Amazon of making it too easy for children to run up bills while playing games such as "Pet Shop Story" and "Ice Age Village" on mobile devices, resulting in an estimated $86 million (roughly Rs. 578 crores) of unauthorized charges.
Thursday's order calls for Amazon to set up a notice-and-claims process beginning in early 2017 to alert parents of their eligibility for refunds, and then to reimburse them.
Coughenour said this approach "removes the uncertainty of the proper lump sum amount that the parties have vigorously disputed. Moreover, it accomplishes the goals of placing liability on Amazon and refunding eligible customers."
Coughenour called the FTC's $26.5 million (roughly Rs. 178 crores) damages request "too high," agreeing with Amazon that it might have taken into account failed password attempts unrelated to unauthorized purchases by children.
But the judge rejected Amazon's request to issue refunds in the form of gift cards, saying the company would "undoubtedly recapture some of the profits that are at issue."
Neither Amazon nor the FTC immediately responded to requests for comment.
The FTC in 2014 settled similar cases against Apple Inc and Google Inc, now part of Alphabet Inc , with Apple agreeing to refund at least $32.5 million and Google at least $19 million.
All three companies have improved their password and other controls to help thwart unauthorized charges.
["source-ndtv"]
Samsung took out advertisements Monday in major US newspapers to apologize for the Galaxy Note 7 scandal in which fire-prone batteries forced a global recall of the popular smartphones.
The full-page ads in the Wall Street Journal, New York Times and Washington Post admitted the company "fell short" on its promise of delivering "breakthrough technologies that enrich people's lives."
"For this we are truly sorry," the company said.
It promised a full and open investigation into the Galaxy debacle.
The huge South Korean manufacturer was forced to recall some 2.5 million of the flagship Galaxy Note 7s following complaints that its lithium-ion battery exploded while charging – and at other times. The company also had to recall the first replacements it sent out to consumers after they proved just as dangerous.
"We will re-examine every aspect of the device, including hardware, software, manufacturing and the overall battery structure. We will move as quickly as possible, but will take the time needed to get the right answers."
The ads also noted the recall that Samsung announced last week for nearly three million clothes washers to fix the tops, which could become loose and fly off while the machine is running.
"Safety remains our top priority," the company said.
The smartphone problem resulted in a 30 percent plunge in Samsung's third quarter profits and appeared to boost phone sales for rival Apple.
 
["source-ndtv"]