Ahead of the CES 2017 trade show in Las Vegas, LG has launched four new K-series smartphones, and the new Stylus 3. The South Korean company says that the new 2017 variants of the LG K3, K4, K8, K10 smartphones, and the Stylus 3 will strengthen its portfolio in the mid-range segment. All the new LG smartphones will be showcased at the CES 2017 event.
LG says that the 2017 K-series mid-range smartphones sport features such as a 120-degree wide-angle front camera lens and rear fingerprint scanner. The company adds that the new 2017 K-series smartphones have been designed with the "the diverse needs of consumers in mind." LG has confirmed that the market availability will be announced locally in the weeks to come.
For specifications, the LG K3 (2017) features a 4.5-inch FWVGA (480×854 pixels) IPS display and sport a 1.1GHz quad-core Qualcomm Snapdragon 210 MSM8909 processor coupled with 1GB of RAM, and 8GB of inbuilt storage with expandable storage support up to 32GB via microSD card. The Android 6.0 Marshmallow-based LG K3 sports a 5-megapixel rear camera with LED flash and also houses a 2-megapixel front-facing camera. It measures 133.9×69.7×9.4mm and weighs 132 grams. Connectivity options include 4G LTE, 3G, GPRS/ EDGE, Wi-Fi 802.11 b/g/n, Bluetooth 4.1, GPS, and Micro-USB. LG K3 (2017) is backed by a 2100mAh removable battery and will be available in Metallic Titan as well as Pink Gold colours.
The LG K4 (2017) features a 5-inch FWVGA (480×854 pixels) display with a pixel density of 196ppi. It is powered by the same processor as the LG K3. The LG K4 packs 1GB of LPDDR3 RAM and comes with 8GB inbuilt storage with expandable storage support via microSD card (up to 32GB). It sports 5-megapixel front and rear cameras. LG K4 (2017) packs a 2500mAh removable battery and runs on Android 6.0.1 Marshmallow. It measures 144.7×72.6×7.9mm and weighs 135 grams. Connectivity options on the handset include 4G LTE, 3G, GPRS/ EDGE, Wi-Fi 802.11 b, g, n, Bluetooth 4.1, and Micro-USB. The LG K4 will be available in Titan and Black colours.
The LG K8 (2017) features a 5-inch HD (720×1280 pixels) display with a pixel density of 294ppi. It is powered by a 1.4GHz quad-core Qualcomm Snapdragon 425 MSM8917 processor coupled with 1.5GB of LPDDR3 RAM. LG K8 (2017) includes 16GB inbuilt storage and supports expandable storage via microSD card (up to 32GB). The handset sports a 13-megapixel rear camera and a 5-megapixel front camera. It is backed by a 2500mAh removable battery. The LG K8 runs Android 7.0 Nougat out-of-the-box. Connectivity options include 4G LTE, 3G, GPRS/ EDGE, Wi-Fi 802.11 b, g, n, Bluetooth 4.2, Micro-USB, and NFC. It measures 144.8×72.1×8.09mm and weighs 142 grams. It will be available in Silver, Titan, Dark Blue, and Gold colours.

The LG K10 (2017) (seen above) features a 5.3-inch HD (720×1280 pixels) display with a pixel density of 277ppi. The handset is powered by an octa-core MediaTek MT6750 processor clocked at 1.5GHz. It comes with 2GB of LPDDR3 RAM and the handset will be available in two storage options – 16GB and 32GB inbuilt. The LG K10 supports expandable storage via microSD card (up to 2TB). It sports a 13-megapixel rear camera and a 5-megapixel front camera. It is backed by a 2800mAh removable battery. The Android 7.0 Nougat-based K10 supports 4G LTE, GPRS/ EDGE, and 3G connectivity options. It measures 148.7×75.3×7.9mm and weighs 142 grams. It will be available in Black, Titan, and Gold colours.
Lastly, the LG Stylus 3 features a 5.7-inch HD (720×1280 pixels) display with a pixel density of 258ppi. It is powered by the same processor that powers the LG K10. It packs a 3GB of LPDDR3 RAM and comes with 16GB inbuilt storage. The handset supports expandable storage via microSD card (up to 2TB). It sports a 13-megapixel rear camera and an 8-megapixel front camera. The handset is backed by a 3200mAh removable battery and it runs on Android 7.0 Nougat. As the name suggests, the LG Stylus 3 (seen below) supports stylus pen and comes with 4G LTE connectivity feature.
Commenting on the launches, Juno Cho, president of the LG Electronics Mobile Communications Company said, "Our 2017 mass-tier, mid-range smartphones focus on giving our customers a wide variety of options and choices for their smartphone lifestyles. What's consistent in all our K Series and Stylus 3 devices is that they look and feel premium, offer replaceable batteries and all come with expandable memory slots, what customers consider key factors when buying smartphones in this category."
 
["source-ndtv"]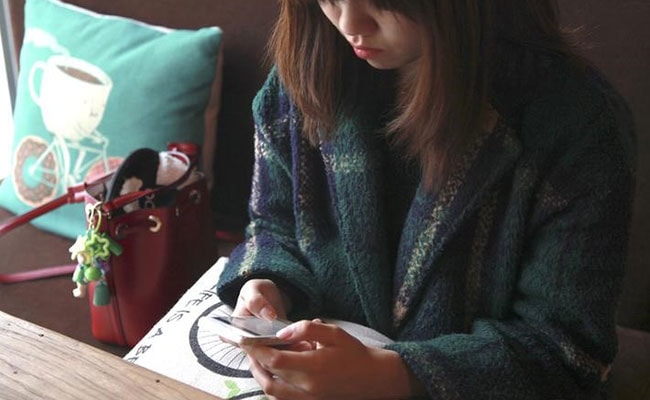 Shanghai: Ma Yiqing, 24, is typical of China's younger generation – he uses his credit card frequently and borrows from online platforms to fund his shopping habits. In a pinch, he is happy to fall back on a lender closer to home – his mum and dad.
Interviews with Ma, a single-child, his mother and grandmother, show how rapidly attitudes towards credit are changing as the millennials generation – roughly those aged between 18 and 35 – embraces debt like never before.
The frugal attitude of previous generations produced the bedrock of China's credit worthiness – household savings equal to some 50 per cent of GDP, one of the highest levels globally.
china ant check user 650 400 2
A user shows her phone operating Ant Check, an Alibaba-linked platform, at a cafe in Beijing
Ma and his cohorts are changing that equation. Their willingness to borrow has driven up household lending – the fastest growing area of China's debt. They are among the most indebted of their peers in Asia, taking on debt 18.5 times their income, significantly higher than their parents' generation, a report from insurer Manulife shows.
While their spending and borrowing is an opportunity for lenders, brands and economic growth, it is also a risk as they add to China's fast-growing debt.
Right now, Ma has a safety net – well-heeled and doting parents who can pick up the tab. He lives in a one-bed flat in Lhasa, the capital of China's Tibet region. His parents are in nearby Shannan.
"I'll generally turn to mum and dad. They've always been able to help me financially," said Ma. In May, he asked his parents for financial support to open a restaurant. "I just need to ask and they'll give me (money)."
Clear gap
Parents paying off the credit card bills of their millennial children are not unusual in China, but it could have ramifications, said Rui Yao, an associate professor in personal finance at the University of Missouri.
"They don't see the consequences of not paying. The thinking is 'my mom has it covered'," she said. "They're not prepared for an economic downturn for sure."
The next generations may not be so lucky either. They will have to support longer-living parents and potentially more children as China relaxes its one-child policy. China's ageing population is already shrinking, which means greater financial pressure on those working to support those who are not.
Ma says he is more frugal than his friends. He uses his bank card and Ant Check Later, a popular online lending platform owned by tech giant Alibaba Group Holding Ltd.
This is a far cry from his parents' generation. Ma's mother, who is 49, only started using a credit card three years ago.
"They couldn't spend on overdraft, so they really didn't squander any money," he said.
The gap is clear: consumer credit is up nearly 300 per cent over the last six years alone, hitting around 23.5 trillion yuan ($3.41 trillion) in October.
This is set to more than double over the next five years to nearly 53 trillion yuan, according to consultancy Mintel.
While mortgages are the lion's share of household debt, credit card and consumer loans have shot up from just 4.6 per cent of household debt in 2015 to 16 per cent now, BMI Research shows.
"The young generation today has a totally different attitude to my generation," said Ma's grandmother, Wei Chunyin, 76. She grew up in the 1960s and said she was in debt just once – for 100 yuan, the equivalent today of $14.50.
"We were very economical and hardworking," she said. "Clothing was just to wear, and we wouldn't even really eat snacks, just food from our unit," she said, referring to her workplace.
Growing force
Ma's generation is the first in China's modern history to be raised in relative prosperity and social stability.
They are better educated and already more affluent than their elders. Boston Consulting Group and AliResearch said they are expected to drive 65 per cent of consumption growth until 2020, when they will make up around 53 per cent of total consumption spending, up from 45 per cent now.
"Understanding their mindset is critical and anybody ignores them at their peril," Yum China Holdings Inc head Micky Pant said in an interview.
Their potential has not been lost on the banks, with some specifically targeting them for loans.
"Internally our appraisals are skewed towards the young consumer groups. For example, front-line sales staff get a bonus 1.3 times the normal level if they sign a young customer," said a banker in the credit card department of China Merchants Bank, a leading credit card provider.
"So everyone is out looking for youngster to sign up." Asked about the strategy, CMB said it has many credit card products that are welcomed by young people.
Bankers said lenders often know millennials have doting parents to fall back on in a pinch.
"Taking a darker read on it, the parents of the post-90s generation – who were born in the 60s or 70s – haven't yet retired, and are financially pretty secure," said a debt collector in the credit card department of a listed city bank.
Like other parents in China, Ma's mother and father, a nurse and government officer at the local Meteorological Administration respectively, are resigned to supporting their son financially for now – even if he defaults.
Ma's mother, Zhen Yinchun, said that when she was young she saved around one-third of her income because there was little to spend it on, in contrast to her son. It is a running joke in the family whether Ma will return any money he has borrowed, she said.
"I'll say it's a loan and he'll agree. But up to now he's never paid anything back," she said.
["source-ndtv"]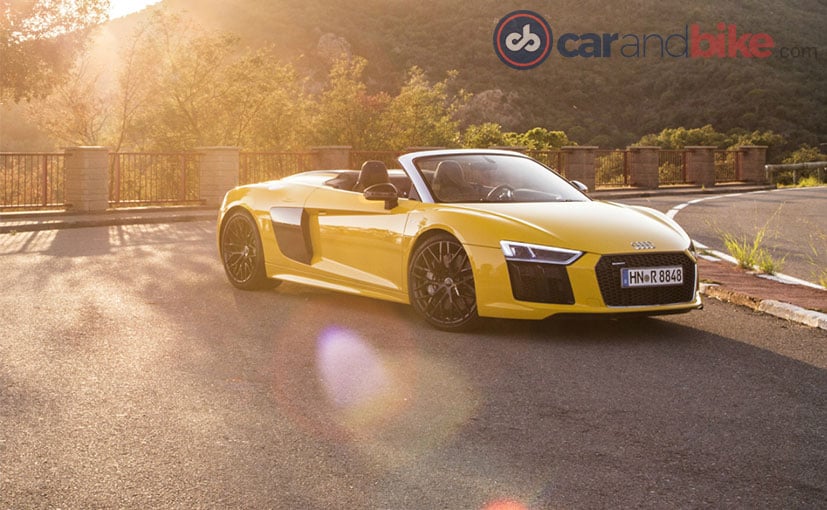 It is the latest mean machine from the four-ringed Bavarian stable, and is set to excite and exhilarate. The new generation Audi R8 Spyder is the topless or convertible avatar of the second generation of the flagship sports car, which launched last year. The coupe though is the V10 Plus while the Spyder gets the 'regular' new V10 – the expectation is that bot versions will acquire the other's engine soon enough in 2017. But let us stick to the car in focus shall we? I am in surprisingly cloudy Spain to drive and test the new car. The new R8 Spyder is – as Audi claims – faster, lighter, and more dynamic. And by its own admission while that sounds like an Olympic theme song, it is a claim I intend to test.
We picked up the cars at the Barcelona airport and immediately headed out into the countryside. The destination was northeast along the coastline to Costa Brava – a picturesque and stunning part of the world with craggy cliffs and a spectacular Mediterranean shoreline. Oh and more important for our pursuit – some wonderfully twisty and winding roads, replete with elevation changes and sharp blind corners.
A great setting to test a car like this. For me – yes – as I genuinely believe the true test of a car like this is indeed on the open road and not merely on a track. The fact that it's a convertible just adds to that. Within seconds you realise that the car is brilliantly engineered, lithe and very agile. It is also German lets not forget, which makes it wild yet willing, mind-blowing yet measured, powerful yet precise. And that in a nutshell tells you that Audi has definitely gone the extra mile to indeed make the new Spyder a lot more capable and indeed efficient.
The company says that this isn't simply the R8 with its roof chopped off. Instead the Spyder was developed alongside the R8 LMS race car. 50 per cent of the components are shared with that car – and it uses the same drivetrain. That is the 532 bhp V10 that belts out 540 Nm of peak torque. The naturally aspirated engine uses a dual injection system. So it essentially has both the FSI and MPI technologies on board. The system injects fuel directly in to the combustion chamber or has an indirect injection into the induction pipe.
Audi says this helps increase efficiency and offer better performance too. The car goes from 0-100 kmph in 3.6 seconds and does twice that in 11.8 seconds. Top speed is 318 kmph. Further fuel saving is achieved by using both an engine start stop function and also cylinder deactivation – which sees one bank of cylinders switch off when there is less load on the engine.  At speeds above 55kmph – when you lift your foot off the accelerator, the S-Tronic opens both clutches, so the car casts at idle – minimizing fuel consumption too. Overall Audi says the new Spyder is therefore 12 per cent more fuel efficient than its predecessor.
The Audi R8 Spyder gets the S-tronic transmission
The car also now gets the cooler motorsport inspired steering wheel like the new R8 coupe; and the TT RS. So you have the engine start button in red on the wheel, as well as the Drive Select button, and a sport exhaust activation button for that added roar. But along with them is an all-new Performance mode dial. While it limits the electronics that bridle the car, it also offers three modes for varying surface conditions – Snow, Wet and Dry. Needless to say I stuck to dry, but the car gets a bit of a mad character when you put it in Dynamic and switch on the Performance mode. You are suddenly very aware of the over 500 horses that will do you bidding, as well as the quick gearbox that snaps at your command at the flick of a paddle shifter.
Also See: Audi R8 V10 Spyder Image Gallery
Add to that the sport exhaust and boy was I in 7th heaven! The car roars, pops and crackles its way down the mountain roads, taking each sharp bend with precision and yet allowing the satisfaction of a little slippage. The steering is a delight – sharp, appropriately stiff and very responsive. Just thinking about the alacrity of the car and my deliriously fun drive up and down the winding Costa Brava roads is getting me as excited again. Am I gushing? No – that is not the intention, and I assure you I am not getting carried away. But that is where the R8 Spyder delivers. It's the right measure of mad and measured really – handles brilliantly and is just oodles of fun.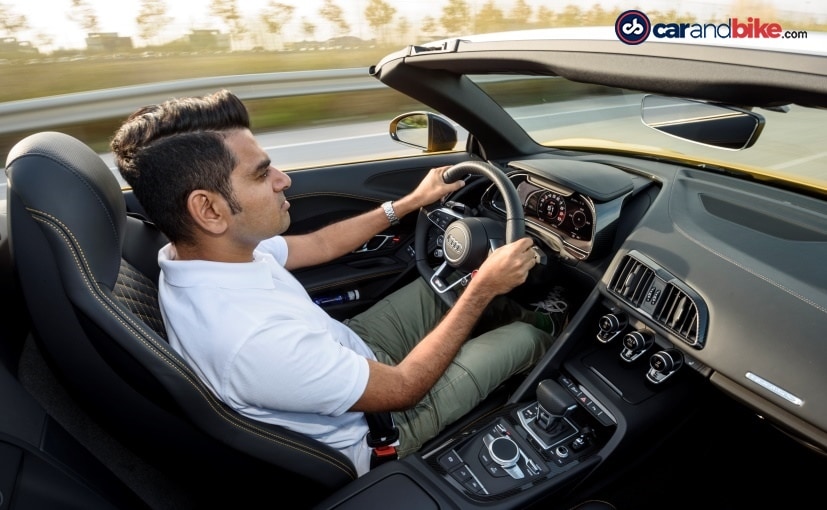 The Audi R8 Spyder Handles Brilliantly
Its body structure is made u of significantly more carbon fibre, magnesium and of course aluminium. While all that reduces the weight, it also offers exceptional rigidity and stiffness. All while giving you tremendous composure too. Just the chassis alone is only 8 kgs heavier than the coupe's. The Spyder needs reinforcement in the A-pillar as also a roof system that can do the job well. This all means overall the car gets to be 80 kgs heavier than its roofed sibling. But that is still a remarkably small gap I have to say. That's again thanks to plenty of magnesium and aluminium in that roof system – that brings its weight down by 44 kgs.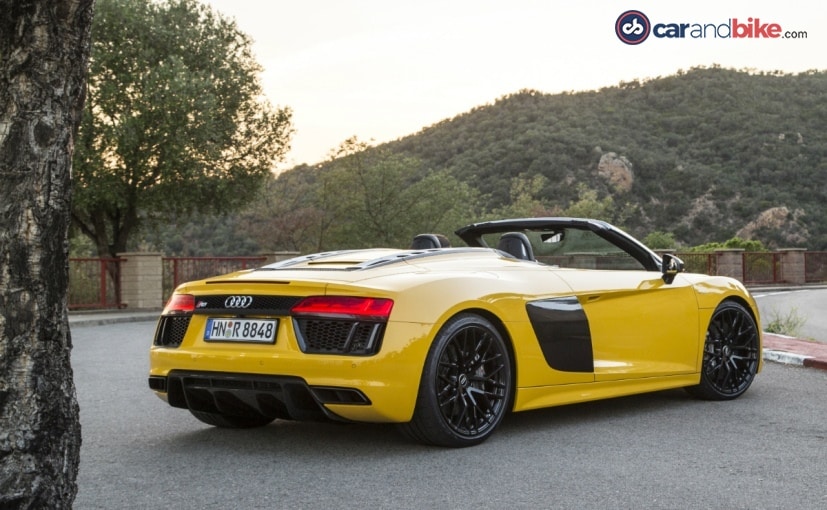 Audi R8 Spyder Side
The system can fold the canvas top up or down in 20 seconds, can be operated at speeds of up to 50 kmph and what's more throws in a very convenient and thoughtful new attribute. The car's roof can be folded up or down with the key fob now. So you don't have to be seated inside with the ignition turned on anymore. At a cafe and it starts to drizzle? Not to worry as long as the car isn't too far from you just double-click and hold down the lock button and the roof will close. The opposite also works just as well by holding down the unlock button.
The car looks pretty solid – with its muscular frame and flanks accentuating its performance credentials. While the design takes off from the last generation's it offers its own unique style – especially at the rear. The use of LED lighting also gives t a sharper face and butt. While the car comes with standard 19-inch alloys, my test car has the optional 20-inch 10 spoke wheels finished in gloss anthracite black. Rather yummy though contrasting a bit much with the brushed metal finish given to the A-pillar and windscreen frame. The test cars on offer were in 4 paint shades, I picked the Vegas Yellow! And boy did it turn heads everywhere I drove.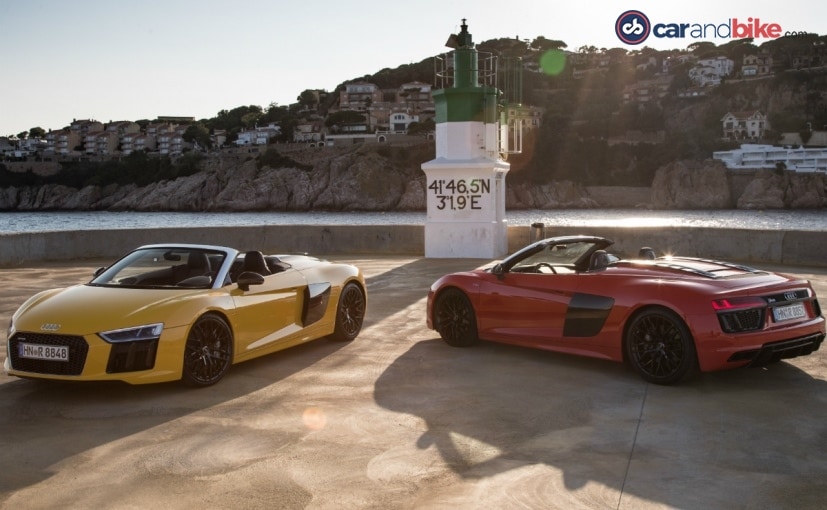 Audi R8 Spyder will be offered in 4 paint shades
I lost count of how many people took pictures of the car – even posing with it for selfies and such! The new sideblade – an almost defining character of the R8's design, incorporates a wider air intake and it can be customized in various finishes. It can also incorporate specially embossed lettering if the buyer so chooses. Inside the cabin the virtual cockpit is a given. That along with that new functional  steering wheel, paddles and well-contoured racing style seats – gives you quite the effective cockpit feel. Add to that the opulence of leather with stitching to match the exterior paintwork and you are in pampered performance nirvana!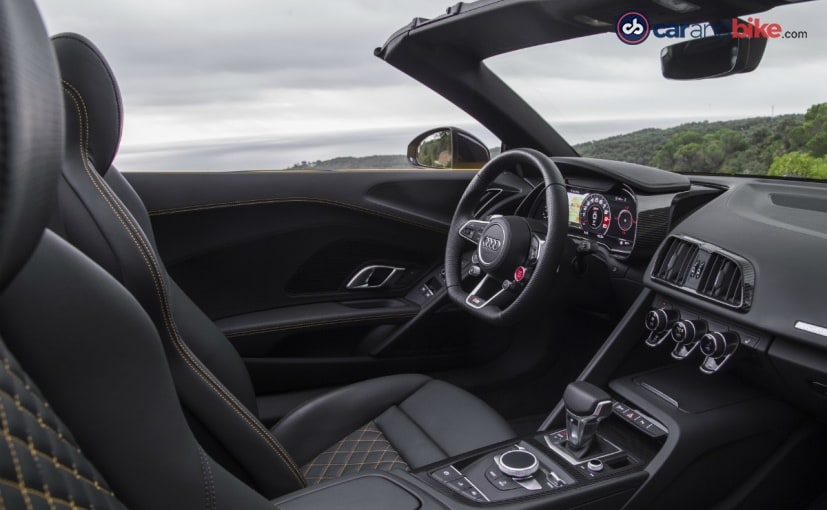 Audi R8 Spyder's cabin is similar to that of the coupe
The car also now has a new smartphone interface that incorporates Apple CarPlay and Android Auto. The optional (and expensive!) Bang & Olufsen sound system reeks opulence and drips with technology. 13 speakers in all with the subwoofer located at the bulkhead in the right front wheel well. The  woofers in the doors illuminated by LED accent lighting look funky in the dark. Two speakers are integrated into each of the headrests of both seats – and I have to say are very effective when the roof is open.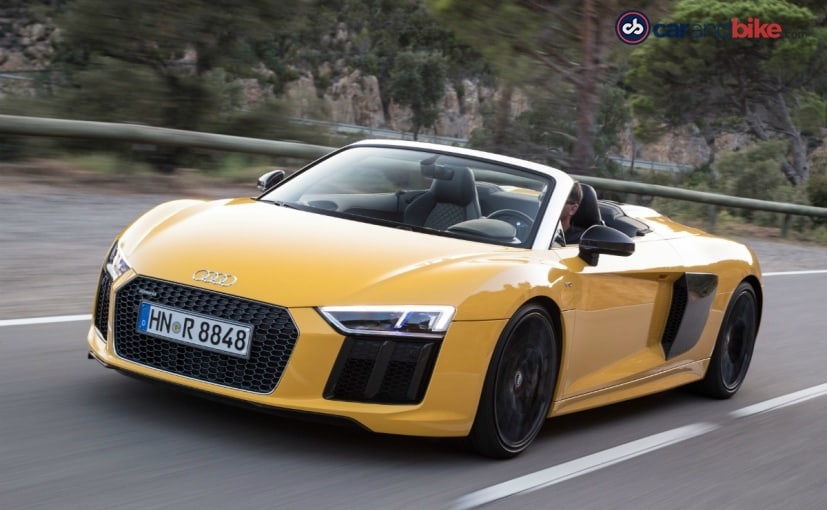 Audi R8 Spyder rolls out in Germany and the USA by the end of this year
Whew! The car rolls out by the year-end in Germany and the USA, while it arrives in other markets around the world in late spring. And yes that includes our market too. Do I need to get into the crores it would cost you to buy one? Nope. Details like that aren't what this car is about. I do consider myself lucky to have got the chance to get into one soon after its broken cover. The drive will stay with me for some time. The flashes of yellow, the screaming engine as I go through tunnels and entertain motorists I am overtaking, and the sheer pleasure of attacking the road with clinical precision, yet absolute abandon – ah now that is what I will dream of tonight, and perhaps tomorrow night, and the next night – well, you get the picture!
["source-ndtv"]
After many iCloud account holders started reporting of an influx of spam calendar invitations, Apple has now acknowledged the issue and responded to the same. The Cupertino giant has apologised for the spam invites, and has said that it is working to address the issue by blocking suspicious senders and spam.
Apple responded to iMore with an apology. "We are sorry that some of our users are receiving spam calendar invitations. We are actively working to address this issue by identifying and blocking suspicious senders and spam in the invites being sent," the statement read.
The spam invites have cropped up recently because macOS and iOS operating systems automatically scan the Inbox for calendar invites. These are then shown to users in the form of calendar invite prompts, and the email is deleted to avoid congestion. While it's a great feature for remembering events and reducing clutter in email, the increasing number of spam invites (blame it on the holiday season!) from brands and companies has made many users annoyed.
While it has confirmed that it will actively block these spam invites, it's impossible for Apple to weed out all unwanted notifications. You can stop these invites altogether by following these steps. Head to iCloud.com in Safari or any other Web browser. Log in using the credentials that you use on your iPhone. Click on Calendar > Settings icon > Preferences > Advanced > Invitations. Under Invitations tab set the option for 'Receive event notifications as' to 'Email to' rather than an 'In-app notification'.

Samsung's new budget Galaxy J1 Mini Prime smartphone is now available online in the US. Priced at $89.99 (approximately Rs. 6,000) for the unlocked variant, the handset is up for grabs via Amazon.com. It's worth noting that Samsung, at the time of writing, has not officially announced the handset or listed it on the company website.
The Samsung Galaxy J1 Mini Prime is also available via eBay at a different price of $86.99 (approximately Rs. 5,900). The new Galaxy J1 Mini Prime looks like the Samsung Galaxy J1 (2016) which was launched earlier this year.
For specifications, Samsung Galaxy J1 Mini Prime features a 4-inch WVGA (480×800 pixels) display and offers a pixel density of 233ppi. It is powered by a quad-core Spreadtrum SC9830 processor clocked at 1.2GHz clubbed with 1GB of RAM. There is 8GB of inbuilt storage and the handset supports expandable storage via microSD card (up to 256GB).
The Android 6.0 Marshmallow-based Galaxy J1 Mini Prime supports dual-SIM cards (both Micro-SIMs). It sports a 5-megapixel autofocus rear camera with LED flash and also houses a 0.3-megapixel front camera. The handset measures 126.6×63.1×10.8mm and weighs 123 grams. It supports GPRS/ EDGE, 3G, Wi-Fi 802.11 b/g/n, Bluetooth 4.1, GPS, and Micro-USB connectivity options. Unfortunately, the handset doesn't support 4G.
It is backed by a 1500mAh removable battery. The Galaxy J1 Mini Prime will be available in Black, Gold, and White colours.
 
["source-ndtv"]

Samsung Galaxy S8 may finally become the company's first smartphone to feature autofocus functionality on the front camera, a feature so far missing from even the flagship handsets of the South Korean titan. Samsung is planning to introduce autofocus functionality with the front camera on its upcoming flagship device, being dubbed Samsung Galaxy S8, instead of fixed-type, as per a report in South Korean media.
It has further been suggested that the smartphone will be using encoder technology instead of the existing voice coil motor mechanism for autofocus.
As per earlier leaks, Samsung Galaxy S8 will sport a pressure sensitive display, improved camera, an optical fingerprint sensor. The smartphone is tipped to come in two screen size variants – 5.7-inch and 6.2-inch. Rumours suggest that it will sport a bezel-less 4K (2160×3840 pixels) Super AMOLED display with high pixel density of 806ppi. The Samsung Galaxy S8 is further rumoured to be powered by company's own Exynos 8895 SoC coupled with 6GB of RAM. The recent leaks have suggested that Samsung will launch the alleged Galaxy S8 smartphone on the side-lines of MWC 2017 in Barcelona on February 26.
Needless to say, just like every other rumour, we will have to wait for an announcement by the company for any confirmation.
Photo Credit: Buzzfeed
Apart from this year's iPhone 7 and iPhone 7 Plus, all the previous generation iPhones were not officially water resistant. However, in an interesting turn of events, a 2010-released iPhone 4 reportedly managed to survive underwater for about a year and even turned on after being dried.
iPhone 4 owner Michael Guntrum went ice fishing in March 2015. His iPhone fell at the bottom of the Kyle Lake in Pennsylvania due to a minor slip up from his end. He told Buzzfeed, "We were having negative-25-degree weather, so me and two buddies went ice fishing. We were sitting in our portable shanty, and I got a bite on my rod. I laid the phone on my lap, and it slipped off. Instead of landing flat in the snow, it hit its edge and rolled into the hole. I caught the fish – it was a blue gill – but it wasn't worth it."
In September 2015, the Kyle Lake was drained due to structural deficiencies in the dam, and mechanical engineer Daniel Kalgren decided to take his metal detector and search for all things shiny in the empty lake. He chanced upon Guntrum's iPhone 4, and decided to wipe it and keep it in rice to see if it still works.Surely, after two days, the phone sprang back to life, albeit with signs of visible damage. The display of the iPhone 4 had suffered a lot, but it was still in working condition and usable. Kalgren managed to get in touch with Guntrum to tell him that his phone had been recovered alive from the depths of the lake.
This bizarre survival was attributed to the tough case made by OtterBox used by Guntrum on his iPhone, and is reported to be largely responsible from preventing the water from causing much damage. "I'm an Apple person, and this adds to the reasons why I only buy Apple devices. It's pretty impressive it still works," Kalgren told the publication.
It's one thing to have a device underperform its advertised abilities, but to withstand water pressure (not to mention the icy temperature) at the bottom of the lake? Goodwill points to Apple and OtterBox for that.
["source-ndtv"]

Sharp drops in smartphone sales for China's Xiaomi Inc will not have a major impact on the company as profit growth will be driven by sales from smart home devices as well as revenue from its software eco-system, a senior executive said.
Xiaomi was valued at $46 billion (roughly Rs. 3,14,938 crores) in its last fund-raising in 2014 – making it briefly the world's most valuable start-up at a time when it was China's best-selling smartphone maker and looked set to make a splash worldwide.
But last year it missed its global smartphone targets by 12 percent, while its third-quarter China smartphone sales have tumbled 45 percent, according to research firm IDC – raising doubts that the valuation is still warranted.
Xiaomi's global vice-president Hugo Barra said the company's business model was not based on money made from handset sales per se and that it did not need to raise more funds or see any point in doing so at a valuation of less than $46 billion.
"Basically we're giving [handsets] to you without making any money… we care about the recurring revenue streams over many years," he told Reuters in an interview.
"We could sell 10 billion smartphones and we wouldn't make a single dime in profits," he added.
Xiaomi, which discloses little of its profit and revenue figures, has increasingly emphasised its range of home appliances such as air and water purifiers, and rice cookers as key earnings drivers.
In April, Xiaomi Vice President Liu De said the firm expects sales of smart home devices to double to 10 billion yuan ($1.5 billion) this year.
The company has invested heavily in India and Southeast Asia and is making its first forays into the US market – launching next month its first device capable of roaming on the country's 4G networks.
Barra said they are first targeting Chinese users travelling in the US, but are laying the groundwork for direct sales to US consumers.
In January, Xiaomi will also make its debut at the Consumer Electronics Show in Las Vegas, launching a new product during the event, he said.
Xiaomi's tentative first steps in the US smartphone market come as cash-strapped rival LeEco faces a crippling shortage of funds, which were revealed in a public letter by CEO Jia Yueting months after the company launched its first flagship phones in the United States.
"There's no pressing need to do an IPO or even a private round," said Barra brushing off concerns that Xiaomi could face a similar funding shortage. "We are not a flash in someone's PR pan."
 
["source-ndtv"]
The 45th President-elect of the United States, Donald Trump, is said to have spoken to Apple CEO Tim Cook about manufacturing the company's products in the US.
In an interview with the New York Times, Trump recounted a recent phone call with the Apple CEO where he said, "Tim, you know one of the things that will be a real achievement for me is when I get Apple to build a big plant in the United States, or many big plants in the United States, where instead of going to China, and going to Vietnam, and going to the places that you go to, you're making your product right here".
Bringing manufacturing back to the United States was one of the promises of Donald Trump's presidential campaign. But as The Verge reports, convincing American companies to manufacture in the US isn't going to be easy. Relatively cheaper labour isn't the only reason a majority of electronics are manufactured in China. A product like the iPhone is made out of many separate components, which are also made in China. To get all those parts exported to the United States only to assemble there will reportedly more than double the manufacturing cost.
Currently, it is estimated that it costs Apple $224.80 (roughly Rs. 15,300) to manufacture one iPhone 7, which ultimately retails for $649 (roughly Rs. 44,240) in the US.
Although Apple didn't confirm the conversation between Cook and Trump, just last week there were reports of the Cupertino company considering manufacturing iPhones in the US. Also, Trump is said to do his bit in offering "a large large tax cut for corporations" and removal of regulations, among other things to ease setting up manufacturing in the United States again.
Apple has tried manufacturing low-volume products locally like the Mac Pro in 2013. Other electronics makers like Motorola also tried manufacturing their Android smartphones in the US around that time, only to shut it down a year later after being acquired by Chinese giant Lenovo.
["source-ndtv"]
Apple is reportedly studying possibilities of moving iPhone production from China to the US. A new report by Japanese publication Nikkei Asian Review, which has had an excellent track record with Apple leaks, claims that the Cupertino-based company has asked two of its major manufacturers – Foxconn and Pegatron – to explore plans to move manufacturing to the US.
Apple's move to studying the ideas to change its manufacturing base to the US is inspired by President-elect Donald Trump's previous pledge where he claimed that America-based companies will be pushed to manufacture at home instead of other countries.
In its report, Nikkei Asian Review cites a person familiar with the matter as saying, "Apple asked both Foxconn and Pegatron, the two iPhone assemblers, in June to look into making iPhones in the US. Foxconn complied, while Pegatron declined to formulate such a plan due to cost concerns."
On manufacturing the iPhones in the US, Apple's CEO Tim Cook had previously told CBS' 60 Minutes program that "America simply did not have enough skilled workers for the production of iPhones." Several Apple devices sport the 'designed in California' tag at the rear though the products are mostly made in China.
Nikkei also quotes an industry executive familiar with the iPhone production process who also claimed that it would be difficult to produce the iPhones in large quantities in the US.
"To make iPhones, there will need to be a cluster of suppliers in the same place, which the US does not have at the moment. Even if Trump imposes a 45 percent tariff, it is still possible that manufacturers will decide to continue production overseas as long as the costs together with the tariffs are lower than the amount they need to spend on building and running production lines in the US," executive told Nikkei.
Another industry source told Nikkei, "It is not easy to make iPhones in America, unless the US government subsidises local companies for producing domestically."
Some of the third-party suppliers that are major suppliers for Apple's iPhones include TSMC (Taiwan Semiconductor Manufacturing Co) which supplies chips for iPhones; Japan Display and Sharp supplies panels for iPhones, and SK Hynix and Toshiba supply memory chips for iPhones.
Out of several suppliers, Sharp has been one of the companies that is ready to move manufacturing to the US while TSMC has been "clear that it would be much more expensive to make chips outside of Taiwan," according to Nikkei.
At this moment, it isn't clear whether Apple has made its mind to start manufacturing in the US though if this turns out to be true then we might see increase in iPhone prices in future.
["source-ndtv"]