The hurricanes will be an economic blip beginning in the fourth quarter. Or they will devastate thousands of at-risk households and pack the potential to sweep consumption out to sea. Well, which is it? What if it's both?
Much has been made of the recent Census data that found median household income had finally retaken record levels, surpassing the previous peak reached in 1999. Although back-to-back gains are welcome news, the $59,039 income figure belies vast discrepancies in lifestyles.
Not only have income gains been widely disparate depending on how much you earn, income inequality widened to a record last year. The highest earners continue to enjoy income growth that's three to four times that of the lowest earners, while their exposure to the stock market and other risky assets ensures that their net worth continues to rise at a healthy clip. But even these statistics fail to capture the full divide between the so-called haves and have-nots.
For many households, earning close to $60,000 a year doesn't begin to make ends meet. Bridging the gap often comes down to costly debt, whether it's in the form of student loans, subprime car loan payments or credit-card borrowing. As a result, income has to cover the cost of necessities as well as what's required to service the debt taken on just to get by.
There's another recent batch of Census data that did not garner the same number of splashy headlines as the numbers on income growth. In the event you missed it, the average U.S. household with credit-card debt is carrying a record balance of $16,425. That works out to $1 trillion, on which an average interest rate of 18.76 percent is levied. That amounts to about $1,292 per household, a line item an accountant would call "material."
And yet, credit-card balances as a percentage of disposable income are at post-recession lows. Indeed, more than six in 10 households pay off their credit-card balances in full every month or don't have any plastic in their wallets.
The irony is that many in the media are celebrating low inflation as a contributor to households enjoying a higher standard of living in recent years as median incomes have finally recaptured their former highs. Lower-income earners might be inclined to ask which budget items hurt less, aside from lower pre-hurricane gasoline prices.
Although it's true that inflation has been subdued in recent years, the same cannot be said of the price growth of household necessities, or nondiscretionary items. Households don't enjoy low inflation until the price growth of nondiscretionary items is slower than that of discretionary items. It is only when you can choose what you buy with your paycheck rather than struggle to cover the basics that you actually feel any wealthier.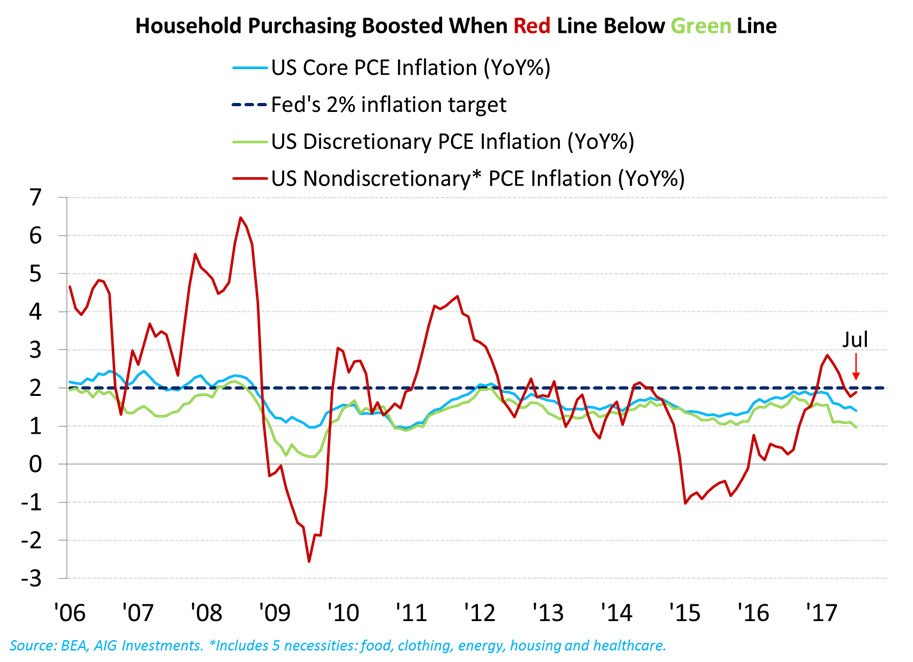 What have the main drivers been? Not only have health-care expenses gone up, the average worker has been compelled to carry an increasing proportion of the inflating cost, while that shouldered by employers has fallen. Ask any parent of school-aged children and they would add that childcare expenses have also risen at a disproportionate rate.
But the real budget-buster has been rents, which have catapulted upward in recent years, by about 30 percent since 2007, a rate that's far exceeded inflation-adjusted incomes. Lower- and middle-income earners comprise 70 percent of the rental pool, which is meaningful when you consider housing costs consume a third of the average household budget.
Harvard University's Joint Center for Housing Studies has identified 11 million households that are "severely cost-burdened," meaning they spend 50 percent or more of their income on housing.