Loknath Das June 22, 2017 Banking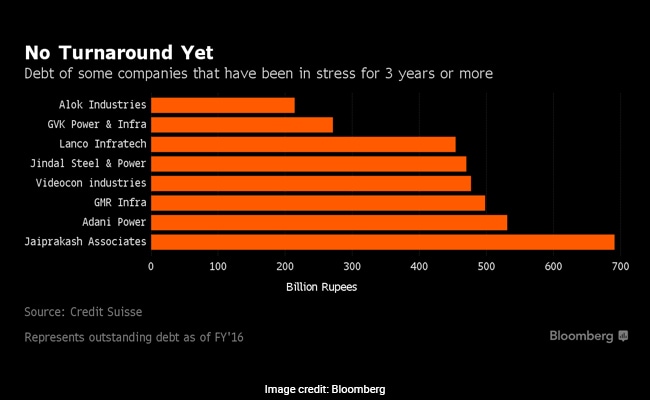 On 12 June, the Reserve Bank of India (RBI) identified 500 of the largest loan defaulters of the country. Of which, 12 accounts – each with exposure of greater than Rs. 5,000 crore – were rounded up as a matter of priority. These 12 accounts are said to account for 25 per cent or a fourth of the banking sector's bad loans (worth a massive Rs. 7 lakh crore). In a bid to speedily resolve the issue, the government last month gave the central bank power to direct lenders to initiate bankruptcy proceedings against those with loan defaults. The process – being carried out under the Insolvency and Bankruptcy Code (IBC) enacted in 2016 – is expected to break the deadlock between the creditors and loan defaulters.
As the government and RBI focus their energies on resolving the NPA issue, here is how the public sector banks could proceed against the loan defaulters in the coming days:
Due to this regulation, banks will be forced to evaluate for a time-bound resolution instead of just ageing NPAs on their books, failing which there will be a forced liquidation which is also faster under the Insolvency and Bankruptcy Court (IBC).
Banks have to decide on a resolution plan in 180 days, failing which the National Company Law Tribunal or NCLT can force the creditor (bank) for liquidation.
Once a creditor files a motion with the NCLT, an insolvency professional with substantial powers is appointed to take control of the process. This interim insolvency professional or bankruptcy professional supervises the defaulting company on repayment of the loan.
The IRP or bankruptcy professional runs the operations of the defaulting company as a going concern for a certain period. During this period, he or she collects the claims and forms a panel of creditors, which then decides what to do with the corporate.
According to Nomura analysts, a majority of resolutions could be around right-sizing of debt ( around 50 per cent haircut) and forcing sale of non-core assets.
While such partial waivers were largely expected before, Nomura said that "now on these 12 large accounts we will hear of the haircut decisions faster".
Under IBC rules, if no resolution plan is accepted by the NCLT within the stipulated 180 days, the defaulter goes into liquidation. A one-time 90-day extension can be given to the committee to come up with a plan under some circumstances.
For the rest of the loan defaulters identified – the remaining 488 out of 500 – by the RBI, the committee has recommended that banks finalise a resolution plan. If no resolution plan is finalised in six months, banks will have to file for insolvency proceedings under IBC rules.
["source-profit.ndtv"]
I am a blogger with the main motive of writing articles at my choice of level. I do love to write articles and keep my website updated regularly , if you love my article then be sure to share with your friends as they would love to read my article…