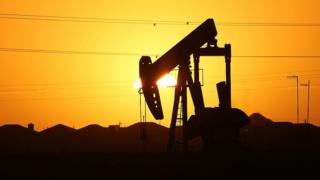 The oil price has fallen to a five-month low as investor concerns re-surface about a worldwide glut.
Brent crude dropped by more than $2 on Thursday to below $49 a barrel, hitting its lowest level since oil cartel Opec struck a landmark deal to cut output on 30 November.
Analysts said investors were worried that oil nations would fail to ease supply fears at a meeting later in May.
They also pointed to higher-than-expected US oil production.
Brent crude, the international oil benchmark, dropped 4.8% to $48.38 a barrel in London on Thursday. West Texas crude lost 4.9% to $45.48.
'Jittery'
Opec's deal in November, and subsequent supply cuts agreed by other oil producing countries, helped to boost prices earlier this year, said David Hunter, an energy industry analyst with Schneider Electric.
But the market is getting a bit "jittery" as countries decide whether to extend those cuts, he said.
Opec and other oil nations are meeting on 25 May where they will discuss the success of the six-month cutback and whether it should be deepened.
Russia, one of the non-Opec countries to sign up to the cuts, gave mixed signals on Thursday about whether it would continue.
"While the cartel is expected to extend a self-imposed production cap by another six months, it will be a challenge to convince several non-Opec members to follow suit," said Abhishek Kumar, senior energy analyst at Interfax Energy's Global Gas Analytics.
"Persistent growth in US oil production … will also make extensions of the Opec cap beyond 2017 unlikely."
'Losing faith'
Data released on Tuesday indicated US crude stocks fell 930,000 barrels last week. Analysts had been expecting a drop of 2.3 million barrels.
The US data and some investors "losing faith with Opec" are not helping the oil price, said Abhishek Deshpande, an oil analyst at Natixis.
The fall in crude prices hit global energy and commodity stocks.
US oil giants Chevron and Exxon Mobil were two of the biggest fallers on Wall Street, dropping 2% and 1.3% respectively.
In London, Shell's shares wiped out most of their earlier gains as the oil price tumbled.
The UK oil firm had started the day 3% higher after reporting better-than-expected profits, but finished trading with gains of only 0.5%.
["Source-bbc"]