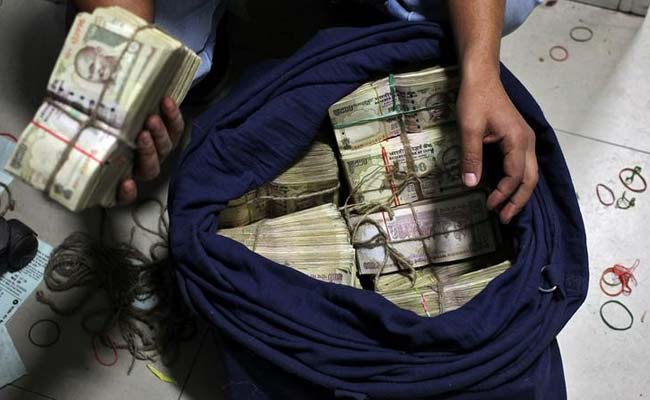 Banks profitability has been hit owing to continued pressure on asset quality and weak loan growth. The note ban has the potential to drive big treasury gains for Indian banks, says a report from rating agency India Ratings. Banks are likely to see register Rs. 38,200 crore of potential treasury gains for the current financial year (2016-17) – their highest ever, the report said.
This potential of windfall earnings from treasury gains comes at a time when banks are facing significant challenges, from bad assets to weak credit growth to capital requirement for new regulatory norms. The profitability levels of Indian banks have been hit owing to continued pressure on asset quality and weak loan growth.
Banks in general largely invest in central government or treasury bonds. In fact, they are the largest holders of government bonds, about Rs. 29 lakh crore, as on November 11, 2016, says the report. A fall in interest rate increases the price of bonds. Starting January 2015, the Reserve Bank of India made a series of repo rate cuts, reducing it by 175 basis points in the wake of falling inflation.
A surge in bank deposits, due to demonetisation, will also increase demand for government and high-rated corporate bonds, and is likely to put keep bond prices buoyant, the report said.
For public sector banks in particular, the gains from treasury could be a big sweetener given that they reported Rs. 17,700 crore loss in FY16. Public sector banks have already reported significant treasury gains of Rs. 17,400 crore in the first half of this financial year.
Prime Minister Narendra Modi had announced the ban on 500 and 1000 rupee notes on November 8 in a move aimed at eliminating money laundering and black or untaxed money. It wiped out 86 per cent of the money in circulation worth Rs. 15.44 lakh crore. About Rs. 13 lakh crore of the banned notes have been deposited into the banking system.
Analysts say that even if withdrawals restrictions are eased in the future, banks are likely to be net gainer in terms of deposits as demonetisation will bring a large chunk of the informal economy into the banking system.
India Ratings however cautions about the sustainability of the treasury gains. "Excess treasury gains are a one-off and carry an inherent exogenous risk of reversal. Hence, prudent risk management and portfolio churning would ensure sustainability of the gains," it said.
A passenger on a Virgin Airlines flight from San Francisco to Boston reportedly created an emergency situation for the crew and fellow passengers as he created a Wi-Fi hotspot with name "Galaxy Note 7_1097" during the flight. As the infamous Samsung smartphone was earlier banned from all US airlines due to the explosion cases reported against it, the hoax ended up creating a panic situation.
After realising that there was a Wi-Fi hotspot with Galaxy Note 7 name on the flight, the crew asked the passenger with the phone to press their call button, as per a report by BBC. View image on Twitter View image on Twitter Follow Lucas Wojciechowski @lucaswoj Open my laptop on the plane and notice a Galaxy Note 7 wifi hotspot https://www.transportation.gov/briefing-room/dot-bans-all-samsung-galaxy-note7-phones-airplanes … 12:34 PM – 20 Dec 2016 282 282 Retweets 485 485 likes
"This isn't a joke. We're going to turn on the lights (it's 11pm) and search everyone's bag until we find it," the crew was quoted as saying in the report, citing a passenger onboard – a Twitter user named Lucas Wojciechowski.
When nobody pressed the button, the pilot had to get involved in the situation and warn the passengers that the flight will have to make an emergency landing if nobody claimed responsibility for Samsung Galaxy Note 7 smartphone.
After the announcement was made, the passenger who played the prank came forward and confessed that there was no Galaxy Note 7 on the flight and he had merely renamed the Wi-Fi hotspot. Wojciechowski told the BBC that he believed no further action taken against the prankster by the airline. The BBC cites another Twitter user to report that the incident delayed and cancelled several other flights in Boston.
Another Twitter user points out that the prankster may not have been trying to play a prank at all – citing his own case where after migrating from a Galaxy Note 7 to a Galaxy S7, his Wi-Fi hotspot name remained the same.
To recall, Samsung Galaxy Note 7 was discontinued and recalled by the South Korean company after several cases of explosions were reported regarding the device.
Xiaomi Redmi Note 4 smartphone was launched back in August earlier this year. Initially, the Redmi 4 smartphone was made available in Gold, Silver, and Grey colour variants but Xioami has now announced two new colour variants – Blue and Black.
The new Xiaomi Redmi Note 4 colour variants have been only made available for the models with 3GB of RAM/32GB of inbuilt storage and 3GB of RAM/64GB of inbuilt storage, as per a report by GizmoChina. However, the company has maintained the price tag on both Xiaomi Redmi Note 4 variants at CNY 999 and CNY 1,199, respectively.
Xiaomi Redmi Note 4 sports a 5.5-inch full-HD (1080×1920 pixels) 2.5D curved glass display with a pixel density of 401ppi. The Redmi Note 4 is powered by a deca-core MediaTek Helio X20 SoC coupled with Mali-T880 MP4 GPU. This Xiaomi smartphone comes with support for expandable storage via microSD card (up to 128GB).
In terms of optics, the Xiaomi Redmi Note 4 comes with a 13-megapixel rear camera with PDAF (phase detection autofocus) and f/2.0 aperture. At front, the Redmi 4 features a 5-megapixel camera, which company claims can click 85-degree wide angle shots.
Further, the Xiaomi Redmi Note 4 supports a hybrid dual-SIM slot, which means users can choose to go with a combination of either dual-SIM cards or one Micro-SIM and one microSD card. The fingerprint scanner is located on the back panel right below Xiaomi Redmi 4's rear camera.
In terms of connectivity options, Xiaomi Redm 4 offers 4G with VoLTE, Bluetooth, GPS, Micro-USB, and Glonass. The Redmi Note 4 houses a large 4100mAh battery.
["source-ndtv"]
The Samsung Galaxy Note 7 remained in news for all the wrong reasons in 2016 as the smartphone was recalled by Samsung after several explosion cases were reported regarding the device. After the second recall of the phone, it was discontinued by the company. Samsung has been urging all users to return the phone to the company for their own safety. However, a shocking new statistic has surfaced that claims that the Galaxy Note 7 is still being utilised by more users than the LG V20 and OnePlus 3T smartphones combined.
Research firm Apteligent has claimed that the number of Samsung Galaxy Note 7 devices currently in use far exceed smartphones LG V20 and OnePlus 3T, and are only marginally less than the Moto Z smartphone, 9to5Mac reports. However, Pixel smartphones from Google and Sony Xperia XZ, which were launched around the same time as the recall, managed to beat the existing Samsung Galaxy Note 7 devices in the market.
Samsung announced earlier this month that it will disable Galaxy Note 7 smartphones in the US market to discourage people from using the discontinued device. The South Korean company claimed that 93 percent of the total Galaxy Note 7 smartphones from US have been successfully recalled by the company.
Considering the latest stats shared by Apteligent, Samsung will have to actively recall the remaining devices, which seem to be pretty large in number. On the other hand, from the comparisons, it can be further concluded that the sales of LG V20 have been largely disappointing.
 
["source-ndtv"]

After a long and gruelling investigation, Samsung has reportedly ended its investigation to find out the root cause of the exploding Samsung Galaxy Note 7. The South Korean manufacturer has submitted its findings to the Korea Testing Laboratory, UL (an American safety organisation), and other regulatory bodies.
The Investor reports that Samsung has completed its internal investigation and reported its findings to outside laboratories. The findings have not been made public (yet), nor has any media house got hold of it so far. The report has been pending for a long time, and one of the reasons for killing the Samsung Galaxy Note 7 altogether was because the actual reason for all the explosions was not found.
Findings from third party investigators does suggest that because cramming many features into a small frame put a lot of pressure on the battery, leaving no room for it to expand either.
In a tale that is surely to go down in smartphone history, Samsung had to recall all of its Galaxy Note 7 units from the market because of unexplained explosions while on charge. There were several dangerous implications of these explosions as well – including a jeep set on fire, and a man who had to bear a huge hotel bill because of the sudden explosion in his room causing damages.
Samsung had bet big on the Galaxy Note 7 this year, and even launched it way ahead of its regular cycle, to fend off iPhone 7 competition. However, this early release backfired badly, and Samsung spent the rest of the year making amends. The company even had to delay its work on the Galaxy S8 to find the root cause of these explosions.
In any case, Samsung is looking to compensate for the damage by bringing unique feature on the Galaxy S8, scheduled for launch in February. Samsung is reportedly going to ditch the 3.5mm audio jack and the Home Button for its next flagship. The smartphone is expected to come with a selfie camera that can auto focus. Furthermore, it is tipped to sport 6GB of RAM and 256GB of inbuilt storage.
 
["source-ndtv"]
Xiaomi officials have confirmed that the Android Nougat update is coming for its smartphones. The Xiaomi Mi 4c, Xiaomi Mi 4S, and Xiaomi Mi Note will be among the first to receive the update followed by the Xiaomi Mi Note 2, Xiaomi Mi 5s Plus and Xiaomi Mi Max. The company confirmed the update through Weibo.
The company says the beta testing for the Nougat update is already underway. The MIUI operations manager who posted on Weibo did not mention any specific date from when the update will begin rolling out for the phones.
The Android based update will be called MIUI 9, a leaked image of which was spotted a while back. As of now, only the Xiaomi Mi 5 has received the Nougat update and now the rest of Xiaomi's devices can expect the update soon enough.
Interestingly, Xiaomi's official did not mention whether the Nougat update will be available for the Redmi series. Users of Xiaomi devices mentioned above can expect the Nougat update some time during Q1 of 2017.
["source-ndtv"]

Soon after its sibling K6 Power, Lenovo K6 Note smartphone is set to launch in India. The company has now announced on its social media channels that the Lenovo K6 Note will launch in India on Wednesday.
The company tweeted that Wednesday's Lenovo K6 Note India launch announcement, and the pricing and availability details are expected then. The Lenovo K6 Note was first launched at IFA this year, alongside the Lenovo K6 and Lenovo K6 Power smartphones.
Lenovo K6 Note is slightly larger and the most premium when compared to the other two. It features a 5.5-inch full-HD (1920×1080 pixels) IPS display. The new Lenovo K6 Note comes in two RAM/ storage bundles – 3GB RAM/ 32GB storage and 4GB RAM/ 32GB storage. Through the microSD card, storage can be further expanded up to 128GB. The K6 Note smartphone is powered by a 64-bit Snapdragon 430 octa-core processor (4 x 1.2GHz Cortex-A53 + 4 x 1.5GHz Cortex-A53) with Adreno 505 GPU for graphics. On the optics front, Lenovo K6 Note includes a 16-megapixel rear camera with dual-tone LED flash, and an 8-megapixel selfie camera. The K6 Note also offers 4000mAh battery, and the connectivity options are similar to the other two smartphones. It was launched in Dark Grey, Gold, and Silver colour variants, and the smartphone sports a metal unibody design. It runs on Android 6.0 Marshmallow, has an integrated fingerprint sensor, and supports dual-SIM slots.
The Lenovo K6 Power is priced at Rs. 9,999, and is sold exclusively on Flipkart. The company has launched the Lenovo K6 Power 3GB RAM/ 32GB storage model in the country in Silver, Gold, and Dark Grey colour variants. The Lenovo K6 Note, being more premium, will be priced slightly higher than the Rs. 10,000 tag of the K6 Power.
["source-ndtv"]

Samsung announced Friday it would disable its Galaxy Note 7 smartphones in the US market to force remaining owners to stop using the devices, which were recalled for safety reasons.
The South Korean electronics giant, the world's biggest smartphone vendor, said 93 percent of Galaxy Note 7 phones in the United States had been returned to the company after its recall earlier this year, which came amid reports of devices exploding or catching fire.
But to get any remaining devices off the market, Samsung said it would deliver an over-the-air update that prevents the phones from charging.
"To further increase participation (in the recall), a software update will be released starting on December 19 that will prevent US Galaxy Note 7 devices from charging and will eliminate their ability to work as mobile devices," Samsung said in a statement.
(Also see: Galaxy Note 7 Recall Didn't Damage Samsung Brand in the US, Poll Finds)
The company recalled some 2.5 million Galaxy Note 7s in 10 markets following complaints that its lithium-ion battery exploded while charging, and then had to expand that as reports emerged of replacement phones also catching fire.
As many as 1.9 million of the phones were sold in the United States, where authorities banned the device from use in airplanes and even from being placed in checked luggage.
Samsung said the latest move is "in cooperation with the US Consumer Product Safety Commission and in partnership with carriers and retailers."
"Since the affected devices can overheat and pose a safety risk, we are asking consumers with a Galaxy Note 7 to power it down and contact the carrier or retail outlet where they purchased their device," the statement said.
Consumers are able to exchange their phone for another Samsung smartphone, or receive a refund.
US carrier Verizon said, however, that it would not participate in the update to disable the phones "because of the added risk this could pose to Galaxy Note 7 users that do not have another device to switch to."
"We do not want to make it impossible to contact family, first responders or medical professionals in an emergency situation," Verizon said in a statement.
["source-ndtv"]
As expected, Meizu has launched the M5 Note smartphone at an event in China. It is made available in three RAM/ storage bundles – 3GB RAM/ 16GB storage, 3GB RAM/ 32GB storage, and 4GB RAM/ 64GB storage – and is priced at CNY 899 (roughly Rs. 8,900), CNY 999 (roughly Rs. 9,900), and CNY 1,499 (roughly Rs. 14,900) respectively. The Meizu M5 Note Note is up for pre-order in the country, and will begin selling it from Thursday.
The big highlight of the smartphone is that it runs on the newly released Flyme OS 6 (based on Android 6.0 Marshmallow) out-of-the-box. It sports an all metal body, and also packs a massive 4000mAh battery with mCharge fast charging support that claims to fully charge the phone in 90 minutes. The smartphone also brings support for fingerprint recognition integrated under the Home Button, and Meizu claims that it can unlock the phone in just 0.2 seconds.
As for the specifications, the Meizu M5 Note features a 5.5-inch (1080×1920 pixels) LTPS 2.5D curved glass display. It is powered by a 1.8GHz MediaTek Helio P10 octa-core processor paired with ARM Mali T860 GPU. Apart from the inbuilt storage, the smartphone also supports expansion with the help of a microSD slot ( up to 128GB).The Meizu M5 Note supports 4G VoLTE, and comes with a hybrid dual-SIM slot (Nano + Nano). As for the optics, the smartphone bears a 13-megapixel rear sensor with dual-tone LED flash, f/2.2 aperture, and PDAF. At the front, there is a 5-megapixel camera with f/2.0 aperture and 4P Lens. Connectivity options include Wi-Fi 802.11 a/b/g/n, Bluetooth v4.1, and GPS support. The smartphone measures at 153.6×75.8×8.15mm, and weighs 175 grams. The Meizu M5 Note will be made available in Grey, Silver, Champagne Gold and Blue colour options.
["source-ndtv"]

Samsung held a grand Unpacked event in August to unveil its most promising device ever, convinced that this device would finally let the tech giant claim the throne it sought so badly. However, the turn of events since then has been a living nightmare for Samsung. What is even worse is that the root cause of these Samsung Galaxy Note 7 explosions is not yet known, even after all the engineers at Samsung tirelessly tried to find the flaw. However, folks at Instrumental did their own R&D alongside and have come up with a potential theory explaining these explosions.
According to a report by Instrumental, the aggressive design strategy of cramming the biggest possible battery into the smallest possible frame is what caused the Galaxy Note 7 to explode. The large battery inside a 5.7-inch device with all the other features, including a separate slot for the S Pen to fit in, has reportedly been the cause of these explosions. To fit the large battery, Samsung left virtually no space (less than 0.1mm in some places) around the circumference, when the company ideally should have left a 10 percent gap for the battery to expand over time. The compression of the battery thanks to the stress of being placed in pockets, alongside the natural swelling, is reportedly the driving factor causing many Samsung Galaxy Note 7 units to catch fire.
The Note 7's lithium-polymer battery is a flattened "jelly-roll" consisting of a positive layer made of lithium cobalt oxide, a negative layer made of graphite, and two electrolyte-soaked separator layers made of polymer. The separator layers allow ions (and energy) to flow between the positive and negative layers, without allowing those layers to touch. If the positive and negative layers ever do touch, the energy flowing goes directly into the electrolyte, heating it, which causes more energy to flow and more heat – it typically results in an explosion. Compressing the battery puts pressure on those critical polymer separator layers that keep the battery safe.
Samsung stated that these separator layers may have been thin to start with due to aggressive manufacturing parameters. Add some pressure due to normal mechanical swell from the battery or accumulated stress through the back cover (e.g. from being sat on in a back pocket), and that pressure could be enough to squeeze the thin polymer separator to a point where the positive and negative layers can touch, causing the battery to explode.
If this is true, this design ignorance proved to be fatal for the company – both in respect of brand value and monetary losses. The report also stresses that the recall was imminent, as the problem would've worsened in the future. For those Galaxy Note 7's that didn't explode till recall, would do so eventually, as the battery tends to swell up through continual recharging over time, and with no place to expand, the smartphone would explode under pressure.
 
["source-ndtv"]