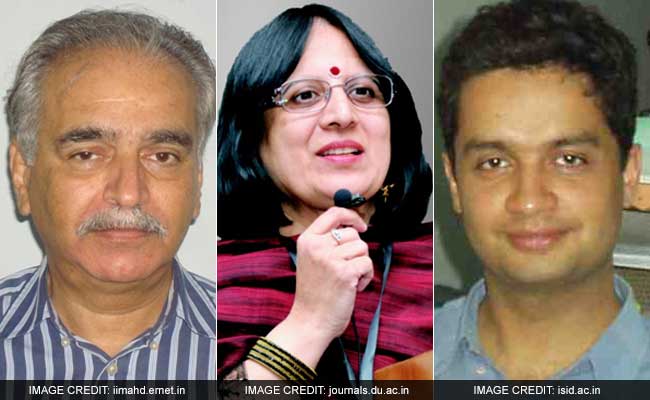 From left to right: Ravindra H Dholakia, Pami Dua and Chetan Ghate Mumbai: The government on Thursday picked three economists from the academic world for a new monetary policy committee to set interest rates, as the Reserve Bank of India (RBI) gets ready for a landmark switch in the way it decides policy.
The three are Chetan Ghate, a professor at the Indian Statistical Institute, Pami Dua, a director at the Delhi School of Economics, and Ravindra Dholakia, a professor at the Indian Institute of Management in Ahmedabad.
They will join RBI Governor Urjit Patel and two senior officials from the bank's monetary policy department.
Chetan Ghate
Mr Ghate is an associate professor in the planning unit at the Indian Statistical Institute in New Delhi and has taught most of his career, including at Colorado College. He has a PhD from the Claremont Graduate University in California.
He is probably the most familiar to the RBI, as he sits on a five-member technical advisory committee that has provided non-binding advice on interest rates to the RBI governor. But the RBI does not disclose a breakdown of the individual recommendations, making it hard to know his stance.
Mr Ghate was also a member of the panel headed by Patel that in 2014 recommended policy changes, including targeting inflation and establishing a panel to decide rates.
He is well versed on monetary policy, having written research papers on the supply-side impact of inflation. His areas of interest include macroeconomic theory and policy, growth and development, political economy, open economy and macroeconomics.
Mr Ghate won the 2014 Mahalanobis Memorial Gold Medal, given to the best economics researcher in India under the age of 45.
Pami Dua
Ms Dua has been a director at the Delhi School Of Economics since 2013, and was the head of the department of economics of the institute between 2010 and 2014. She is a career-long professor who has taught at the University of Connecticut and Yale and has a PhD from the London School of Economics.
She specialises in macroeconomics and has written several papers on topics including inflation, exchange rates and foreign capital inflows. Her areas of research include time series econometrics, forecasting, macroeconometrics and business cycle analysis.
Ms Dua was on the RBI's committee on data and information management in 2014 and was also previously a member of the technical advisory group on leading indicators at the RBI from 2006 to 2008.
Ravindra Dholakia
Mr Dholakia has been a faculty member at the Indian Institute Of Management, Ahmedabad, since 1985. He has a PhD from the University of Baroda.
He has nearly four decades of experience teaching economics, has been on various government committees and was on assignments at international organisations, including the World Heath Organisation and UNICEF.
Mr Dholakia has been on various government committees including one on restructuring of state-run units appointed by the Gujarat government in 1999-2000 when Prime Minister Narendra Modi was the chief minister.
His areas of interest include policy analysis, international trade, fiscal policy and public debt, economic development and planning on issues such as health, education and labour.
In one of his research papers on unemployment trade-offs in developing countries, Mr Dholakia argued that containing demand side pressures with monetary policy tools was likely to lower the rate of recovery.
["source-ndtv"]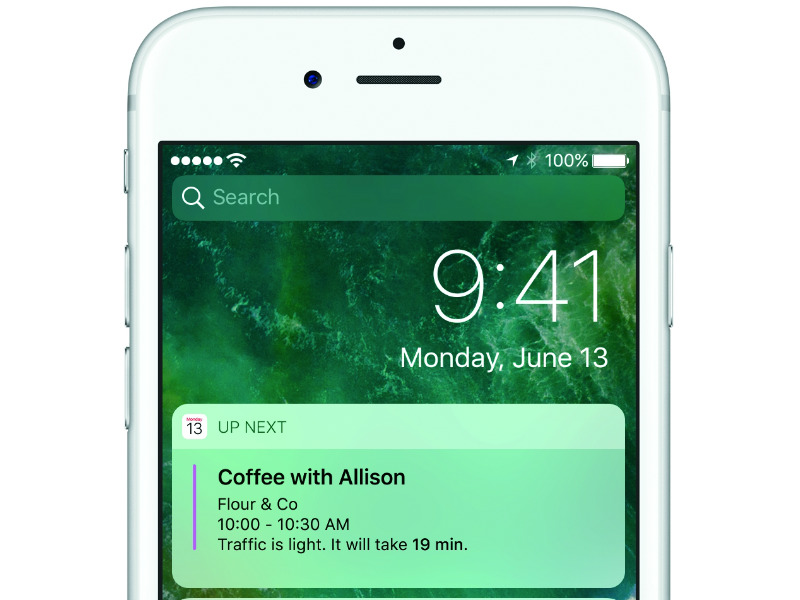 Apple has released iOS 10, watchOS 3, and tvOS 10 updates for its mobile devices, Apple Watch, and the Apple TV 4th generation respectively. The updates bring a host of new features, enhancements, and bug fixes to millions of Apple devices worldwide.
iOS 10 is perhaps the biggest update to Apple's platform for the iPhone, iPad, and iPod touch devices since iOS 7 and it brings enhancements like iMessage apps, improved Siri with third-party integration, revamped Photos, Apple Music, and Apple Maps, plus a whole lot more.
Here are the complete release notes for iOS 10:
Messages

Expressive Messaging

Bubble effects let you send messages loudly, gently, slam or with invisible ink
Full-screen effects to celebrate special moments
Tapback for quick replies to messages, links, and photos
Handwritten messages animate like ink on paper
Digital Touch lets you send sketches, taps, and heartbeats
Tap to replace can emojify your text with just a tap
Rich links show a preview of web pages you share

iMessage apps

New App Store for iMessage
Use the power of apps in Messages to share and collaborate with friends
Download stickers to send and place on text bubbles and photos

Siri

Siri now works with the following types of apps

Messaging apps to send, search and read back text messages
VoIP apps to place phone calls
Photos apps to search for images and photos
Ride service apps to book rides
Payment apps to make personal payments
Fitness apps to start, stop, and pause workouts
CarPlay automaker apps to adjust climate, radio, seat, and personal settings

Maps

All new look

Proactive suggestions for places you're likely to go next, based on your routine or appointments in Calendar
Improved search with new callout design, clustered results and category filters
Home, work, favorite locations, and locations from upcoming Calendar events are displayed on the map
Displays where your car is parked via CarPlay or Bluetooth
Weather for the currently viewed area

Extensions

Make a reservation within Maps using extensions from participating reservations apps
Book a ride to a destination within Maps using extensions from participating ride service apps

Turn-by-turn navigation improvements

Search along route for gas stations, food, and coffee shops
Automatic view adjustment of the road ahead
Use pan and zoom during navigation
Option to avoid tolls and highways

Photos

Advanced face recognition designed with deep learning to automatically group similar faces together
Object and scene recognition to intelligently search for photos by what's in them using advanced computer vision that scans your library locally on device
Places album to see all your photos, videos and Live Photos on a map
Memories

Intelligently highlights forgotten events, trips, and people, and presents them in a beautiful collection
Memory movies automatically edited with theme music, titles, and cinematic transitions
Related memories make it easy to rediscover even more photos in your collection, based on location, time, people, scenes and objects
Easily share with family and friends

Brilliance control applies region-specific adjustments to brightness, highlights and contrast

Home

New Home app to securely manage and control HomeKit enabled accessories
Scenes to control groups of accessories with just a tap
Rich Notifications with quick actions to control accessories
Optionally share home access with family and friends
Remote access and automation of accessories with Apple TV or iPad

Apple Music

An all-new design for Apple Music brings greater clarity and simplicity to every aspect of the experience
Navigate your Library with an improved menu and see all of the Downloaded Music that you can play on your device while offline
See recommendations in For You that highlight mixes, playlists, albums, and Connect posts—selected for you based on the music and artists you love
Visit Browse to more easily see exclusive releases, find curated playlists, and discover the most important new releases—picked by our editors each week
Listen to Radio more easily—clearly see what's live on Beats 1, hear your favorite shows on-demand, or choose a curated station for any genre of music
Play music with an improved Now Playing experience—swipe up to view available lyrics and quickly see or edit songs that are coming up next

Apple News

An all-new design in For You adds bold typography, vibrant color, and distinct sections that make it easier to find stories on specific topics
See the most important stories of the day within Top Stories—updated by our editors throughout the day
Find the most popular stories right now within Trending Stories—selected based on what others are reading
See all of your stories grouped into easy-to-understand sections on the topics you follow or read
Discover the best and most interesting stories of the week within Featured Stories—selected by our editors
Share stories more easily—just tap the icon on any story to send it to a friend right from For You
Receive breaking news notifications from some of your most trusted sources
Subscribe to your favorite magazines and newspapers directly in News
New personalized Today View widget lets you keep up with the latest stories throughout the day

Experience

Raise to Wake automatically wakes the screen as you raise your iPhone
Rich notifications that support real time information, audio, photos and videos
Today view is redesigned and supports all new widgets for apps like Weather, Up Next, Maps, Stocks and more
Control Center is redesigned with easier to access controls including dedicated cards for music playback and Home
Expanded use of 3D Touch

Lock screen notifications to support an expanded view and access to quick actions
New quick actions for built in apps like Weather, Stocks, Reminders, Health, Home, FaceTime, iCloud Drive and Settings
Home Screen widgets
Control Center for access to quick actions for Flashlight, Timer, Calculator and Camera
Clear all in Notification Center

QuickType

New emoji, including gender diverse options to existing characters, single parent family variations, rainbow flag and beautiful redesigns of popular emoji
Contextual predictions for current location, recent addresses, contact information and calendar availability using deep neural network technology
Emoji predictions
Calendar events are intelligently populated using deep learning technology with information from your conversations in Mail and Messages
Multi-lingual typing now lets you type in two languages at once without having to switch keyboards
Rest & Type on iPad intelligently adapts to your unique typing patterns
Predictive typing now uses deep neural network technology for greater prediction accuracy

Phone

Voicemail transcription (beta)
Spam call alerts with spam call identification apps
Support for third party VoIP apps receiving calls on the Lock screen, including support for Call Waiting, Mute and Do Not Disturb

Other improvements

Apple Pay in Safari
View two pages at once using Split View in Safari on iPad
Notes collaboration lets you invite people to work on your notes together
Markup support in Messages, Photos and PDFs stored in Notes
Bedtime Alarm in the Clock app lets you set a regular sleep schedule and receive bedtime reminders
Health adds support for health records and organ donation (US Only)
Stabilization support for Live Photos for improved camera capture
Live Filters support when capturing Live Photos
iCloud Drive now supports Desktop and Documents folders from macOS
Live search results in Spotlight for Chinese and Japanese
Siri support for Spanish (Chile), Chinese (Cantonese – China), English (Ireland), English (South Africa)
Ling Wai and Kaiti Black document fonts for Chinese
Yu Kyokasho and Toppan Bunkyu fonts for Japanese
New definition dictionaries in Traditional Chinese and Danish and bilingual dictionaries in Dutch and Italian
New keyboard for Spanish (Latin America)

Accessibility

Magnifier now uses the camera on your iPhone or iPad like a digital magnifying glass for real-life objects
New range of display color filters to support different forms of color blindness or other vision challenges
VoiceOver adds a Pronunciation Editor to customize the way words are pronounced, additional voices, and support for multiple audio sources
Additional text highlighting options in Speak Screen and Speak Selection, as well as the ability to speak keyboard letters and predictive typing suggestions to support multi-modal learning
Switch control now lets you control iOS, macOS and tvOS all from the same iPhone or iPad, so you don't need to configure switches for the secondary device
Software TTY allows you to place and receive TTY calls without the need for traditional hardware teletypewriter accessories
iOS 10 is available right now as a free download. To see if your Apple device is eligible to receive the update and for detailed download instructions, see How to Download and Install iOS 10.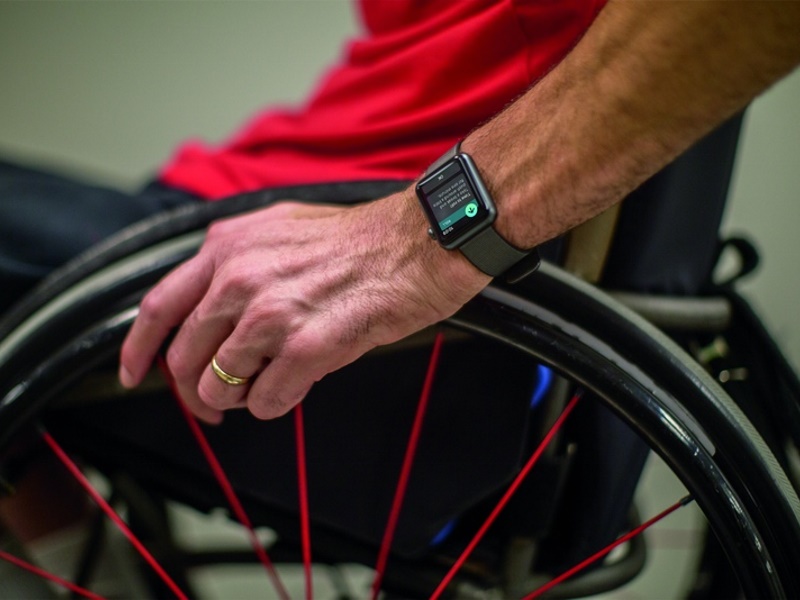 Next up is watchOS 3, the update that is most definitely the biggest software update to the Apple Watch platform. watchOS 3 brings noticeable speed improvements to a platform that many had termed slow, and introduces an all-new dock with "instant access" to apps. The update also brings new watch faces, new workouts, wheelchair use, breathe mode, and more. Here are the full release notes:
Performance and Navigation

Press the side button to access your favorite apps in the Dock
Apps in the Dock launch instantly with already updated information
Add up to 10 apps in the Dock, control music from Now Playing or launch your most recently used app
Swipe edge-to-edge to quickly switch your watch face
Swipe up from the bottom of your watch face to access important settings in Control Centre

Watch faces

New Minnie Mouse, Activity, and Numerals watch faces
Complications now available on Photo, Photo Album, Timelapse, and Motion
New complications including Workout, Music, and Messages
New Face Gallery in the Apple Watch app on iPhone to add and customize watch faces
Discover and add third party complications in the Face Gallery

Activity

Ability to share and compare your Activity rings
Rank alphabetically, or by progress towards Move goal, Exercise goal, steps or today's workouts
Automatic notifications when a friend completes their rings, finishes a workout, or earns an achievement
Customised smart replies for encouragement or smack talk
New Sharing tab in the Activity app on iPhone to view history

Workout

Quick Start for most commonly used workouts
Multiple metric view, customizable for each workout type
New gestures for pause, resume, and marking segments
Labels for "Other" workouts to keep track of Yoga, Pilates, Cross Training, and more
Auto-pause for running workouts
Siri support for pause, resume, and end workouts
Route maps with speed indicators for outdoor workouts

Wheelchair use

Activity rings optimized for wheelchair users
Accounts for varying speeds, terrains, and pushing techniques
Pushes contribute to all-day calorie goals
Time to roll notification and roll ring
New Outdoor Run Pace and Outdoor Walk Pace workouts

Breathe

New Breathe app to take a moment in your day for short deep breathing sessions
Calming visualization and haptic cues guide you while you inhale and exhale
Adjust session length and breaths per minute
Summary upon completion including heart rate
Time to breathe reminders
Weekly summary

Communication

Expressive Messaging

Full-screen effects to celebrate special moments
Tapback for quick replies to messages, links, and photos
Handwritten messages animate like ink on paper
Send recent built-in or third-party stickers
View secret messages with invisible ink

Scribble

Write words on the display and Apple Watch will convert the handwriting to text
Use the Digital Crown to scroll through predicted options
Available in English (US), Traditional Chinese, and Simplified Chinese

Reply options available in the Messages and Mail notification, including Digital Touch, emoji, and smart replies
New emoji, including gender diverse options to existing characters, single parent family variations, rainbow flag, and redesigns of popular emoji
Emergency SOS

Press and continue to hold the side button to call emergency services
Automatically notify SOS contacts and share your location
Display your Medical ID with information about medications, allergies, and medical conditions
Adjusts the emergency number to your current location

Home

New Home app to control HomeKit enabled accessories
Enable scenes created on your iPhone to control groups of accessories with just a tap
Control favorite accessories from your wrist, even remotely with Apple TV or iPad
Support for IP cameras to see live video in rich notifications and accessory controls

Other improvements

New Reminders app for managing scheduled reminders, grocery lists, and more
New Find My Friends app for viewing location of friends and family
Pay with Apple Pay within third party apps
Delete events and switch calendars in Calendar app
Support for FaceTime Audio calls directly from Apple Watch
Search for Settings in Apple Watch app on iPhone
Camera app controls for Flash, Live Photos, HDR, Zoom, Burst, and Front or Rear facing
Siri support for Spanish (Chile), Chinese (Cantonese – China), English (Ireland), English (South Africa)
Refer Apple's website for detailed instructions on how to update your Apple Watch to the latest OS.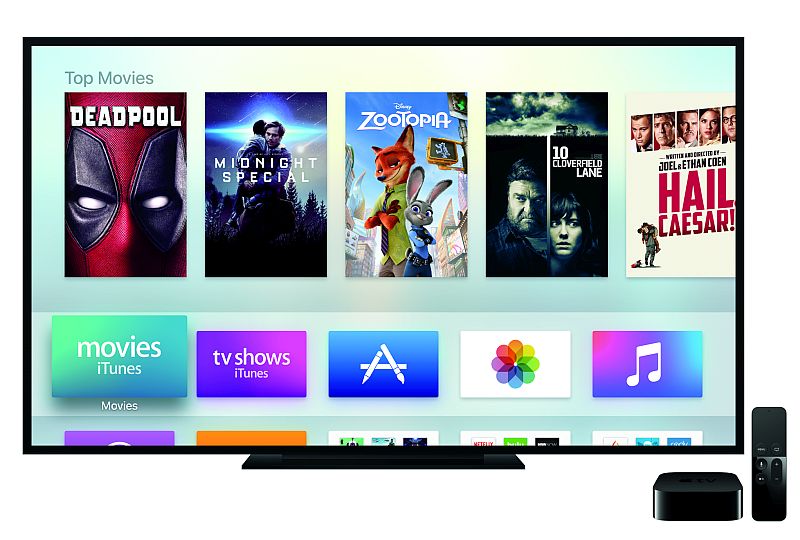 Finally, there's Apple TV, which has got an update of its own, bumping the software version to tvOS 10.0. The update brings a dark mode, improved Siri, and a bunch of other feature. The much vaunted single sign-on for all Apple TV apps showcased at WWDC hasn't rolled out just yet though.
Siri: Siri now understands Spanish in Mexico, Dutch in Netherlands, and Norwegian in Norway, and Swedish in Sweden.
Search with Siri: Ask Siri to find movies by topic or theme. For example, ask for spy movies or the best movies about football. This feature is available only in the United States.
Siri for Podcasts: To find what you're looking for, just include the word "podcast" in your Siri search.
Dictation: You can now use Dictation with Dutch, Norwegian, and Swedish system languages, no matter where you are in the world.
App Store: Automatically add apps that you purchased on your iOS device to your Apple TV. Just sign in to iTunes on your Apple TV with the same Apple ID that you use for iTunes on your iOS device. Then apps from your iOS device appear on your Apple TV Home screen.
Music: Experience a fresh, streamlined design that makes it easier than ever to find the music that you love.
Photos: Enjoy the new Memories feature, which highlights moments from your Photo Library in a lively presentation for the big screen.
HomeKit: From your Apple TV, ask Siri to turn off the living-room lights, change the temperature, and more. You can also use your Apple TV as a home hub. Then you can set up Automations or access your home remotely from the Home app on your iOS device or Apple Watch.
Appearance: You can change the look of your Apple TV. To make your Home screen and menus pop in bright or dim settings, choose a Light or Dark background Appearance.
Apple Remote Keyboard: With this feature, a keyboard appears on your iPhone, iPad, or iPod touch whenever you select a text field on your Apple TV. Then you can quickly enter text on your Apple TV using the keyboard on your iOS device.
Display Accommodations: Colour Filters can help you distinguish colours or read onscreen text.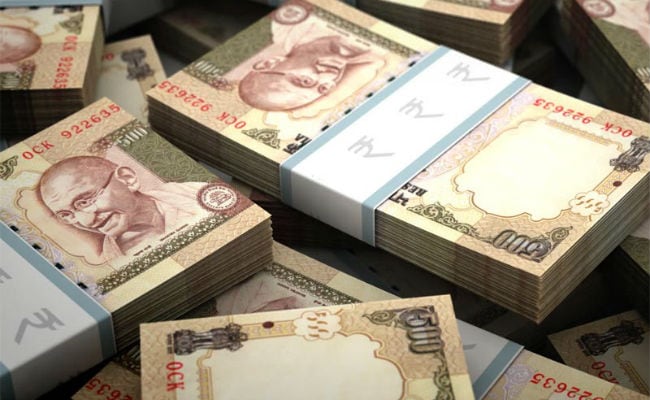 New Delhi: Life insurance companies' business from new premium rose by 59 per cent to Rs. 14,285.20 crore in August this year.
The 24 life insurers had clocked in Rs. 8,982.59 crore as new business premium during the same month a year ago.
Of the total business generated from new premium in August, LIC – Country's largest and the only state-owned life insurer – garnered Rs. 10,713.55 crore, 92 per cent higher than year ago's Rs. 5,587.67 crore.
The data were released by the Insurance Regulatory and Development Authority of India (Irdai).
The rest of the new business premium of Rs. 3,571.65 crore was generated by 23 private insurers, up 5.2 per cent from August 2015.
Among the private life insurance companies, SBI Life registered a growth of 54.6 per cent in new premium at Rs. 822.28 crore in August 2016 and ICICI Prudential Life's business grew 13.7 per cent at Rs. 732.81 crore.
New collection of Max Life rose 23.9 per cent to Rs. 253.05 crore and Bajaj Allianz witnessed a rise of 24.4 per cent at Rs. 187.85 crore, showed the Irdai data.
Future Generali Life's new business premium increased by 52.4 per cent to Rs. 21.62 crore while that of DHFL Pramerica Life were higher by 24.9 per cent at Rs. 68.11 crore.
However, HDFC Standard Life registered a fall of 1.67 per cent in new business during the month at Rs. 546.34 crore and Reliance Nippon Life's business slumped 83 per cent at Rs. 58.43 crore.
Others registering fall in new collection included Birla Sun Life at Rs. 122.05 crore (from Rs. 181.44 crore); Star Union Dai-Ichi Lifeat Rs. 35.61 crore (from Rs. 49.19 crore) and Aegon Life Rs. 4.54 crore (against Rs. 12.76 crore).
The cumulative new business during April-August of all the 24 life insurers rose 29.6 per cent at Rs. 59,468.75 crore.
LIC's business till August rose 35.8 per cent to Rs. 44,045.69 crore and the private life insurers clocked a cumulative new business premium of Rs. 15,423 crore, up 14.8 per cent from year ago.
["source-ndtv"]
At the iPhone 7 launch event, Apple said the new AirPods had been specially designed for the iPhone 7 and iPhone 7 Plus, and come with a brand new W1 wireless chip, leading many to believe that the wireless earphones only work with the new iPhone models.
Apple also used the term "Bluetooth-like" technology, once again confusing matters about what connectivity standard the AirPods used. Things started becoming clearer soon after however, with the product's listing page detailing the use of Bluetooth (version not specified), as well as compatibility with other iPhone, iPad, and iPod touch models.
Specifically, the AirPods are compatible with iPhone 5 and newer devices, iPad mini 2 and new devices, iPad Air and newer devices, and the iPod touch 6th generation. By the omission of older models, this very plainly indicates that the AirPods work with devices running iOS 10. Apple also includes Apple Watch models in the list of compatible devices.
Providing some clarity in an interview with BuzzFeed however, Apple executives went on to detail that apart from iOS 10 devices, AirPods work with watchOS 3 and macOS Sierra devices. They also clarified that while the AirPods use Bluetooth, Apple has used "secret sauce" to make the pairing seamless via the W1 wireless chip, and provide features like tap to change songs. The publication goes on to note the devices work with non-Apple devices, but, do not get the "secret sauce" features.
So, now that we know the AirPods use Bluetooth to connect and stream audio; they are fully compatible work with Apple devices running the latest operating systems, and, that they work with non-Apple devices, only one question remains – how do you pair them with non-Apple devices?
Thankfully, Daring Fireball's John Gruber and TechCrunch's Matthew Panzarino have weighed in, revealing that the AirPods carrying + charging case in fact features a small button on the rear panel. This button resets all active connections, and presumably leaves the AirPods open to pairing with other Bluetooth devices. To explain just how exactly this works, we will have to wait for October when the new AirPods go on sale.
["source-gadgets.ndtv"]
Apple is about to launch the iPhone 7 in a few hours from now, but the last minute leaks refuse to stop. There is a host of information surfacing online about the iPhone 7 colour variants, specifications details, and waterproofing capabilities. Additionally, a press render of the iPhone 7 seem to have also been leaked giving us a sneak peak at what Apple could be unveiling tonight.
First up, tipster Malignant has leaked the first render image of the iPhone 7, and it testifies to the death of the 3.5mm audio jack. The bottom of the device sees two speaker grilles, with the Lightning port sitting in the centre. The camera bump is protected by the casing ring, and the redesigned antenna bands are also seen.
Remember the Space Blue variant tipped in the early days? Well, if MobileFun is to be believed, then Apple is indeed introducing a Blue variant, but it will be much lighter than what was leaked earlier. The retailer has leaked an image of the Light Blue variant, claiming it to be a real photo of the device. It's only a matter of hours before we know for sure.
An Italian blog has also leaked a picture showing retail boxes of the iPhone 7. According to iPhoneItalia, the boxes were snapped at manufacturer Foxconn's site when almost 370,000 units were being prepared for shipment to US, UK, and the Netherlands. The publication also confirms Evan Blass's September 16 market launch date, citing people close to European carrier Three.
Vietnamese electronics store PhonGee has published few live photos of a working 4.7-inch iPhone 7 as well. The camera is redesigned with a brighter True Tone flash that houses four LEDs. The SIM tray images show a rubber gasket for added waterproofing. The iPhone 7 is expected to come with IPX7 certification, which means it can last for about half an hour in one metre underwater. The pictures also reveal a Dark Black colour variant option that has been heavily rumoured in the past. Apple is expected to unveil a Dark Black and a Glossy Piano Black colour variant for the new iPhone 7. However the Glossy Piano Black is expected to be exclusive to the high storage 256GB storage variant.
In any case, we recommend you to take all of this information with scepticism as official details are now hours away. Rest assured, when the event begins at 10.30pm IST, Gadgets 360 will offer you comprehensive coverage. Stay tuned.
["source-gadgets.ndtv"]
Apple is set to officially unveil the iPhone 7 and iPhone 7 Plus just hours from now, and one of the big changes is the expected absence of the 3.5mm audio jack. To compensate for it, Apple is bundling Lightning-powered EarPods with the smartphone. In addition, the company is also reportedly working on wireless headphones called 'AirPods', to give users an additional option for listening to audio. Now, a fresh research note from Ming Chi Kuo, gives more details about these AirPods, shedding light on Apple's audio plans this year.
Kuo notes that Apple will unveil premium wireless AirPods for high-end users, and separate Beats-branded headphones for the mid-range market. "Apple will likely have its own-designed Bluetooth-like communication chip and launch own-brand Bluetooth headphones targeting the high-end market, with Beats positioned in the mid-range market," he said in his research note.
Kuo also claimed that Apple will integrate a custom-built Bluetooth-like chip for wireless communication that will use less power, keeping in mind iPhone's battery woes. The Bluetooth-like technology is also expected to be used in future smart home accessories and the Apple Car that the company is said to be working on.
Lastly, Kuo notes that Apple won't bundle these AirPods with the iPhone 7, but will sell them as a separate accessory. He did not mention the pricing of these headphones. This note comes just a day after Kuo detailed all the big features of the iPhone 7 in a separate research note.
Kuo said the iPhone 7 will come with new storage options – 32GB. 128GB, and 256GB. It will sport upgraded cameras, an A10 chip, a shift in antenna bands, and a bump to 3GB RAM in the larger variant. The Apple event in San Francisco is expected to begin at 10.30PM IST, and you can catch live updates right here on Gadgets 360.
["source-gadgets.ndtv"]
The LG V20 is set to launch at an event in San Francisco at 6pm PT on Tuesday (6:30am IST on Wednesday), the successor to the LG V10.
Ahead of the launch, the LG V20 has been been leaked with a complete list of specifications, detailing almost everything about the smartphone over and above the official details that have been teased. According to the new leaked details, the LG V20 smartphone will feature a 5.7-inch QHD display and will sport a 16-megapixel dual camera at the back. Under the hood, the LG V20 will be powered by a Snapdragon 820 processor and will come with 4GB of RAM and will also be backed by a large 4000mAh battery.
The new leaked details comes courtesy a Weibo account posted by a Chinese tipster and first picked up by AndroidPure.
The yet-to-be-announced LG V20 smartphone has been leaked in several instances before and has also been seen in multiple leaked purported images. The smartphone is expected to sport a secondary display at the front. The LG V20 will be the successor to the LG V10, which was the company's first smartphone featuring an Always On secondary display and a dual-rear camera setup with a wide-angle lens. We already know that the LG V20 will be the first new smartphone to run Android 7.0 Nougat out-of-the-box, it will sport a Quad DAC, and audio powered by B&O Play, apart from bundled B&O Play earphones.
Apart from the brand new Android N, the LG V20 will be also the first phone that will sport a dedicated shortcut for Google's 'In Apps' feature on both the home screen and Second Screen. Users will be also able to search the pre-installed LG apps via the new search mode on the LG V20. Google's 'In Apps' search will show content from installed apps on the Android device.
The South Korean giant will be betting heavily on the LG V20 to revive the smartphone business after the flagship LG G5 was not very well received in the global markets. LG also reported a total operating loss of roughly $132 million in the second quarter of 2016.
["source-ndtv"]
Scientists have developed new digital antennas which may lead to next generation of smartphones that are more energy efficient and are up to 100 to 1000 times faster than current cellphones.
Currently, smartphone antennas are placed at the top and bottom of the screens, which means phone's touch screen does not cover the entire phone. With the help of new method, developed by researchers at Aalto University in Finland, antennas need less space and the phone display can be made larger and the phone design can be more free.
The new antenna makes it possible to reach the data transfer speed set as the objective for the next generation of phones, which is 100 to 1000 times faster than that of current phones.
In addition, battery life will be improved owing to the greater efficiency of the new method. With the new digital antennas, "many smartphone
applications like GPS, Bluetooth and Wi-Fi will no longer need their own antennas," said Jari-Matti Hannula, a doctoral candidate at Aalto University.
"All of the phone's data transfer can take place through one digitally controlled antenna. This in turn makes phone design easier and enables a larger screen size as the antenna does not require so much space," added Hannula. Traditionally one antenna works with either one or a few different frequencies. With the new digital antennas, several small antenna elements can be combined to work together as one antenna that can be made to operate digitally with any frequency, researchers said.
These new antennas may also dispose of the analogue components that traditional antennas use to tune into the desired frequency. This facilitates antenna design and enables the creation of more compact antennas with better radiation efficiency.
Antenna's radiation efficiency has in recent times been falling because the frequency range used by mobile phones has been continuously increasing. Poor radiation efficiency leads to a short transmission range, for which network operators are then forced to compensate with a denser network of base stations.
Energy is wasted in both the phone and the base station. In addition, increasing the network density is expensive. The new method will revolutionise the fifth generation of mobile phones. The antennas currently in use are mostly based on technology developed half a century ago. The research was published in the journal IEEE Antennas and Wireless Propagation Letters.
["source-gadgets.ndtv"]
ChampOne, an unknown company, has listed a Rs. 501 smartphone called ChampOne C1 on its website, with registrations for the first flash scheduled for September 2 now open. Well, sort of.
After the listing went viral on Monday, the company updated its website to say "only existing customers are eligible for flash sale" – what that means for a company with no other products is anybody's guess. The website looks shady at best, and the registration button is inactive. The company has put out a disclaimer citing "payment gateway" difficulties, and says that registrations won't work for the next 24 hours. However, it says that the smartphone will be sold through the 'Cash On Delivery Option' so we don't see why they even need a payment gateway. Some reports point to a registration fee, which in itself seems fishy.
The Jodhpur-based company has listed a toll free number, and two other phone support numbers. All our calls went unanswered, while one of the numbers was switched off. ChampOne appears to be one of the numerous startups that have recently started sprouting up in India, looking to make headlines by launching smartphones at incredible prices.
The first amongst the spate of firms was Ringing Bells with its Freedom 251, and while the company is finally delivering its first smartphones, other firms appear to have fizzled out before launch. We advise all readers to stay away from deals that seem too good to be true from brand new companies without a service history or a reputation to lose.
In any case, the ChampOne C1 runs on Android 5.1 Lollipop and supports dual-SIM. It features a 5-inch HD (720×1280 pixels) IPS display, and is powered by a 1.3GHz MediaTek MT6735 quad-core processor with 2GB RAM. It offers 16GB of inbuilt storage. Optics include an 8-megapixel back camera, and a 5-megapixel front snapper. There's a 2500mAh battery packed inside, and connectivity options include 4G LTE support. It will be made available in White, Silver, and Gold colour options.
Of course, the glitching website reminds us of the horrible inefficiency by Ringing Bells when it first announced its smartphone. The company hadn't 'anticipated the demand' for its. Rs 251 smartphone, and is still struggling to meet demands. The company first claimed that it was backed by the government and was part of the Make in India campaign, only to retrace its footsteps and mention that it was importing assembled smartphones, and has asked the government for support. The company was also accused of defrauding its customer service partner by refusing to pay dues. After too many delays, the company even tried to make amends by saying that it will refund the money of first phase's 30,000 Freedom 251 customers – and will accept cash upon delivery.
Another company that made headlines recently for what were found to be fraudulent tactics was mPhone, which was all set to announce its smartphone portfoliio in the country. However, those plans came to a grinding halt, after the co-founders were arrested at the launch venue for alleged fraudulent activities. The company was set to launch six smartphones in the country ranging from Rs. 11,999 to Rs. 39,999, but we haven't heard of anything post their arrest.
Also, let's not forget the Docoss X1 launched by a Jaipur-based company for Rs. 888. Their website itself was extremely fishy, with many technical goof-ups. Their customer care support also proved to be very vague. The smartphone was to begin shipping in May, but it still hasn't managed to do that yet. The website currently mentions that the smartphone will be shipped soon.
The upcoming iPhone is undoubtedly the most anticipated smartphone of the year, and rumours surrounding the smartphone have been too many. What's more interesting this year, is that many conflicting reports are surfacing online making it impossible for us to speculate with ease. One thing seems almost certain though – the next iPhone is set to break Apple's tick tock cycle and be unveiled with minimal design changes. Because of these few changes, contradicting reports of the iPhone being called the iPhone 6SE are coming in. Today, we have two leaks in the form of retail box images and Geekbench scores that indicate the coming of the iPhone 6SE. Additionally, there is also a leak that reiterates the end of the 16GB storage variant.
The first one comes in the form of photographed pictures of the iPhone 6SE retail box. The images don't seem to be photoshopped and show the retail box clearly with the iPhone 6SE branding. There is a separate leak of a Geekbench score of 5,210 in multi-core testing, and 3,042 in single-core testing. The image also shows the model number as iPhone 6SE. The man who leaked it also did the same test on iPhone 6s and scored 4,427 and 2,542 points respectively.
Furthermore, tipster Malignant has again instilled faith that the next iPhone will say goodbye to the 16GB base variant. Apple will instead slide in 32GB as the base storage variant, and apparently the 64GB will also be scrapped to make way for the 128GB mid-variant. The top variant will offer a new 256GB storage option.
Whatever the name be, the upcoming iPhone is said to have no 3.5mm audio jack, and the larger variant is tipped to sport a dual camera setup. Another feature that is on the see-saw is the Smart Connector, with too many conflicting reports to put a pin on one decision. Apple should have sent invites by now, but it clearly hasn't so the rumoured September 23 availability could just be true.
["source-gadgets.ndtv"]