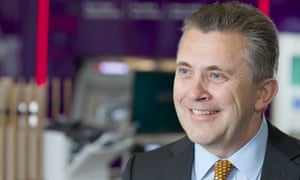 And that's it. Thanks for all your questions, sorry we couldn't answer them all, but hopefully we've picked through most issues raised.
We've been running for nearly an hour now, so will wind things up. Thanks to Les for coming in. As a final question we asked him what was on the agenda in the coming months. He says: Being able to take a picture of a cheque rather than having to go into the branch is something that will be delivered by the industry in the autumn. Through the year we will regularly introduce new services through our mobile app. We've recently made it possible for you to change your standing orders and direct debits very quickly through mobile. A big priority for me is listening to our customers, and we've introduced a system that helps us to do that, and I've been using it myself. We take customers feedback and follow up on some of the changes they've asked us to make.
I've worked in several banks including RBS and Barclays as both an employee and a consultant. My experience has been that there is an endemic blame culture prevalent in those organisations when things go wrong and Barclays' faux pas this week has reinforced my view that platitudes about culture, conduct and the confidence to "Speak Up/Speak Out" have been ineffective and primarily been "a sop to the regulator" (in quote marks as this is what a Barclays Exec working in the corporate centre said to me around 2013).
How would you suggest that banks genuinely change their internal culture – and I don't mean training and posters, I mean organisational change to ensure people can get away from the type of events that happened at Barclays this week.
Les says: I agree that culture is critical. What is needed is action rather than words, as you say. Very tangible action we have taken is removing all variable compensation for our customer-facing steams. We also do have an anonymous whistle-blowing process which goes to our non-executive directors rather than executive management. We have reviewed this process in the light of the story to ensure we are fully comfortable with how it works.
When pressed on bonuses at the top-end of the bank, Les said:Neither I nor any or my executive colleagues get a cash bonus. Instead we get shares in the company, some of which vest only after seven years. I think that aligns the interests of the management team with thinking long-term for customers and shareholders.
Why did NatWest take the bail out from PM Brown in 2007-8, with an undertaking to maintain existing lending levels, then have it's staff tell businesses on the ground not to apply for finance as there would be none available? I know this because it happened to me. RBS then told PM Brown that lending had not been maintained because of insufficient demand for it. I think you should come clean and admit it happened, along with all the other terrible practices.
Les says: I think there were a lot of things around the time of the global financial crisis that the industry should not have done. I can't change that. What I can say is that after the crisis we were lending responsibly to customers that could afford it, and we are absolutely committed to lending today to businesses as well as personal customers, provided it is the right thing for them.
How do you think Natwest will stay competitive in a world of open banking where fintech firms are disrupting the market? They don't have the legacy systems, politics or bureaucracy and can build new functionality in a fraction of the time it would take a big firm like yours. I've banked with Natwest for 20 years but will be leaving you for Monzo later this year, and I'm sure I won't be the only one.
Les says: We are also developing and introducing new systems. We are improving our legacy systems all the time. Our mobile app runs off a system that is one of the latest available. We're also introducing security systems that can protect all of our underlying processes for customers. We are investing more than £1bn over the coming year in technology, security and innovation.
[Source:- Gurdian]