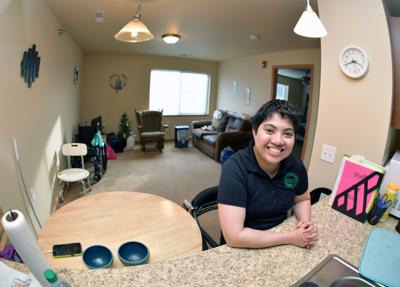 North Dakota legislators are considering putting money back into the Housing Incentive Fund, a state program that seeks to make housing affordable.
The program that was first funded in 2011 has been used to help finance 2,500 rental housing units statewide, but the state didn't have dollars available in 2017.
This year, legislators are evaluating three proposals that would provide $10 million to $40 million for the Housing Incentive Fund.
One supporter of the program is Agatha Gietzen, a 31-year-old Bismarck woman. Gietzen said the affordable rent provided by the program helped her move into her first apartment five years ago.
"My dream goal was to get my own place and make it my home," Gietzen said. "It changed my life tremendously."
The Housing Incentive Fund has been used to finance eight housing projects in Bismarck and three projects in Mandan, adding 364 affordable units.
Jolene Kline, executive director for the North Dakota Housing Finance Agency, said the program is critical for seniors on fixed incomes, essential service workers and low- to moderate-wage earners.
"What we know is that 17 percent of the jobs that are posted today pay less than $15 an hour," Kline said. "At $15 an hour, you can't afford the market rent."
The agency plans to develop a proposal this spring that will prioritize what kind of rental housing is most needed. If the program is funded, the agency will accept applications in the fall and score them in a competitive process based on community needs and the financial viability of the projects.
"We get probably twice as many applications as we've got dollars for," Kline said.
The agency does annual monitoring of the projects to ensure rents remain affordable and that the housing is maintained.
Gov. Doug Burgum recommended $20 million for the Housing Incentive Fund, with the dollars coming from the Strategic Investment and Improvements Fund. Burgum said in his budget address the program would help North Dakota develop and retain workers and build healthy, vibrant communities.
Meanwhile, legislators also are considering Senate Bill 2271, which would provide $40 million for the program from the state's general fund. A third proposal, Senate Bill 2302, would provide $10 million, with the dollars coming from a state income tax credit.
In previous years, the program has been funded a variety of ways, with the bulk of the dollars coming through a tax credit.
Kline is testifying in support of all three proposals, telling legislators the program will be able to do even more with additional funding.
"From our part, the ultimate source of funding is not as critical as getting funding," Kline said. "Certainly, we want the dollars available as quickly as possible so that we can get them out into projects. Sometimes with credits it takes longer to get the contributions in, so the dollars aren't there immediately."
["source=bismarcktribune"]