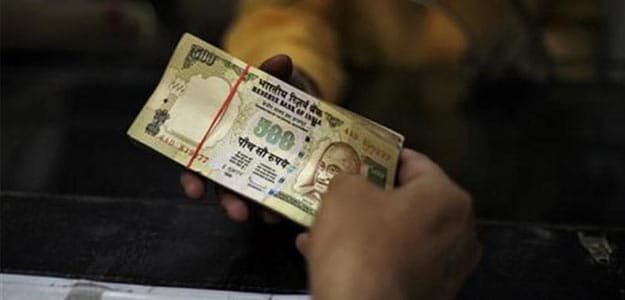 Finance Minister Arun Jaitley has budgeted Rs 25,000 crore for bank recapitalisation this fiscal year. New Delhi/Mumbai: The government will inject Rs 22,915 crore ($3.41 billion) in 13 state-run banks to help shore up the cash-strapped lenders and revive loan growth that has hit a two-decade low.
The capital infusion is part of New Delhi's plans to invest Rs 70,000 crore in state lenders over four years to March 2019.
Finance Minister Arun Jaitley has budgeted Rs 25,000 crore for bank recapitalisation this fiscal year, but he has committed to infuse more if required.
Top lender State Bank of India will get Rs 7,575 crore in capital, the Finance Ministry said in a statement on Tuesday. Indian Overseas Bank, which has the worst bad-loan ratio, is set to get Rs 3,101 crore.
A surge in bad loans and the full implementation of global Basel III bank capital rules mean Indian banks need billions of dollars of new capital.
While relatively better balance sheets are expected to make it easier for private lenders tap financial markets, most state-run lenders – struggling with a pile of stressed assets and lower profits – are heavily reliant on the government for funds.
Rating agency Fitch reckons Indian banks would need $90 billion in new capital to meet Basel III requirements, with about two dozen state-run banks accounting for 80 per cent of that figure.
Fourth biggest state-run lender Punjab National Bank, which reported a record loss in the March quarter, will get Rs 2,816 crore, the Finance Ministry said. Bank of India, the third biggest state-run lender, will get Rs 1,784 crore.
Bank stocks rose after the announcement, with the state-bank index trading 0.4 per cent higher in a Mumbai market that was down 0.1 per cent.
($1 = Rs 67.14)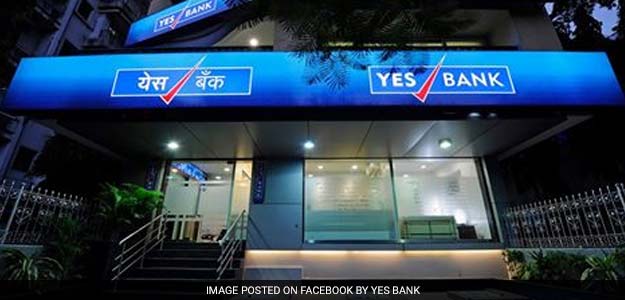 New Delhi: Yes Bank on Tuesday said Moody's Investors Service has maintained its long-term rating on the lender with a stable outlook.
"Moody's Investors Service, vide its Credit Opinion dated July 18, has maintained long-term rating on Yes Bank Ltd at 'Baa3/P-3' with stable outlook," Yes Bank said in a filing to the BSE.
Moody's has consistently maintained the rating of 'Baa3/P-3' with stable outlook since it initiated coverage on Yes Bank in November 2010, it added.
'Baa3' stands for investment grade rating for bank deposits.
Prime-3 is a short-term rating applicable on short-term debt instruments, which have a maturity of less than a year, like commercial papers.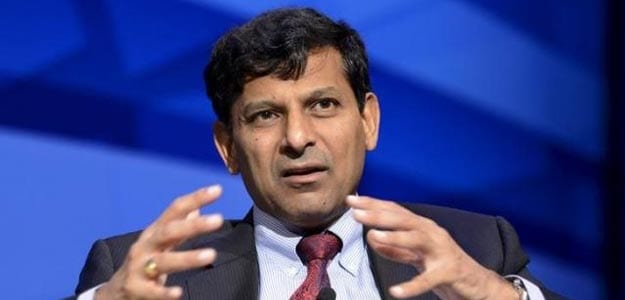 RBI Governor Raghuram Rajan's current term at the central bank comes to an end on September 4. New Delhi: A governor for the Reserve Bank of India is appointed by the Prime Minister's Office (PMO) on recommendation of the finance minister, Parliament was informed on Tuesday.
"Whereas the appointment of Governor, RBI, is approved by Prime Minister's Office on the recommendation of Finance Minister," Minister of State for Finance Santosh Kumar Gangwar said in a written reply to the Rajya Sabha.
To a separate query, Mr Gangwar said Appointment Committee of Cabinet (ACC) guidelines for appointment of deputy governors are still the same, but the composition of the search committee has been changed.
"Now, a search committee, namely Financial Sector Regulatory Appointment Search Committee (FSRASC) has been constituted with the approval of ACC. The committee will recommend names for appointment of Chairperson and Members of financial sector regulatory bodies, including those of the Governor and Deputy Governors," the minister said.
Deputy governors are appointed on the basis of Appointment Committee of Cabinet-approved guidelines, which stipulate that the search committee constituted for the purpose will recommend the person to be appointed as a deputy governor.
Mr Gangwar said Section 8(1)(a) of the Reserve Bank of India Act, 1934 provides that there shall be one Governor and not more than four deputy governors to be appointed by the central government on the central board of RBI.
Sources in the Finance Ministry said the government is close to picking a successor of Raghuram Rajan, who has announced his decision not to seek a second term after his current term comes to an end on September 4.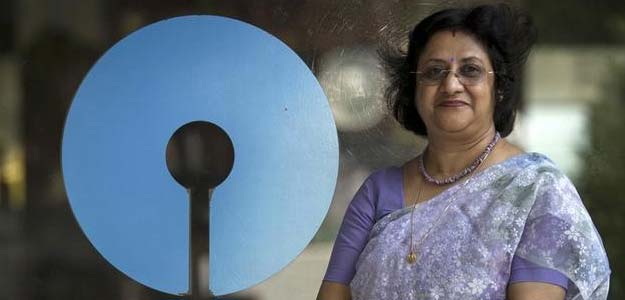 SBI chief Arundhati Bhattacharya said "provision of bank capital is most welcome and is very timely" New Delhi: Government's decision to release Rs 22,915 crore as first tranche of capital infusion in state- owned banks in the current fiscal will help them clean up the balance sheets and increase lending, SBI chairman Arundhati Bhattacharya said on Tuesday.
"The provision of bank capital is most welcome and is very timely. We are hopeful that such provision of capital will help the banks in increasing lending, raising additional funding and cleaning up their balance sheets," she said in a statement.
In a bid to shore up cash-strapped public sector banks, the government today injected Rs 22,915 crore capital in 13 lenders including SBI, Indian Overseas Bank and Punjab National Bank and promised to release more funds depending upon their performance.
Out of the total, State Bank of India will get Rs 7,575 crore, followed by Indian Overseas Bank (Rs 3,101 crore) and Punjab National Bank (Rs 2,816 crore).
Observing that the stressed asset situation is serious, Sapan Gupta, National Practice Head, Banking & Finance, Shardul Amarchand Mangaldas & Co said: "The capitalisation by government will provide necessary confidence to the public sector banks in dealing with the problem even though the absolute capital requirements are higher."
The other lenders, which have received capital infusion are Bank of India (Rs 1,784 crore), Central Bank of India (Rs 1,729 crore), Syndicate Bank (Rs 1,034 crore), UCO Bank (Rs 1,033 crore), Canara Bank (Rs 997 crore), United Bank of India (Rs 810 crore), Union Bank of India (Rs 721 crore), Corporation Bank (Rs 677 crore), Dena Bank (Rs 594 crore) and Allahabad Bank (Rs 44 crore).
The state-owned banks are under tremendous pressure on account of spiralling bad loans.
Gross Non-Performing Assets (GNPA) of public sector banks jumped from 5.43 per cent (Rs 2.67 lakh crore) in 2014-15 to 9.32 per cent (Rs 4.76 lakh crore) in 2015-16 and, as per the RBI's Financial Stability Report, may rise further to 10.1 per cent under the baseline scenario.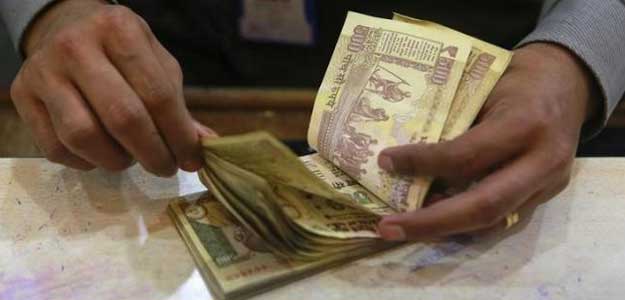 Chennai: Indian Bank on Tuesday said it is adequately funded and will meet its capital requirements through internal accruals.
Hailing infusion of Rs 22,915 crore capital into 13 PSU banks by the Centre as an "intelligent move", Indian Bank managing director and CEO Mahesh Kumar Jain said it would help the lenders focus on credit growth.
"The proposal to infuse capital in public sector banks by the Central government is an intelligent move. While 75 per cent has been released now, the remaining 25 per cent will be based on performance and efficiency of the bank. That is very important. The move will help banks to focus on their credit growth," he told PTI.
Replying to a question, he said the public sector bank was not part of the capital infusion beneficiaries as it is "very well capitalised".
"Indian Bank is very well capitalised and we never requested the government to infuse capital. Our capital adequacy ratio is 13.20 per cent while Tier I Capital is 12.08 per cent. Common equity is 11.68 per cent," he said.
The government on Tuesday provided Rs 22,915 crore capital to 13 public sector banks including State Bank of India, Punjab National Bank and Indian Overseas Bank to enhance their lending operations and enable them to raise more money from the market.
On the outlook for the current financial year, Mr Jain said, "I think for the industry as a whole the credit growth is likely to be around 9-10 per cent. For Indian Bank, we are expecting it around 11 per cent during this financial year."
"Our focus will be on retail and MSME (micro, small and medium enterprises). Demand is also there in retail. But on corporate side, we will not be aggressive. Our asset quality is protected."
"For the financial year 2016-17, we are expecting growth of 10-11 per cent," he said.
To a query on expansion plans, he said the bank is planning to open 150 branches during this financial year.
"Last year we opened about 158 branches. This year we are expecting about 150 branches," he added.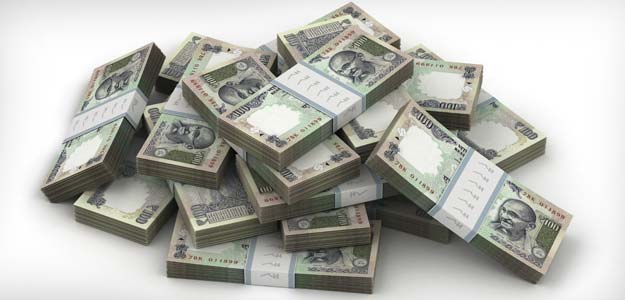 Individuals with net assets of $1 million or more are referred to as high net worth individuals. New Delhi: The number of millionaires in India is growing strongly and at the end of 2015, around 2,36,000 high net worth individuals (HNWIs) were living in the country, with a combined wealth of $1.5 trillion (around Rs 100 lakh crore at $1 = Rs 67.15), says a report.
While most countries worldwide have experienced negative or negligible growth since 2007, India has performed "very well" in terms of wealth performance through this period, according to the India 2016 Wealth Report by New World Wealth, a global wealth intelligence and market research company.
"During our review period, Indian HNWI volumes increased by 55 per cent from 1,52,000 HNWIs in 2007 to 2,36,000 HNWIs in 2015. HNWI wealth rose 67 per cent, from $0.9 trillion in 2007 to $1.5 trillion in 2015," the report said.
Individuals with net assets of $1 million or more are referred to as millionaires or high net worth individuals (HNWIs).
The major factors responsible for growth in wealth performance in the country included strong growth in the local construction, financial services, IT, business process outsourcing and healthcare sectors; solid economic growth and increased levels of entrepreneurship.
The report also noted that growth in Indian HNWI wealth and volumes is expected to be strong over the next 10 years.
"We expect the number of Indian HNWIs to grow by 135 per cent, to reach around 5,54,000 by 2025. This will make India one of the top five performing HNWI markets in the world over this period (in terms of percentage of HNWI growth), along with Vietnam, Sri Lanka, China and Mauritius," it said.
The 135 per cent rise will be fuelled by strong growth in the local financial services, professional services and media sectors.
The main factors that encourage wealth growth in a country included strong ownership rights and the country scored 9/10 in this metric, followed by strong economic growth (9/10).
A well-developed banking system and stock market was also a factor as it encourages the people to invest their money within a country and grow their wealth locally, the report said.
The report, however, also noted that excessive government regulations are a major hurdle for new businesses in India.
"Corruption is also a major problem – businesses often need to pay regular bribes to government officials in order to operate successfully. This problem has improved over the past year since Prime Minister Modi took office," it said.
India is often cited as a difficult place for overseas investors to do business – there is a lack of transparency in several parts of the economy and the cost of starting a business in India is very high, it added.
"India also ranks as one of the worst countries in the world for the ability to enforce a contract, taking an average of 1,420 days," it said.
New World Wealth provides information on global wealth sector, with a special focus on high growth market.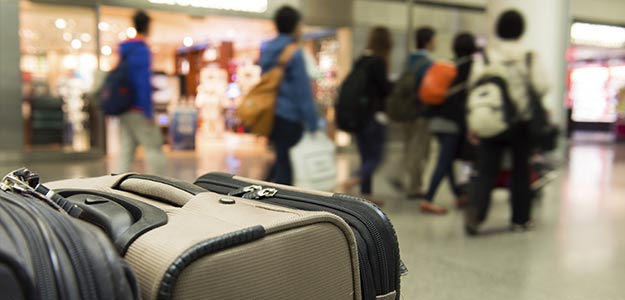 New Delhi: Employees who fail to buy air tickets at the lowest price available on the day while undertaking a journey on Leave Travel Concession (LTC) claim will face severe penal action, as per the draft guidelines finalised by the Centre.
The move comes after the government noticed instances where some of its employees colluded with private travel agents to submit LTC claims showing inflated airfare to clandestinely obtain undue benefits like free boarding, lodging, transport or cash refunds.
The Central Bureau of Investigation (CBI) is also looking into cases of alleged irregularities in availing the LTC claims.
The ministries concerned will also carry out random checks with airlines to ensure that the tickets were booked at the lowest fare available on the date of purchase.
"It has now been decided that in accordance with the canons of financial propriety, government servants should purchase tickets at the lowest rate available at the time of booking for the date and time of scheduled journey."
"Government servant will be required to submit print-out of tickets showing date and time of booking in addition to the fare charged," the new guidelines drafted by the Department of Personnel and Training (DoPT) said.
Any violation of the existing norms by authorised travel agents – M/s Balmer Lawrie & Company, M/s Ashok Travels & Tours and IRCTC – will invite blacklisting.
A government employee gets reimbursement of tickets for to-and-fro journey, in addition to leaves, when he avails LTC.
There are about 50 lakh central government employees.
The proposed guidelines have cited provisions of the service rules "which require the government servants to maintain absolute integrity at all times". In addition, cheating and fraud also attract various sections of the Indian Penal Code (IPC), it said.
"Ministries and departments should therefore not hesitate to take severe action against employees guilty of deliberate malpractices, particularly in collusion with travel agents etc," the DoPT said.
The new guidelines are likely to come into force from next month, a senior government official said.
The DoPT has also warned the employees that any plea of ignorance of rules will not be entertained and any deviation will be handled legally and in accordance with the service rules.
As per the draft guidelines, while submitting the LTC claim after completion of the journey, the government servant will be required to submit a self-certificate on plain paper that the airfare claimed by him or her in respect of the fare charged by the airline is for the air journey only and does not include any charges for any facility, undue benefit including boarding, lodging or local transport.
The employees need to certify that the tickets were booked "at the lowest fare available for the destination at the time of booking for the scheduled date and time of departure" and that they are aware that suppression of any information or furnishing wrong information will render them liable to disciplinary action.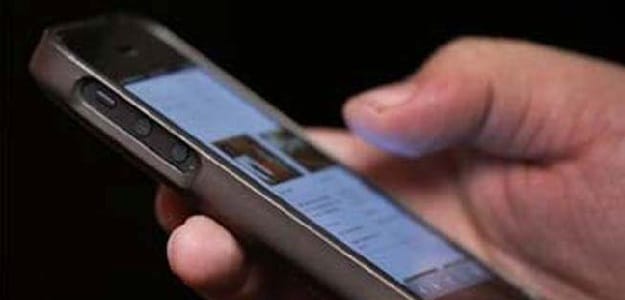 Hyderabad: The Reserve Bank of India (RBI) on Monday said it will become easier in the coming weeks for people to transfer funds between bank accounts through their smartphones.
Speaking at the IDRBT Banking Technology Excellence Awards function, RBI Governor Raghuram Rajan also made a case for tax benefits to merchants for promoting digital transactions.
Leveraging the high mobile density, mobile banking services are being encouraged through inter-operable USSD channels like *99# and the Unified Payments Interface (UPI).
"I am especially enthused by UPI, as smartphones become more widely available. Transfers from bank account to bank account will become easier in a few weeks via smartphone through the Unified Payment Interface," the RBI chief said.
Elaborating, Mr Rajan said a villager needing to pay a shopkeeper only needs to know the latter's alias – say [email protected] – to transfer funds.
"Neither needs to visit the bank to take out or deposit money, no point of sale machine is needed. With the price of smartphones falling sharply, we are on the verge of solving the last-mile problem," he said.
Mr Rajan said that despite the huge potential, activation rates and usage levels of electronic payment services remain at low levels though growth is picking up.
"No doubt, the fear of taxation as payments move from cash to electronic plays a part in dampening activity. As information technology brings down the possible space to avoid or evade tax, and as the benefits… I have no doubt that merchants will push more for electronic payments," he said.
"Some tax benefits to those merchants who show increases in digital transactions, and perhaps innovative ways to encourage customer participation, may be beneficial."
Mr Rajan also stressed on the importance of systems that offer security of transactions even to the unsophisticated user and do not place a huge burden of care on them.
"There is no point creating security for the ideal customer, instead the system should incorporate the possibility of mistakes by the actual customer that we have," the RBI governor said.
Mr Rajan emphasised that the payment mechanism should be cheap and scalable so that they are suited to the economy where ticket sizes are small but transaction volumes huge.
An additional desirable element would be for the different payment systems to be inter-operable – or at least be able "to talk to each other".
An effective process of consumer redressal that allows speedy and fair resolution of customer complaints is also needed, he said, adding that "so long as customers adhere to a reasonable level of care, residual risks should be absorbed by the operator".
Mr Rajan further said that while banks find it "more profitable" to cater to requirements of privileged customers, the digital divide should not widen as more and more digital payment options are being designed to serve requirements of those who already have access, but a large segment of society is left dependent on cash.
The RBI governor is of the view that no technology-based or digital services can be offered without consideration for security of transactions, pointing to a recent spate of frauds (through vishing and phishing) in some segments of payment services.
"Banks have a very high level of responsibility when adopting digital channels – to not only ensure security of the channel at infrastructure level, protect data security and personal privacy at system level, but also address the need to build customer awareness on security matters," Mr Rajan said.
The central bank, Mr Rajan said, will soon be laying down the framework for customer liability in electronic payments.
Banks have to necessarily build this aspect into their customer education and grievance handling processes.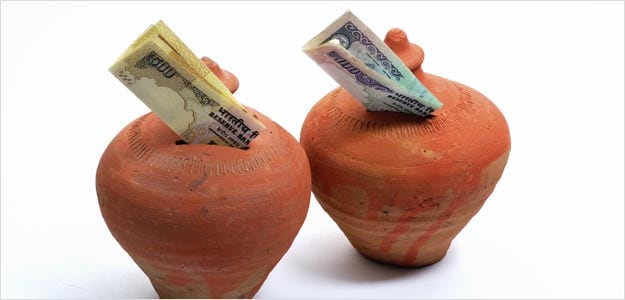 New Delhi: Retirement fund body EPFO is not considering any proposal to increase investments in Exchange Trade Funds (ETFs), Parliament was informed on Monday.
"The Central Board of Trustees (CBT), Employees' Provident Fund (EPF) has approved investment of only 5 per cent in ETFs.
At present, there is no proposal under consideration of the government to enhance this limit," Labour Minister Bandaru Dattatreya said in a written reply to Lok Sabha.
As on 30 June, the total amount invested by EPFO in ETFs is Rs 7,468 crore and the absolute return on the investment so far is 7.45 per cent.
Separately, the minister had earlier said: "There will be a CBT meeting before July 22. We may take a decision on the quantum of investments to be made in ETF. We are in discussions with Bombay and National Stock Exchanges also. The investment will certainly increase (over last year).
"The Finance Ministry gave us clearance to invest from 5 to 15 per cent. It is a long term investment. It may be up to 10 to 12 per cent depending upon the market conditions. We expect the markets would be stabilised in the long run. Markets also need money."
EPFO had started investing ETFs in August last year. Trade Unions have been opposing the decision of the EPFO to invest ETFs in view of volatility in the stock markets.
The minister told the House that as per the pattern of Investment notified by Ministry of Labour & Employment on April 23, 2015, investment in equity and related investments is permitted from 5 to 15 per cent.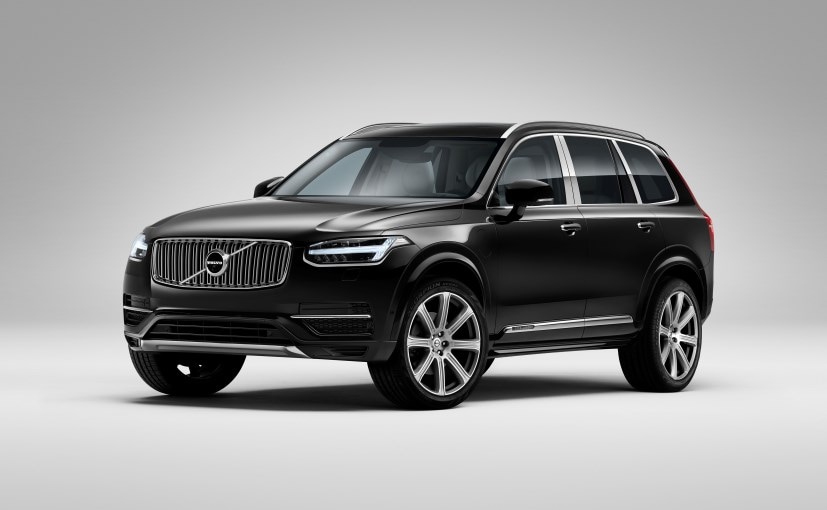 Volvo is bringing its much touted Excellence Trim available on the XC90 to India. The Excellence option is only on offer in select markets and India gets to be one of them. The regular XC90 Inscription trim cabin is already pretty upscale, but the Excellence adds to that. It is being introduced only on the T8 petrol hybrid variant that launches this month. We have the exclusive review of the T8 hybrid for you on our site too. Those who opt for the hybrid in the 7-seater avatar will get the Inscription top-end trim.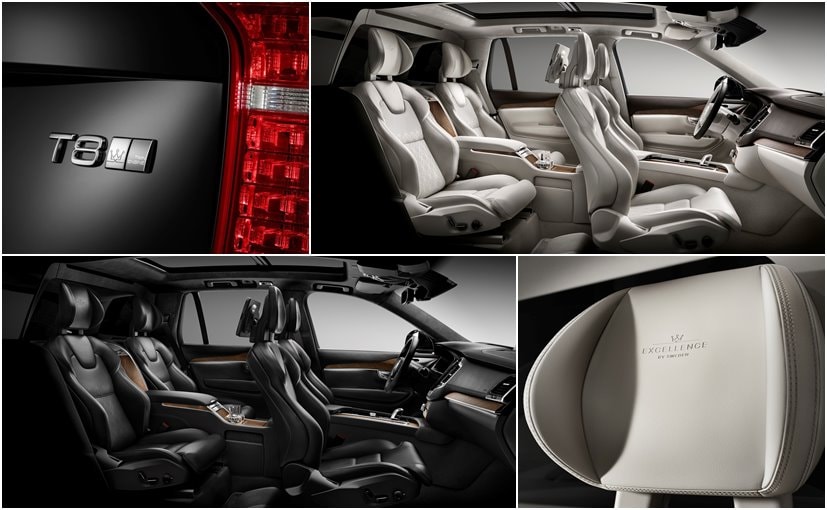 Volvo XC90 Excellence Edition
The Excellence is quite literally the lap of luxury – and that's precisely what Volvo is going for. The big highlight – the individual seats at the rear, making this car a 4-seater. The seats themselves are very comfortable; they can be reclined and of course adjusted electrically. They are great for long drives and obviously for those who plan to be chauffeured for the most part. They also have a massage function – which along with the rest of the seat functions (including ventilated cooling and seat heating) can be operated using a pop-up touchscreen that sits between the two seats. That's a nice little touch. Another 'business class feature' is the tray tables that can be folded out of the central arm rest. The arm rest also has a storage bin housed below it which contains charging and USB points.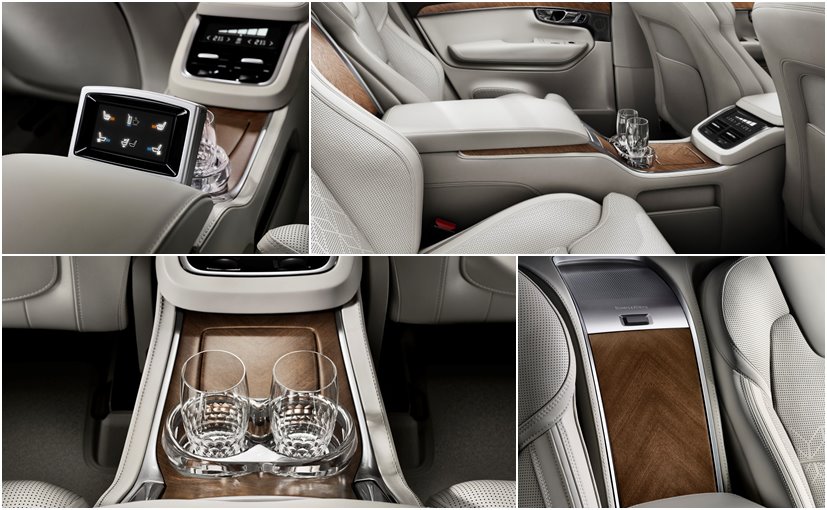 Volvo XC90 Excellence Edition Features
At the rear, between the seats is the in-car refrigerator – or should I say champagne cooler! The Excellence comes with its own exclusive set of crystal glasses and special champagne flute holders, that can be housed inside the fridge to keep them cool! The fridge can take up to two bottles of champagne – or your preferred beverage. There is a holder between the seats to stick the specially designed flutes too – they do not have a base and have to be inserted into the holder to stay upright. The car's cabin is also shut off from the cargo area by a glass partition which helps keep it quieter, and cool quicker.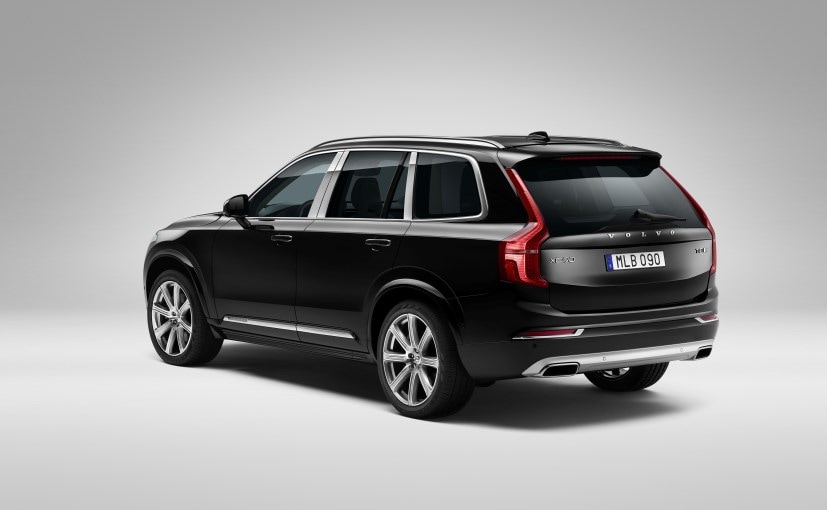 Volvo XC90 Excellence Edition Rear
All this luxury will cost you – the Excellence trim 4-seater XC90 T8 will be priced at 1.2 Crore. You can opt for the 7 seater version of the T8 too as I said. There are two versions of the interior – that can be finished in black or beige. The T8 will be on offer from next week and Volvo will only import the cars against orders.
["source-ndtv"]