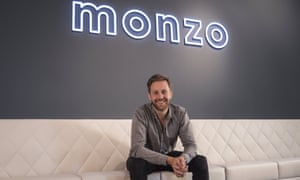 Aletter from the bank tends to arouse dread. In these mostly paperless days, it usually means you've gone overdrawn again or the interest rate on your savings account has moved even closer to zero. Best not open it now; stick it on the pile for later-slash-never. But when my new Monzo bank card landed on the doormat one morning, I felt a frisson of excitement. Perhaps it was the six-week waiting list: there were 66,000 people ahead of me in the queue when I applied. Maybe it was just the hot pink debit card, the millennial's answer to the black Amex.
Monzo, a smartphone-only "challenger" bank, has this effect on a lot of people. In its first round of crowdfunding, in March 2016, it raised £1m in 96 seconds, the fastest crowdfunding campaign ever. In a more recent campaign, the singer Tom Odell and Kevin Systrom, co-founder of Instagram, came on board as investors and the company raised £70m. Wired magazine asked if Tom Blomfield, Monzo's 32-year-old British founder and chief executive, would become "the Jeff Bezos or Mark Zuckerberg of banking".
It's not easy to say why Monzo inspires such passion. Unlike many banks, the startup does not offer you a cash incentive to join. (Instead it gives customers one "golden ticket", which they can pass on to a friend to jump the queue to join; these do brisk business on eBay.) Furthermore, you don't receive interest on the money you keep with it. Monzo offers attractive savings on spending abroad, but it's hard to believe that this alone has brought in almost half a million UK customers, who have spent more than £800m, since it was launched in 2015.
"There's a group of very rational people who know about it, but don't get it," Blomfield concedes, over a coffee in Monzo's office, just off the Old Street roundabout in east London. If the Monzo story ever gets the Social Networktreatment, Ryan Gosling would be a shoo-in for the Blomfield role. "Typically bankers, accountants, lawyers or sometimes investors, they say, 'Why do people like this? Why are you growing so fast? What's the benefit?' And when they say what's the benefit, they mean the benefit for a purely economically rational person: 'What do I get?'"
This is a 20-year project, but a billion users, yes, that is our mission

Tom Blomfield, Monzo CEO
How does Blomfield convince them? "Well," he replies, "the answer for them, frankly, is that you get free foreign exchange. And they go, 'Ahhh, I get it.' But that's totally missing the point. For something like 90% of our customers, the free foreign exchange is nice, but they might go on holiday once or twice a year. They are living on an average salary and it's about visibility and control. It's the feeling that: 'With my old bank I never knew how much money I had at any point and I'd spend over a weekend and on Monday morning all the charges would hit my account and I'd realise I'd overspent and it caused me anxiety and stress.'"
Monzo believes it can restyle banking for the digital age. Its strapline is: "We're building the kind of bank that you'd be proud to call your own." It uses a lot of emojis in its communications. Along with other app-based challenger banks, such as Starling and Atom, it thinks it can offer a different, more intuitive and personal experience than the five big banks – Lloyds, Barclays, HSBC, the UK arm of Santander and Royal Bank of Scotland – that dominate more than 80% of the current-account market in the UK.
So far, Monzo has made a particularly effective landgrab in the youth sector. Half of its users are under 30, and a further quarter are under 40. It started out offering a prepaid debit card that updated purchases instantly and sorted them into helpful categories (eating out, groceries, transport and so on) on the app on your smartphone. In recent months, it has begun to switch customers over to a full-blown current account.
"Monzo can't be for everyone, but I think it's for about 90% of people," says Blomfield. "It's for people who live their life on their mobile phone, that's the primary unifying factor. So if you really really are glued to this thing" – he holds up an iPhone – "then it's an app that's designed in the same way that WhatsApp, Citymapper, Uber and Amazon are. It just works the way they expect. And it gives you real-time visibility and control. It's one of those home-screen apps: you have five or six apps you use to live your life and Monzo is one of those things."
Not long ago, Blomfield claimed that if Monzo kept growing at the same rate it would have a billion customers by 2023. Today, he backtracks, but only a couple of steps. "This is a 20-year project," he clarifies, "but a billion users, yes, that is our mission."
The exact form it will take is up for grabs; Blomfield wants to keep Monzo fluid. "What we're trying to build is a web platform. Something like a Facebook or a Google, almost an Amazon even or a Twitter. A marketplace bank, where we don't offer all of the products to our customers but we are the interface between them and their money. So they use Monzo to visualise and control their money wherever it sits, and that might be in a Barclays savings account or their HSBC mortgage or their pension or their Isas or whatever. So all the products aren't necessarily provided by us. In fact, most of them are not."
Banking has, historically, changed at a pace just a little faster than glacial. The big banks all offer a very similar range of products and dominate the financial landscape. Overwhelmingly, we open a current account with one of them as children or young adults and that becomes our bank, often for the rest of our lives. Before a switching service was introduced in 2013, on average we would stay with our bank for 17 years. The typical marriage in Britain, meanwhile, lasted 11 years, seven months.
This situation, however, is set to receive a shake-up. From 13 January 2018, open banking will force the UK's nine largest banks to share their data with licensed startups (subject to the approval of account holders). One simple benefit of this change is that, at last, we will be able to coordinate transactions from different banks in one place, such as a Monzo app. More intriguing, though, is what use can be made of the data; in theory, putting aside obvious privacy concerns, it should lead to a personalised bundle of services and products. Maybe it will automatically switch your gas and electricity to ensure you're always on the best rate.
Open banking has been called "the Uber moment" for the finance industry by Antony Jenkins, the former chief executive of Barclays who now runs 10x, a financial services data firm. And the assumption is that the banks will be unable to keep pace with the fleet-footed startups.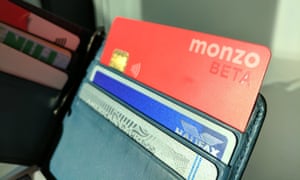 .