ChampOne, an unknown company, has listed a Rs. 501 smartphone called ChampOne C1 on its website, with registrations for the first flash scheduled for September 2 now open. Well, sort of.
After the listing went viral on Monday, the company updated its website to say "only existing customers are eligible for flash sale" – what that means for a company with no other products is anybody's guess. The website looks shady at best, and the registration button is inactive. The company has put out a disclaimer citing "payment gateway" difficulties, and says that registrations won't work for the next 24 hours. However, it says that the smartphone will be sold through the 'Cash On Delivery Option' so we don't see why they even need a payment gateway. Some reports point to a registration fee, which in itself seems fishy.
The Jodhpur-based company has listed a toll free number, and two other phone support numbers. All our calls went unanswered, while one of the numbers was switched off. ChampOne appears to be one of the numerous startups that have recently started sprouting up in India, looking to make headlines by launching smartphones at incredible prices.
The first amongst the spate of firms was Ringing Bells with its Freedom 251, and while the company is finally delivering its first smartphones, other firms appear to have fizzled out before launch. We advise all readers to stay away from deals that seem too good to be true from brand new companies without a service history or a reputation to lose.
In any case, the ChampOne C1 runs on Android 5.1 Lollipop and supports dual-SIM. It features a 5-inch HD (720×1280 pixels) IPS display, and is powered by a 1.3GHz MediaTek MT6735 quad-core processor with 2GB RAM. It offers 16GB of inbuilt storage. Optics include an 8-megapixel back camera, and a 5-megapixel front snapper. There's a 2500mAh battery packed inside, and connectivity options include 4G LTE support. It will be made available in White, Silver, and Gold colour options.
Of course, the glitching website reminds us of the horrible inefficiency by Ringing Bells when it first announced its smartphone. The company hadn't 'anticipated the demand' for its. Rs 251 smartphone, and is still struggling to meet demands. The company first claimed that it was backed by the government and was part of the Make in India campaign, only to retrace its footsteps and mention that it was importing assembled smartphones, and has asked the government for support. The company was also accused of defrauding its customer service partner by refusing to pay dues. After too many delays, the company even tried to make amends by saying that it will refund the money of first phase's 30,000 Freedom 251 customers – and will accept cash upon delivery.
Another company that made headlines recently for what were found to be fraudulent tactics was mPhone, which was all set to announce its smartphone portfoliio in the country. However, those plans came to a grinding halt, after the co-founders were arrested at the launch venue for alleged fraudulent activities. The company was set to launch six smartphones in the country ranging from Rs. 11,999 to Rs. 39,999, but we haven't heard of anything post their arrest.
Also, let's not forget the Docoss X1 launched by a Jaipur-based company for Rs. 888. Their website itself was extremely fishy, with many technical goof-ups. Their customer care support also proved to be very vague. The smartphone was to begin shipping in May, but it still hasn't managed to do that yet. The website currently mentions that the smartphone will be shipped soon.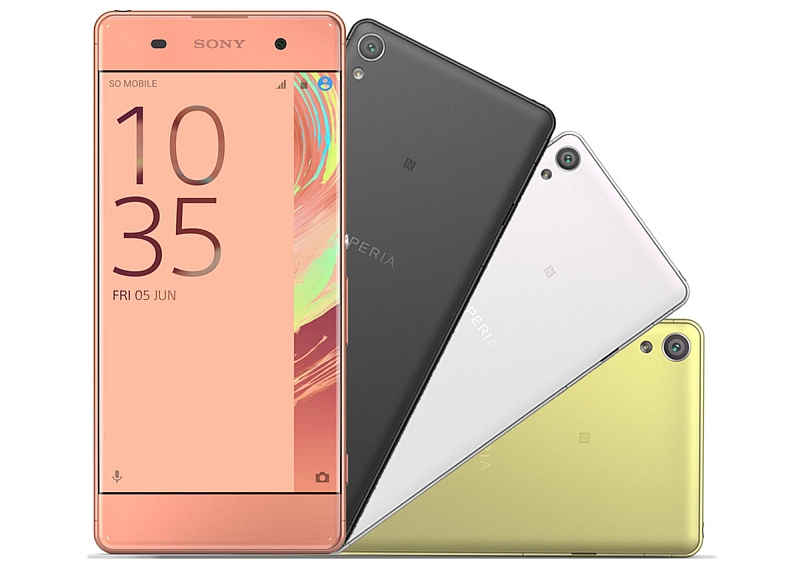 Google has started rolling out final build of Android 7.0 Nougat for its compatible Nexus devices, and soon after the tech giant also confirmed that the upcoming LG V20 will be the first "new smartphone" running on the new OS out-of-the-box. Without wasting much time, Sony has released the list of all its smartphones that will receive the Android 7.0 Nougat update.
Sony has confirmed that the Xperia Z3+, Xperia Z4 Tablet, Xperia Z5, Xperia Z5 Compact, Xperia Z5 Premium, Xperia X, Xperia XA, Xperia XA Ultra and Xperia X Performance will receive the Android 7.0 Nougat update. The tech company refrained from providing a time-frame for when the update will arrive.
This means select smartphones that were launched last year and this year are getting the update, while Sony has stopped its software support for all the smartphones released in 2014 completely. Many smartphones that were released in this two-year time-frame have also been left out. Interestingly, the Sony Xperia E5 that was launched in May this year has also been left out. The Sony Xperia Z4, and Xperia Z4v released in the second quarter of 2015 will also not get the update.This year, Sony launched the Sony Xperia X and Sony Xperia XA, and Xperia XA Ultra in India; and priced them at Rs. 48,990, Rs. 20,990, and Rs. 29,990 respectively. All of these smartphones are receiving the Android 7.0 Nougat update.
To recall, Sony is also hosting an event at IFA on September 1, where it is widely expected to unveil the Xperia XR smartphone. Past leaks suggest that the Sony Xperia XR is expected to feature a 5.1-inch display, and be powered by a Snapdragon 820 processor. With this smartphone, Sony is also expected to make the switch to USB Type-C ports. So far, Sony's entire smartphone portfolio sports a Micro-USB ports. The smartphone is also expected to support 4K recording with the front and back cameras.
["source-gadgets.ndtv"]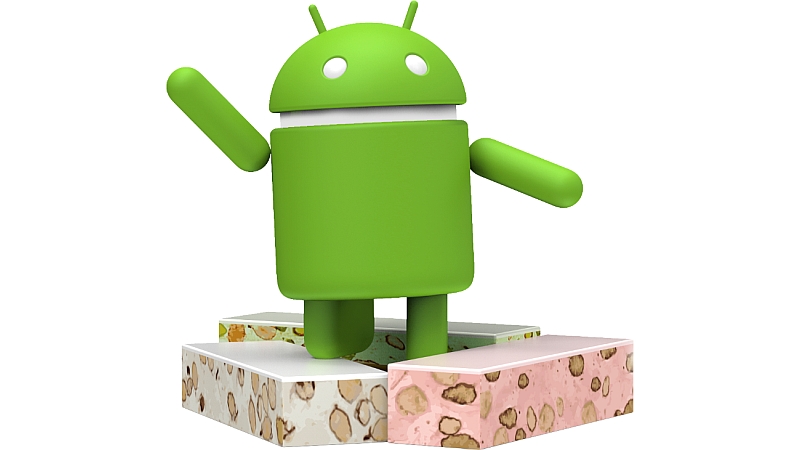 The rollout of the final build of Android 7.0 Nougat has now officially started with select Nexus devices getting the latest version of Google's smartphone operating system. The new update brings several additional features to Android, from tweaks to the interface that will change how you use your phone, to changes under the hood that will improve battery life and performance.
According to the official Android blog, there are over 250 major new features in Android 7.0 Nougat, and here are some of the highlights.
1. Multi-window
Multi-window support will allow you to run two apps side by side, and the windows are resizable too, by dragging the divider. We've seen this feature before from a number of phone makers, and your mileage may vary on how useful multi-windows are, but with phones now crossing the 6-inch mark, it makes sense to think of ways to use all that screen real estate.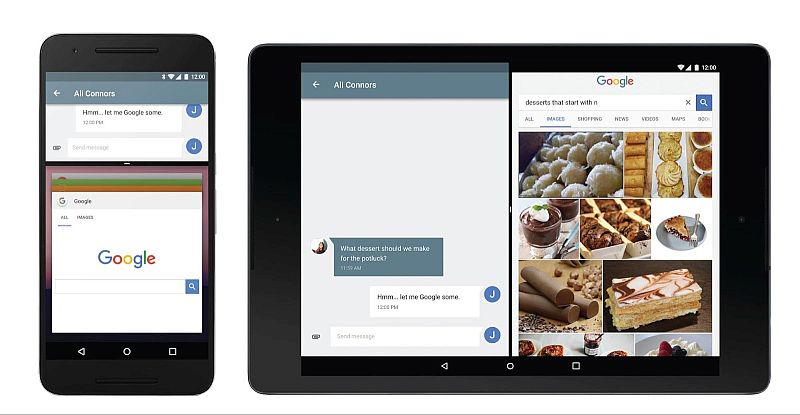 2. Direct reply to notifications
Android's notifications also get an overhaul, with a new template that makes the notifications stand out more, and offer custom views along with direct reply. This will allow you to answer a text or chat message directly from the notification pane.
3. Quick settings
Easy access to Bluetooth, Wi-Fi, and the flashlight with a single swipe. Not only are all the important shortcuts now all in the notification shade, but it's something you can edit to change the order of the icons.
This is something that the different OEMs have had to implement in the past, with mixed results – as default Android behaviour, it'll help ensure that users of all devices get the same kind of experience.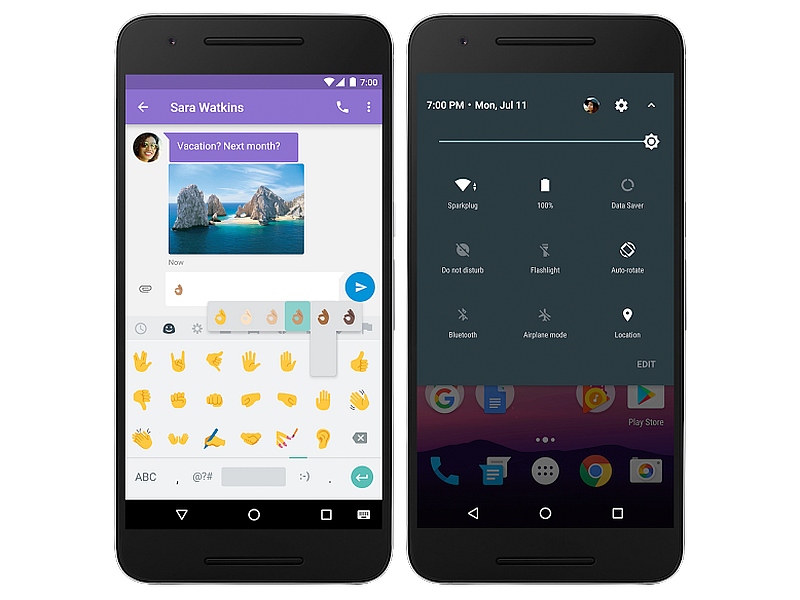 4. Multi-locale support
You can now select multiple locales in your settings, and this can be used by apps to tailor their content. This will be useful for multilingual users – for example, your search engine results could be tailored to show results in all the languages you selected.
5. Better battery life
Last year, Android got a new feature called Doze that preserves the battery while the phone is lying at rest and idle. This feature has been updated, and and now can kick in even when you're on the move.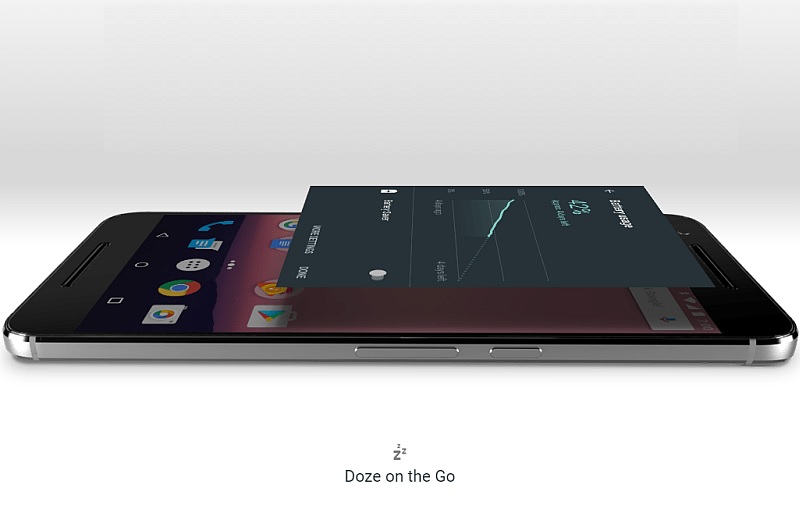 6. Faster, more secure
The new Direct Boot mode allows the phone to run in a secured mode when powered up but not unlocked. Apps do not run during direct boot mode, though they can be set up to run components, such as scheduled alerts (alarm clocks) or important notifications (messages), which are run in an encrypted mode. This means that your device can startup faster, while remaining secure even as the phone reboots.
Other security updates include file based encryption, and seamless updates, which will lead to faster software updates in the background.
7. Better performance
Android 7.0 Nougat comes with a new feature called Vulkan, a cross-platform API for 3D graphics. This makes better use of multi-core processors for gaming and other similar applications, so expect a performance boost over time. There are also optimisations to the way apps run in the background, which will also improve system performance by preventing needless access to the RAM.
8. Virtual reality
Android 7.0 Nougat also brings VR mode in Android through Daydream. Current phones are not expected to be compatible with Daydream so this will matter only to people buying new devices – but Daydream-ready phones, headsets and controllers, are all coming later this year.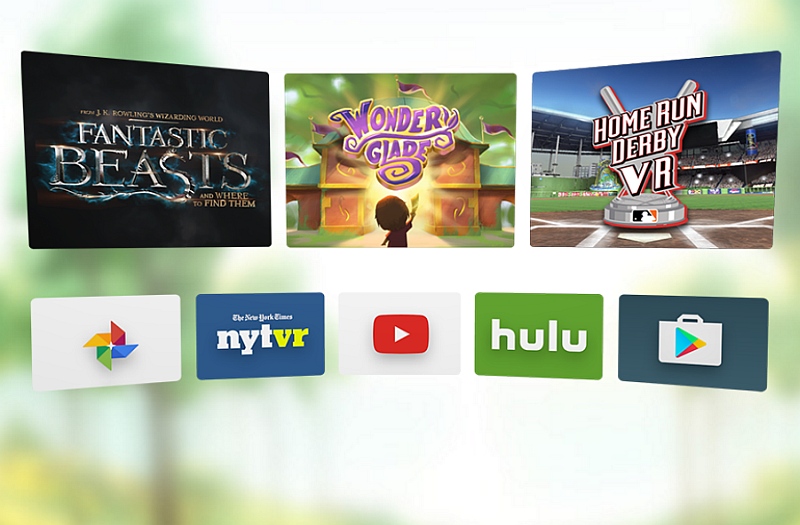 These were the main updates that we've seen to Android 7.0 Nougat. Which features do you think are most interesting? Let us know via the comments.
 
["source-gadgets.ndtv"]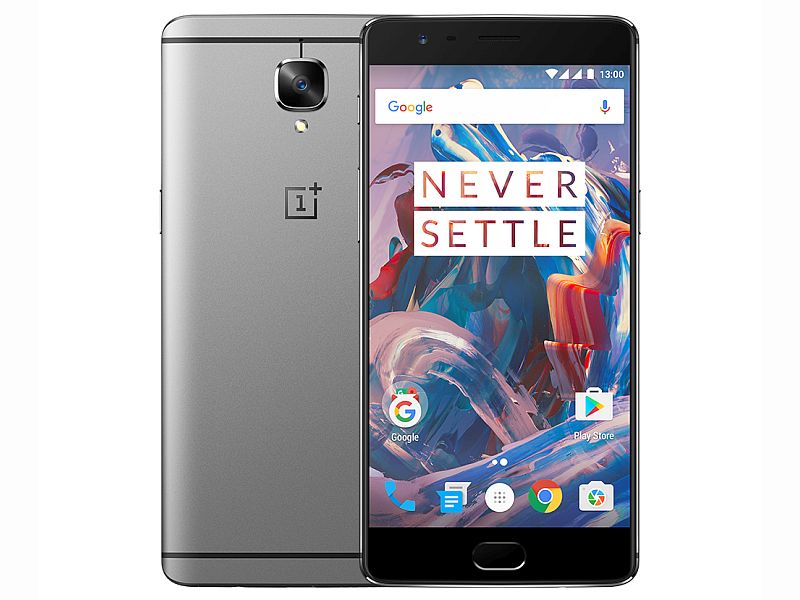 These days, rumours and leaks in the tech industry are no joke. In the lead-up to most important device launch events, almost all the specifications and the hardware designs are leaked with unprecedented regularity. Maybe this is the reason why OnePlus co-founder Carl Pei quashed the rumour of a mini variant of OnePlus 3 by himself on social networking website Twitter.
Last week, a report by Phone Arena suggested that a new smartphone that had surfaced on benchmark site GFXBench with almost similar specs to the OnePlus 3 apart from the screen size may be the OnePlus 3 Mini.
Carl Pei replied on a link to the story on Twitter by saying just plain "No" followed by "#rumorshutdown". While this might be an indication that either the listing was entirely false, could point to another Android phone by a different smartphone manufacturer, which would bear the same specifications as OnePlus 3 but in a smaller size.
According to the leak, the benchmark listing on GFXBench showed a smartphone with a 4.6-inch full-HD (1080×1920 pixels) display that was powered by a Snapdragon 820 SoC and an Adreno 530 GPU. The phone also features 6GB of RAM and has inbuilt storage of 64GB.
Last week the company also decided to halt sales of OnePlus 3, as it is struggling to keep up with the demand, from this Tuesday in 23 European countries for over a month, giving its inventory time to replenish.
["source-gadgets.ndtv"]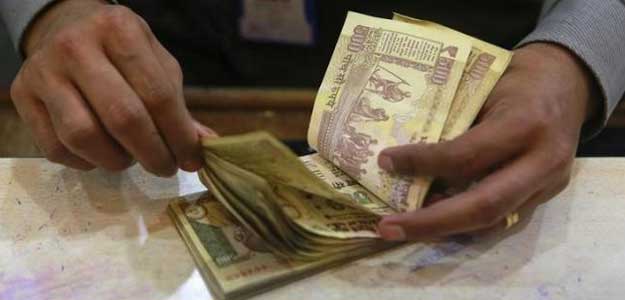 Chennai: Indian Bank on Tuesday said it is adequately funded and will meet its capital requirements through internal accruals.
Hailing infusion of Rs 22,915 crore capital into 13 PSU banks by the Centre as an "intelligent move", Indian Bank managing director and CEO Mahesh Kumar Jain said it would help the lenders focus on credit growth.
"The proposal to infuse capital in public sector banks by the Central government is an intelligent move. While 75 per cent has been released now, the remaining 25 per cent will be based on performance and efficiency of the bank. That is very important. The move will help banks to focus on their credit growth," he told PTI.
Replying to a question, he said the public sector bank was not part of the capital infusion beneficiaries as it is "very well capitalised".
"Indian Bank is very well capitalised and we never requested the government to infuse capital. Our capital adequacy ratio is 13.20 per cent while Tier I Capital is 12.08 per cent. Common equity is 11.68 per cent," he said.
The government on Tuesday provided Rs 22,915 crore capital to 13 public sector banks including State Bank of India, Punjab National Bank and Indian Overseas Bank to enhance their lending operations and enable them to raise more money from the market.
On the outlook for the current financial year, Mr Jain said, "I think for the industry as a whole the credit growth is likely to be around 9-10 per cent. For Indian Bank, we are expecting it around 11 per cent during this financial year."
"Our focus will be on retail and MSME (micro, small and medium enterprises). Demand is also there in retail. But on corporate side, we will not be aggressive. Our asset quality is protected."
"For the financial year 2016-17, we are expecting growth of 10-11 per cent," he said.
To a query on expansion plans, he said the bank is planning to open 150 branches during this financial year.
"Last year we opened about 158 branches. This year we are expecting about 150 branches," he added.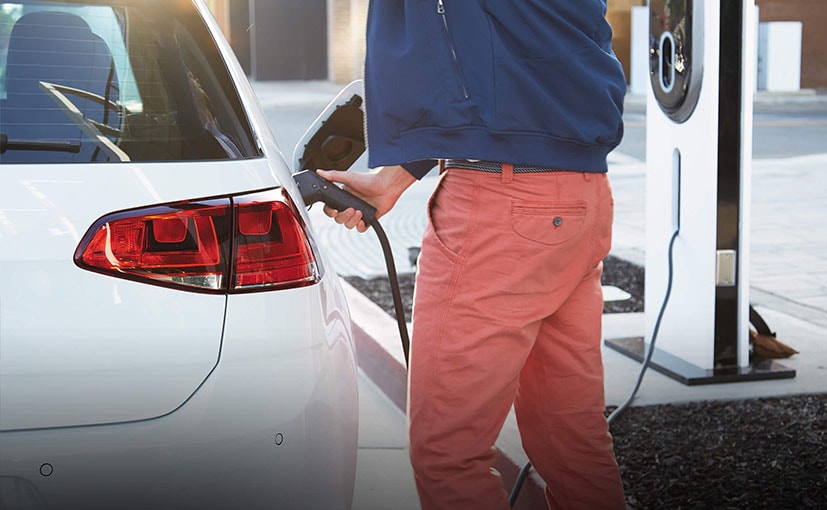 Given the continually increasing concerns about pollution in India, the government has undertaken several measures to combat with the problem. One such example would be the ban on registration of diesel cars with an engine capacity of 2000cc or more was introduced in Delhi NCR. However, curbing such vehicles alone can't bring about the much-needed change. Therefore, the government has persistently promoted hybrid and electric vehicles.
Case in point, the Faster Adoption and Manufacturing of Hybrid and Electric vehicles in India a.k.a FAME India scheme. Launched in 2015, the plan is a part of the National Electric Mobility Mission Plan (NEMP) that offers incentives on electric and hybrid vehicles.
Despite the push, the cause of eco-friendly vehicles faces several challenges in the country. One of the primary impediment is high cost, which, according to Girish Shankar, Secretary, Ministry of the Heavy Industries and Public Enterprises, can be overcome by manufacturing components and the vehicles in India. Addressing the 2nd National Workshop & Exhibition of FAME India, he said, "The biggest challenge is cost and all of us would have to work on it so that people can afford and easily adopt this new technology. To make it cheaper, we would have to work for Make-in-India and (that) is the solution for making electric vehicle affordable."
Shankar acknowledged the challenges posed to the cause of such vehicles and that manufacturers would need to actively contribute for the development and acceptance of electric and hybrid vehicles in India. He said, "There are complexities and challenges, but still we can address them… In this, not just the government, but OEMs would have to come up with firm plans."
He goes on to add that hybrid models have increasingly gained acceptance across the globe. While in Europe, two lakh hybrid vehicles are self-sustainable without any government's support, Japan has more charging stations than fuel stations.
"Apart from technology, we should take examples from other countries, and let us leapfrog and take advantage of available technology and guidelines from other experiences where we can move much faster than others," he said.
["source-ndtv"]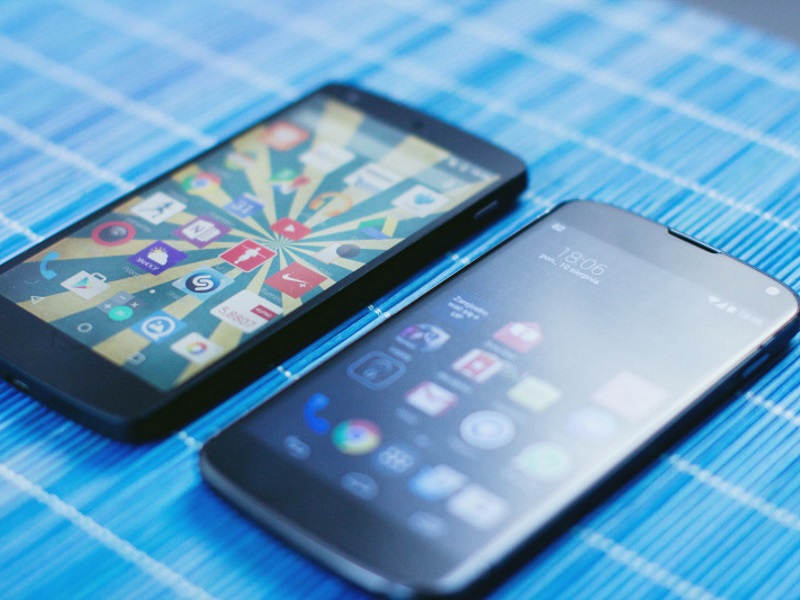 Android malware HummingBad that was first spotted in February this year has now infected over 10 million smartphones, according to Security firm Check Point. The firm notes that users most impacted by the malware are in China and India.
According to Check Point, the group behind the malware is a bunch of developers from Chinese mobile ad server company Yingmob. The company has several teams developing legitimate tracking and ad platforms; however there is said to be a specific group of people within the organisation that is responsible for this malicious software. Check Point claims that the team responsible for developing the HummingBad malware is 'Development Team for Overseas Platform', which includes four groups with a total of 25 employees.
HummingBad tries to gain root access to the device with the objective to generate fraudulent ad revenue by installing additional fraudulent (and malicious) apps. Yingmob generates as much as $300,000 (roughly Rs. 20,257,000) per month in fraudulent ad revenue through this malware, Check Point says.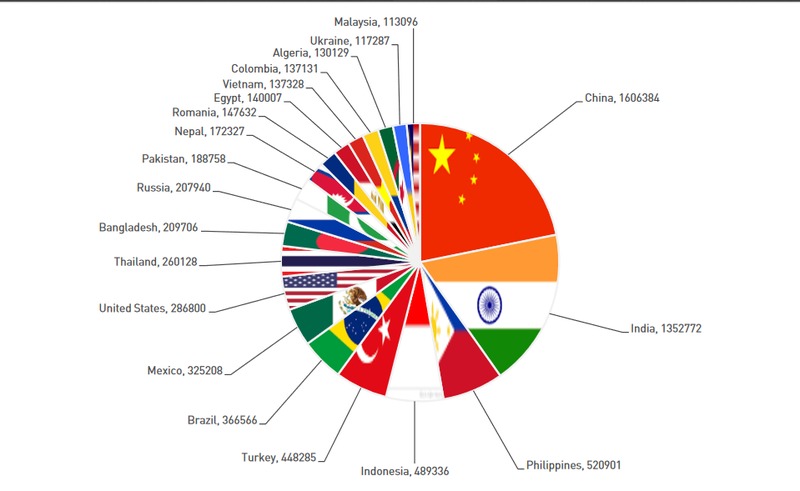 The malware has now spread across 20 countries, but the largest numbers of affected users are in India and China. Check Point says 1.35 million (13.5 lakh) smartphones in India are affected by the HummingBad malware, while China has the most affected users at 1.6 million. Interestingly most of the Android devices affected are running old versions. Around 50 percent of the affected devices run Android KitKat, while 40 percent affected users have JellyBean running on their smartphones.
Google acknowledged the threat and confirmed that it was aware about it. "The company has long been aware of this evolving family of malware and we're constantly improving our systems that detect it. We actively block installations of infected apps to keep users and their information safe," Google spokesperson told CNET.
According to Check Point, HummingBad installs more than 50,000 fraudulent apps per day. These apps display more than 20 million ads everyday, generating 2.5 million clicks per day through illegitimate methods. While this malware is minting an approximate amount of $10,000 per day for Yingmob, it puts 10 million Android smartphones and the sensitive data stored on them in serious danger.
If you're an Android smartphone user who is seeing unnecessary ads, your smartphone could potentially be affected by the HummingBad malware. In order to detect this malware, use a security app that can detect malicious activity on smartphones and flag them. Options like Avast, AVG, and Lookout can be considered.
If HummingBad malware is found on your phone, Check Point's Dan Wiley claims that your only option is to factory reset your device, which means you will lose all your data, apps, and stored passwords. It is recommended you back up all data, contacts, and everything else before selecting the reset option. Wiley also advises against downloading apps from untrusted stores. Google vets the apps on the official Play Store, but the same cannot be said for other unofficial stores.
["source-gadgets.ndtv"]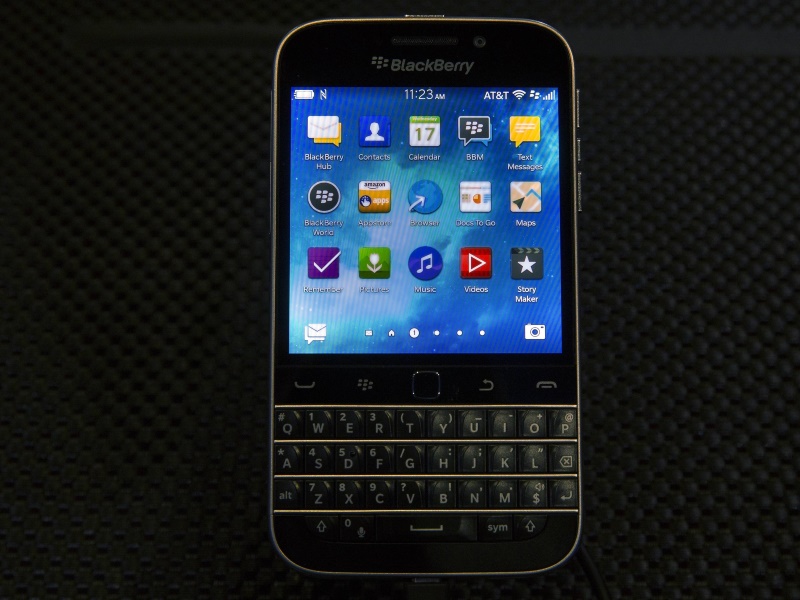 BlackBerry said Tuesday that it will stop making its Classic smartphone, less than two years after launching it with much fanfare.
Ralph Pini, the company's chief operating officer and general manager for devices, said the Classic has long surpassed the average lifespan for a smartphone in today's market.
"We are ready for change so we can give our customers something better," said Pini in a company blog post.
Pini says that the Waterloo, Ontario-based firm will now focus on updating its smartphone lineup.
The BlackBerry Classic hit the market in December 2014, offering customers a 3.5-inch (88.9-millimeter) screen, which was 60 percent larger than the previous BlackBerry Bold 9900, longer battery life and a standard keyboard and touch screen.
BlackBerry has faced calls to stop making cellphones in favor of focusing on its burgeoning software business, but CEO John Chen recently reaffirmed his commitment to stay in the hardware market.
In its most recent quarter of its 2017 financial year, the company sold roughly 500,000 smartphones, about 100,000 smartphones fewer than the previous quarter.
However, Chen has said he believes a new venture to license BlackBerry's mobile software to other companies can help turn its mobile business segment profitable this fiscal year, which ends in February.
BlackBerry is expected to release two new mid-range, Android-powered smartphones before the end of February. More information on the devices is expected this month.
The company will continue to support its BlackBerry 10 operating system with software updates, with a new version scheduled for release in August, Pini said.
 
["source-gadgets.ndtv"]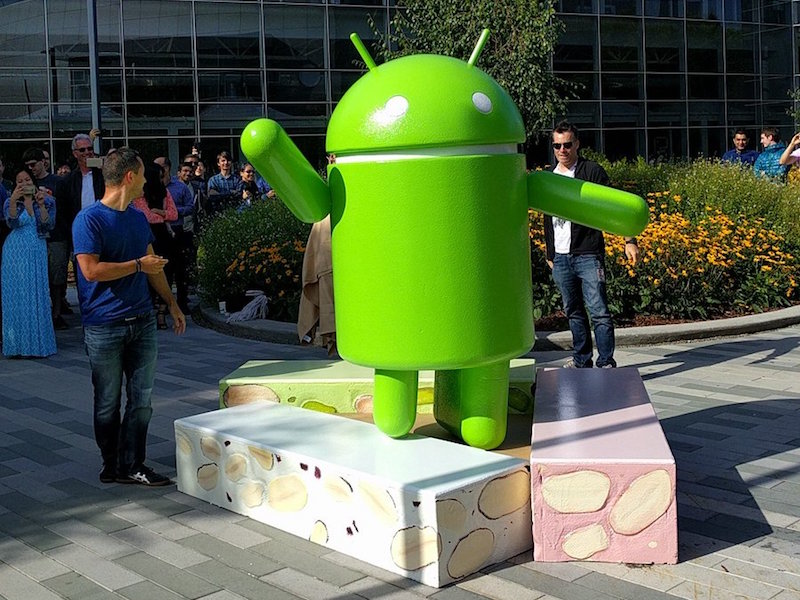 Google has sooner or later announced the overall Name of Android N. The following version of Android can be referred to as Android Nougat.
The Android Nougat Name keeps the culture of naming fundamental Android releases after desserts. All of it started with Android 1.5 Cupcake, accompanied through Android 1.6 Donut, Android 2.0 Eclair, Android 2.2 Froyo, and Android 2.three Gingerbread. The pattern continued with Android 3.0 Honeycomb, Android 4.0 Ice Cream Sandwich, Android four.1 Jelly Bean, Android 4.four KitKat, Android 5.0 Lollipop, and Android 6.zero Marshmallow.
Ultimate month at its annual developer conference Google I/O, the enterprise had invited customers to help Name Android N. It is not clean if the Android Nougat Name become the popular choice some of the pointers, or It's something Google narrowed down on its own. Apparently, Nougat become the 0.33 most famous desire in a ballot  of our personal.
Android N will deliver improvements like multi-window support, more suitable notifications, made over doze, quantity blocking off, and extra.
(Additionally see: Android N Developer Preview three enhancements: The whole thing You Need to Recognize)
Google made the Android Nougat statement thru Twitter but there's no definite word but on the discharge date of the brand new Android model other than the "later this summer" timeline announced in advance.
Earlier than Thursday's statement the word nougat represented a circle of relatives of confections made with sugar or honey, roasted nuts, whipped egg whites, and once in a while chopped candied fruit.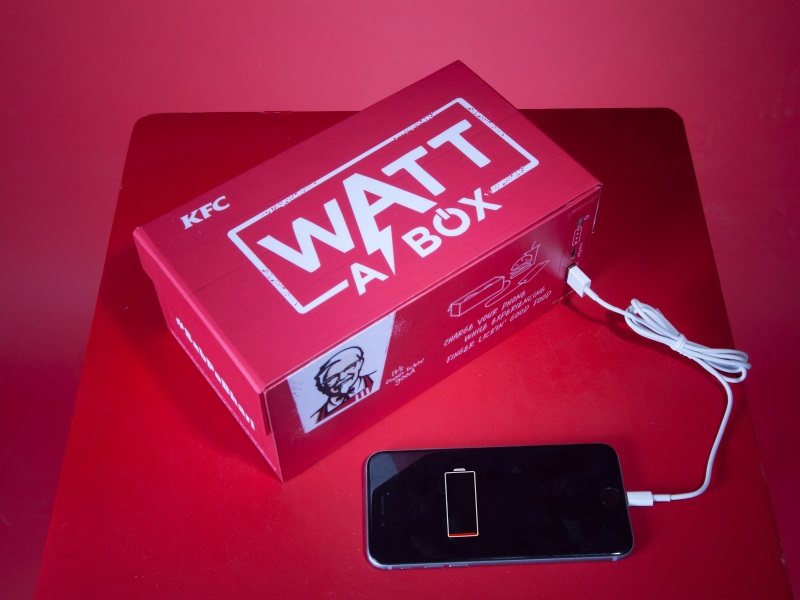 there may be nothing greater inconvenient than whilst you're at Kentucky Fried bird, approximately to dig into a pile of greasy, crispy fowl tenders whilst you text your overwhelm to make date plans, and your telephone runs out of strength – leaving you completely by myself with not anything more than your meal.
happily, KFC in India is so attuned to their clients' wishes that they've crafted a special solution for this very trouble: a meal box that comes with a pre-charged USB plug.
yes, you read that efficaciously. in case you are planning to visit a neighborhood KFC there and order a field of hen, you doubtlessly don't want to charge your smartphone beforehand of time due to the fact you just might be handed a chicken field on the way to include the whole lot you want to stay connected for the duration of your meal.
The "Watt-A-box" program, which the united states-based chain's India branch released in Delhi and Mumbai, is advertising its benefits with a ridiculous commercial that addresses the date making plans interrupted by using a dead telephone situation described above.