Samsung may have dug itself into a hole too deep to come out unscathed. The company is in the process of unprecedented second recall, after 'safe' Galaxy Note 7 replacement units also started to catch fire. While the engineers at Samsung cannot pin down a solid reason for these explosions, a report suggests that the SoC is to blame, and not the battery.
A Financial Times report states that the explosions are being caused due to an SoC tweak made by company's engineers with the aim to speed up the charging process. However, the battery could not handle the rate at which it was being charged, and this is causing the handset to catch fire and explode.
"If you try to charge the battery too quickly it can make it more volatile. If you push an engine too hard, it will explode. Something had to give. These devices are miracles of technology – how much we can get out of that tiny piece of lithium-ion," the report writes, citing a person informed by Samsung executives.
This is in no way confirmed by Samsung, and the company still maintains silence on that front. There is no official word on what is causing the safe units to catch fire, and Samsung engineers are also reportedly unable to narrow down a flaw.
For now, Samsung has completely halted production and global sales of the Galaxy Note 7. The controversy is said to be costing the company billions of dollars, not to mention attract heaps of ill will in the market. In the most recent cases, a Samsung Galaxy Note 7 was caught on video catching fire at a Burger King, and a US plane was immediately vacated after a replaced unit started emitting smoke.
["source-ndtv"]
In a move that could cost the company billions, not to mention the priceless goodwill of the market, Samsung has completely halted production of the Galaxy Note 7. After the 'safe units' started to catch fire, the South Korean electronics giant was forced to shut down its manufacturing engine off for pure safety reasons. Now, a fresh report states that Samsung's move is mostly because it has no clue on what is causing the fire, and its team of hundreds of engineers are stumped. The main cause of halt in production and uncertainty of future moves is because the Samsung team is unable to isolate the cause of these explosions.
The New York Times cites an anonymous internal source from the company, and claims that after the safe units started catching fire, Samsung's entire engineering team went back to work to find a solution, but hasn't found one even after conducting many tests for over a week.
Early in August, Samsung had touted the Galaxy Note 7 to be the best Note device so far, and had even broken tradition to launch it a bit early to fend off competition from Apple. However, the move backfired terribly, and reports of many Samsung Galaxy Note 7 units exploding while on charge started coming in. Samsung had to then stop sales temporarily to assess the issue. Soon after, the company reportedly blamed an in-house SDI battery fault to be the cause of the problem, and restarted production and sales by sticking to one of its third-party battery providers. It even started to recall old handsets as a safety measure, and replaced them with new 'safe units'.
However, safe units also started catching fire, and because Samsung was unable to find a solution, it just decided to halt production and global sales. It gave up trying to stay afloat without a life jacket, and just surrendered in silence.
Whether Samsung should bring back the Note 7 or kill it altogether for safety reasons is another debate altogether, but these series of events and the damage it has done to the brand's reputation will take some time to recover. Furthermore, because of this fault, Samsung's other product lines like refrigerators and washing machines are also now in the scanner.
The Galaxy Note 7 has managed to cause a scare on planes, set a jeep on fire, and incurred damages of $1,400 to a hotel. While investigators take their time to find the new flaw, we just hope that casualties remain to a minimum, and that Samsung does everything in its power to remove these hazardous units off the market.
["source-ndtv"]
Exploding Samsung Galaxy Note 7 units are now being reported worldwide. After the incident in Australia, where a man was presented with a $1,400 bill because his handset exploded and caused damage to his hotel room, the most recent explosion cases are now coming in from the US. A Florida resident's jeep was completely totalled after his Galaxy Note 7 was said to catch fire while on charge inside his car, and another incident was reported from South Carolina where a resident's house was set on fire because his handset reportedly exploded while on charge.
Beginning with the jeep incident, victim Nathan Dornacher took to Facebook to relay the incident. He claims that he left his jeep on, outside his house, to keep the AC running and his charging point working. His family was about to head back out in a few minutes, so he didn't shut the jeep off. When he got out of his house, he saw his jeep in flames. After the Fire Department finished their job, he shared images of his charred smartphone and damaged car.
Samsung said in a statement, "We are working with Mr. Dornacher to investigate his case and ensure we do everything we can for him." The company also urged buyers to swap their handsets at the earliest.
Another incident was reported out of South Carolina in the US. Horry County resident Wesley Hartzog claims that he came home to find his garage had caught fire. He had plugged in his Samsung Galaxy Note 7 in the garage for charging, and had left to pick up his two daughters. When he got back, he found his garage in flames. The local fire department's rescue investigators told WMBF that the fire originated near a wall outlet where Hartzog's phone was charging. However, the exact cause of the fire is still unknown, and Hartzog and his family are forced to live in a hotel till the investigation ends.
Samsung hasn't issued an official worldwide recall yet, but has announced an exchange policy for all the Galaxy Note 7 buyers. Even though sale has been suspended, because there is no official recall, third party retailers are still able to sell it.
As mentioned, an incident in Australia left the owner with a huge AUD 1,800 (roughly Rs. 91,600 or $1,400) damage bill. All of these incidents have forced the US FAA to issue a statement discouraging users to fly with the Galaxy Note 7. "In light of recent incidents and concerns raised by Samsung about its Galaxy Note 7 devices, the FAA strongly advices passengers to not turn on or charge their devices on board aircraft and not to stow them in any checked baggage."
Three Australian airlines – Qantas, Jetstar, and Virgin Australia – have also banned passengers from using or charging Samsung Galaxy Note 7 smartphones during flights.
["source-gadgets.ndtv"]
Australian carrier Qantas told customers on Thursday not to use or charge Samsung's Galaxy Note 7 during flights after faulty batteries in the new smartphone caused some handsets to explode.
Samsung, the world's largest smartphone maker, said last week it was suspending sales of its latest flagship mobile device and recalling 2.5 million units shipped globally following reports of exploding "phablets" that dealt a heavy blow to the firm's reputation.
"Following Samsung Australia's recall of the Samsung Galaxy Note 7 Personal Electronic Device (PED), we are requesting that passengers who own them do not switch on or charge them inflight," a Qantas spokesman said in a statement.
The request applies to domestic and international flights as well as Qantas' discount carrier Jetstar, the spokesman added.
Qantas' domestic competitor Virgin Australia was not immediately available for comment.
In 2014, Qantas and Virgin Australia allowed passengers to use mobile electronic devices in-flight with limited restrictions after a relaxation of the rules by the country's aviation authority.
Previous regulations banned their use during taxiing, take-off and landing due to fears they could interfere with the plane's navigation equipment.
Samsung's recall – the first for one of the South Korean electronics giant's top of the range phones – came a week before arch-rival Apple unveiled its iPhone 7 on Wednesday.
Samsung's mobile business chief Koh Dong-Jin had said the faulty rate amounted to 24 handsets per each million sold and that it would take about two weeks to prepare replacements.
["source-gadgets.ndtv"]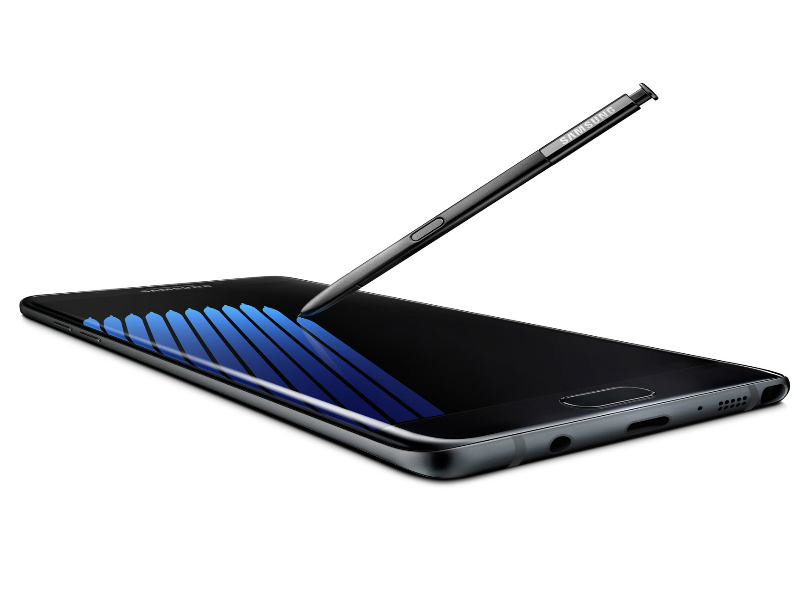 Samsung suspended sales of its Galaxy Note 7 smartphone on Friday, just two weeks after the flagship phone's launch, after finding batteries of some of the gadgets exploded while they were charging.
Koh Dong-jin, president of Samsung's mobile business, said customers who already bought Galaxy Note 7s will be able to swap them for new smartphones, regardless of when they purchased them.
Samsung is issuing what amounts to its first global recall of the flagship smartphone because it has not found ways to specify exactly which phones may endanger users.
Galaxy Note 7s are being pulled from shelves in 10 countries, including South Korea and the United States.
(Also see: Samsung Shares Hit Over Galaxy Note Delays, Battery Explosion Claims)
Koh said the company's investigation found that a battery cell made by one of its two battery suppliers caused the phone to catch fire. He refused to name the battery supplier.
"There was a tiny problem in the manufacturing process so it was very difficult to find out," Koh told reporters at a news conference.
Some buyers reported their phones caught fire or exploded while charging, sharing the photos of scorched phones on social media. Samsung said it had confirmed 35 such cases in South Korea and overseas.
There have been no reports of injuries related to the problem.
(Also see: Samsung Galaxy Note 7 Shipments Delayed in India)
Samsung said it has sold more than 1 million Galaxy Note 7 smartphones since the product's August 19 launch. It has manufactured about 2.5 million Galaxy Note 7 phones so far, some of them still in inventory. Koh said they also will be returned and swapped with new ones.
The company estimated that it would take about two weeks to begin swapping old Galaxy Note 7s for new phones.
China is not affected by the sales suspension. The company said it used a battery made by another supplier for the Galaxy Note 7 sold in China.
["source-gadgets.ndtv"]