Japanese aviation authorities on Friday followed their US counterparts by urging passengers not to turn on or charge Samsung Galaxy Note 7 smartphones on aircraft following reports of explosions from faulty batteries.
The South Korean smartphone maker last week suspended sales of the "phablet" and recalled 2.5 million units following the reports.
After the US, Japan's transport ministry followed suit on Friday.
The phone is not yet on sale in Japan, but the ministry cited accidents overseas for its warning, which also cautioned against using or charging them onboard, or stowing them in checked bags.
"Until such time that safety measures are taken by Samsung, the ministry has requested that Japanese airlines strongly communicate instructions to passengers regarding bringing Galaxy Note 7 on board planes," the ministry said in a statement.
"In light of recent incidents and concerns raised by Samsung about its Galaxy Note 7 devices, the Federal Aviation Administration strongly advises passengers not to turn on or charge these devices on board aircraft and not to stow them in any checked baggage," the US FAA said in a statement Thursday.
Qantas and Virgin Australia also told customers Thursday not to use or charge the devices on their planes.
Samsung is the world's top smartphone maker, outpacing its American rival Apple.
["source-gadgets.ndtv"]
Apple, breaking with tradition, said it won't provide opening weekend sales numbers for new iPhone launches.
The Cupertino, California-based smartphone maker has sometimes shared early pre-order numbers and usually has announced how many iPhones were sold on the weekend after the device officially became available. The company said Thursday in a statement that it won't continue the practice because it's "now at a point where we know before taking the first customer pre-order that we will sell out of iPhone 7."
By not releasing opening weekend sales numbers, Apple is holding back a key metric that some investors have used to determine the success of an iPhone launch. The world's most valuable company is banking on the new lineup, in addition to new wireless AirPods headphones and water resistant Apple Watch models, to avoid a holiday quarter year-over-year sales drop.
Apple said that "initial sales will be governed by supply, not demand," leading the company to determine that opening weekend numbers are "no longer a representative metric for our investors and customers." The iPhone 7 and iPhone 7 Plus become available for pre-order on Friday, while Apple and carrier retail stores will begin selling the phones September 16, the company said. CNBC earlier reported Apple's decision.
The new iPhones, unveiled Wednesday, include updated designs with two new black color options, stereo speakers, upgraded cameras with new zooming abilities, faster and more efficient processors, improved graphics performance for gaming, better battery life, and lack a headphone jack. The new iPhones start at $649 for 32GB of storage.
This shift in strategy on iPhone sales marks the second time Apple has held back some numbers in recent years. For example, following the introduction of the Apple Watch in 2014, the company said it wouldn't release sales numbers for the device for competitive reasons. Apple has provided no indication that it will stop announcing iPhone sales numbers with its quarterly earnings report.
Apple's forecast for the quarter ending in September hasn't changed, the company said in the statement. Apple on July 26 projected fiscal fourth quarter revenue from $45.5 billion to $47.5 billion (roughly Rs. 3,02,850 crores to Rs. 3,50,994 crores). Apple reported sales of $51.5 billion and more than 48 million iPhones sold in the same quarter last year.
["source-gadgets.ndtv"]
Samsung suspended worldwide sales of the Galaxy Note 7, following reports of explosions of the device while on charge. Samsung India also released an official statement confirming that shipments will be delayed. Around 35 handsets have exploded so far, and Samsung looks to rectify the issue before recommencement of sales, and is also reportedly considering worldwide recall. However, even after the announcement, the sale of the Samsung Galaxy Note 7 hasn't been stalled by many retailers. Consumer Reports found out that many retailers were still selling the Galaxy Note 7 even after the defect was officially confirmed by Samsung. And therefore, it is urging Samsung to announce the official worldwide recall immediately.
Given the serious nature of safety problem, the report asserts that Samsung should have involved the Consumer Product Safety Commission (CPSC) immediately, and made the recall official. Even after the suspension, the Galaxy Note 7 was still found to be sold by many retailers, and the official recall announcement would make it illegal to sell the smartphone in the market.
"Samsung should immediately initiate an official recall with the Consumer Product Safety Commission given the serious nature of the safety problem it identified with the Galaxy Note7. We are particularly concerned that phones continue to be available for sale today," said Maria Rerecich, Consumer Reports director of electronics testing.
While no official recall announcement has been made by Samsung, the company has announced its exchange plan in the US. Samsung will exchange the Galaxy Note 7 for another Note 7, or it will exchange the Note 7 for a Galaxy S7 or Galaxy S7 Edge. It will also pay the price difference between the smartphones to the customer. Samsung says that it will begin the replacement process at its retail stores this week, and will also credit $25 into your phone bill or give a $25 gift card. Carriers like T-Mobile and other have also detailed the exchange process on their respective websites.
For Indian users, pre-ordered shipments have been stalled, and will only commence after the issue has been resolved.
["source-gadgets.ndtv"]
The upcoming iPhone is undoubtedly the most anticipated smartphone of the year, and rumours surrounding the smartphone have been too many. What's more interesting this year, is that many conflicting reports are surfacing online making it impossible for us to speculate with ease. One thing seems almost certain though – the next iPhone is set to break Apple's tick tock cycle and be unveiled with minimal design changes. Because of these few changes, contradicting reports of the iPhone being called the iPhone 6SE are coming in. Today, we have two leaks in the form of retail box images and Geekbench scores that indicate the coming of the iPhone 6SE. Additionally, there is also a leak that reiterates the end of the 16GB storage variant.
The first one comes in the form of photographed pictures of the iPhone 6SE retail box. The images don't seem to be photoshopped and show the retail box clearly with the iPhone 6SE branding. There is a separate leak of a Geekbench score of 5,210 in multi-core testing, and 3,042 in single-core testing. The image also shows the model number as iPhone 6SE. The man who leaked it also did the same test on iPhone 6s and scored 4,427 and 2,542 points respectively.
Furthermore, tipster Malignant has again instilled faith that the next iPhone will say goodbye to the 16GB base variant. Apple will instead slide in 32GB as the base storage variant, and apparently the 64GB will also be scrapped to make way for the 128GB mid-variant. The top variant will offer a new 256GB storage option.
Whatever the name be, the upcoming iPhone is said to have no 3.5mm audio jack, and the larger variant is tipped to sport a dual camera setup. Another feature that is on the see-saw is the Smart Connector, with too many conflicting reports to put a pin on one decision. Apple should have sent invites by now, but it clearly hasn't so the rumoured September 23 availability could just be true.
["source-gadgets.ndtv"]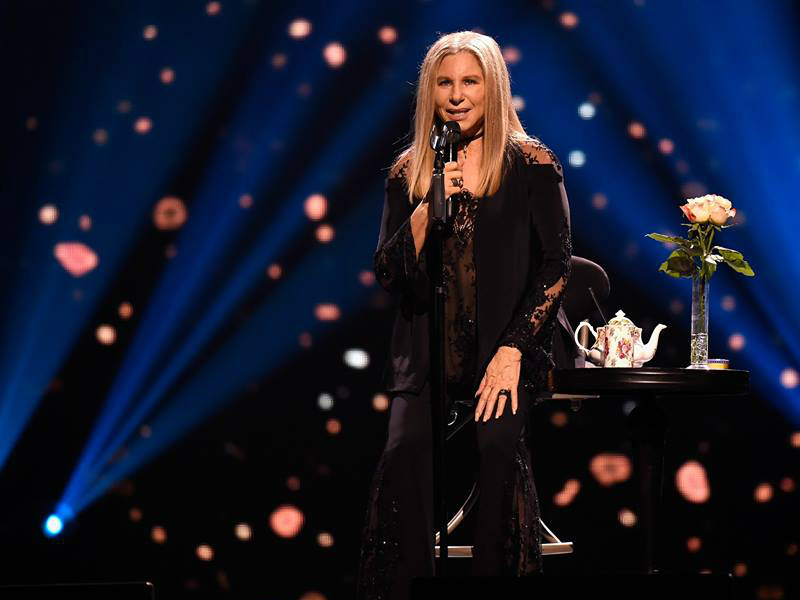 American singer Barbara Streisand has let slip some crucial information about Apple's possible release of its upcoming iPhone 7 smartphone. Streisand was having some trouble with how her name was pronounced by Siri, so, being the star that she is, she directly called Apple CEO Tim Cook with her grievances and asked to get it fixed. Cook obliged and told her that the fix would roll out with the next update on September 30.
Streisand said this in an interview with NPR, "She pronounces my name wrong! [It's] Streisand with a soft 's' like sand on the beach, I've been saying this for my whole career. So what did I do? I called the head of Apple, Tim Cook. And he delightfully agreed to have Siri change the pronunciation of my name finally with the next update on September 30th."
Now, if Cook is talking about the big iOS 10 update, then the September 30 date is a major delay from Apple's traditional launch of mid-September – or almost immediately after the launch of the new iPhone. Like previous releases, iOS 10 is expected to be launched alongside the next iPhone, and if what Streisand says is true, then Apple's earlier deadline of a September 16 market launch appears to be untrue.
Past leaks suggest that Apple is expected to host an event on September 7 for the unveil of the iPhone 7 and also release iOS 10. It is said to make the smartphone available in the market by September 16. Carriers are tipped to make it available by September 23.
Of course, Cook could just be talking about an update to iOS 10 (and Siri) that may be scheduled to roll out soon after its commercial release. There seems to be very little clarity on this September 30 date, but we hope to know more as time progresses.
In any case, iOS 10 is bringing along a host of new features like the iMessage, Apple Music, Maps, and Photos app overhaul; and the third-party Siri integration. It is also introducing as many as 100 new emojis with the software update. These emojis look to represent professional women better and promote LGBT rights.
["source-gadgets.ndtv"]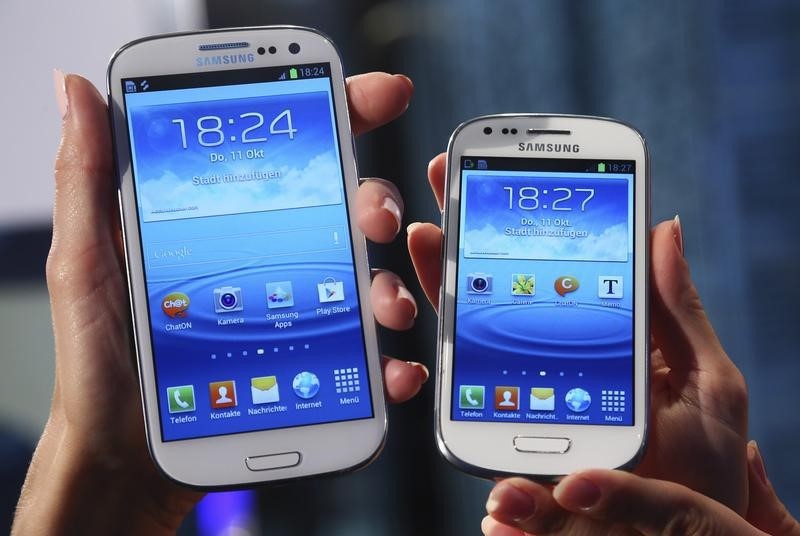 Samsung Electronics plans to launch a programme to sell refurbished used versions of its premium smartphones as early as next year, a person with direct knowledge of the matter told Reuters.
The South Korean technology firm is looking for ways to sustain earnings momentum after reviving its mobile profits by restructuring its product line-up. As growth in the global smartphone market hits a plateau, Samsung wants to maximise its cost efficiency and keep operating margins above 10 percent.
The world's top smartphone maker will refurbish high-end phones returned to the company by users who signed up for one-year upgrade programmes in markets such as South Korea and the United States.
Samsung would then re-sell these phones at a lower price, the person said, declining to be identified as the plan was not yet public.
The person declined to say how big a discount the refurbished phones would be sold at, which markets the phones would be sold in or how many refurbished devices Samsung could sell.
A Samsung spokeswoman said the company does not comment on speculation.
It was not clear to what extent the phones would be altered, but refurbished phones typically are fitted with parts such as a new casing or battery.
Rival Apple's iPhone has a re-sale value of around 69 percent of its original price after about one year from launch, while Samsung's flagship Galaxy sells for 51 percent of the original price in the U.S. market, according to BNP Paribas.
Refurbished phones could help vendors such as Samsung boost their presence in emerging markets such as India, where high-end devices costing $800 (roughly Rs. 53,000) or so are beyond most buyers.
Apple sells refurbished iPhones in a number of markets including the United States, but does not disclose sales figures. It is trying to sell such iPhones in India, where the average smartphone sells for less than $90.
Selling used phones could help Samsung fend off lower-cost Chinese rivals that have been eating into its market share, and free up some capital to invest elsewhere or boost marketing expenditure.
Deloitte says the used smartphone market will be worth more than $17 billion (roughly Rs. 114,000 crores) this year, with 120 million devices sold or traded in to manufacturers or carriers – around 8 percent of total smartphone sales. Some market experts expect the used market to grow fast as there are fewer technology breakthroughs.
"Some consumers may prefer to buy refurbished, used premium models in lieu of new budget brands, possibly cannibalizing sales of new devices from those budget manufacturers," Deloitte said in a report.
Cannibalisation risk
Samsung's refurbishment programme, details of which the person said could be finalised as early as 2017, could help the firm generate revenue from dated high-end smartphones returned by users upgrading to newer versions.
The company's latest premium phones, the Galaxy S7 and Galaxy Note 7, have received favourable reviews, suggesting cheaper, refurbished versions could be popular. At U.S. carrier Verizon Communications, the Galaxy S7 Edge with 32-gigabyte storage retails for $792 (roughly Rs. 53,000) without subsidies, while the Note 7 costs $864 (roughly Rs 58,000).
The programme could help Samsung defend market share in emerging countries by bolstering mid-tier sales. Refurbished phones could also appeal to enterprise clients who want certain security or software products pre-installed on phones to give to their employees, the source said.
The risk of offering refurbished devices is that they could potentially cannibalise sales of Samsung's other mid-tier devices.
Expectations for solid smartphone sales helped Samsung shares to a record 1.675 million won (roughly Rs. 1 lakh) each on Friday, taking two-day gains to 7 percent and adding $15 billion in market value. The shares traded down 0.36 percent in Seoul on Monday.
["source-gadgets.ndtv"]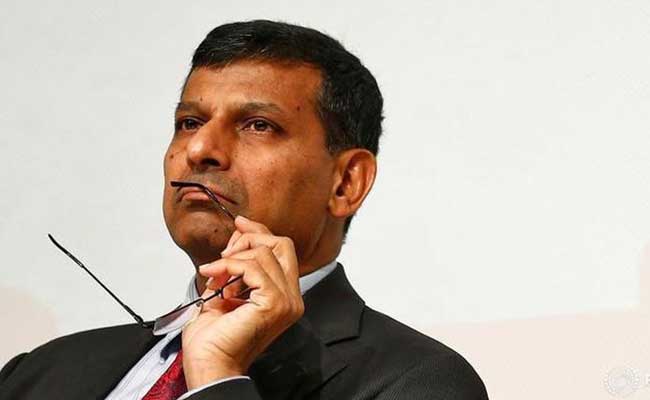 RBI Governor Raghuram Rajan conceded that he thought the FCNR deposits idea to be "completely idiotic". Mumbai: Outgoing Reserve Bank Governor Raghuram Rajan on Friday disclosed that idea of raising diaspora deposits, which changed the downward course of the rupee when he took over in September 2013, had come from bankers and he was very sceptical about it given the cost to the exchequer.
"I thought this is bankers coming in again to get one of the sweet deals which will help them. They will go out and raise the money. They will get fantastic bonuses and we will end up paying for it," Dr Rajan said, after launching his predecessor D Subbarao's memoir at RBI headquarters here.
Dr Rajan conceded that he thought the idea to be "completely idiotic" as it was akin to giving 3.5 per cent subsidy to bankers and it was "the worst of the ideas on the table" which made him request Subbarao to announce it while departing.
Dr Rajan announced the scheme on the evening of September 4, 2013, the day he took over. The scheme attracted inflow of $30 billion in FCNR-B deposits and changed the course of the rupee which was bleeding following the 'taper tantrums'. It was considered to be a masterstroke by Dr Rajan.
"Now I get credit for the idea which actually I neither invented nor actually believed in," he said, adding the dire situation required us to do something, which got done.
Incidentally, in the memoir tiled 'Who Moved My Interest Rates?', Mr Subbarao credits Dr Rajan for the idea.
The Governor said on the cost-benefit analysis front, it has worked out very well and the country had made money.
Against the cost of up to Rs 20,000 crore to get the deposits, the country benefited through stabilisation of rupee, which helped reduce imports by up to Rs 1.6 trillion per year through the around-Rs 4 reduction in the value of the rupee.
"It was an important idea, we had to try because we were in a situation when we had to try something to change the narrative," said Dr Rajan, whose term ends on September 4.
"Now it seems as if it was all very clear. It seems that this was a brilliant idea, that we thought about it, we did it and people forget that at that time, there was a lot of uncertainty about this and whether it should be done," Dr Rajan said.
The redemption of the three-year deposits raised in 2013 is due from the next month through November, and is an event which the market is watching keenly as there are concerns over drain on the liquidity. By November, $26 billion worth of these deposits would have to be paid back.
Dr Rajan has repeatedly said the central bank will try to ensure it happens smoothly, without hurting financial markets.
Meanwhile, Dr Rajan today said the RBI has in-principle reached an agreement with the Parliamentary Standing Committee on the proposal that the central bank top brass led by the Governor should depose twice a year before the panel.
Initial remarks by the Governor, before the House panel questions him, should be made public as well, he said.
Mr Subbarao supported this, saying it will help strengthen RBI's autonomy and insulate it from government influence.
"Apart from the fact that it renders some avenue for the RBI to render accountability, I also believe a mechanism like that will protect the RBI from the encroachment or assaults on its autonomy by the political executive," he said.
 
["source-ndtv"]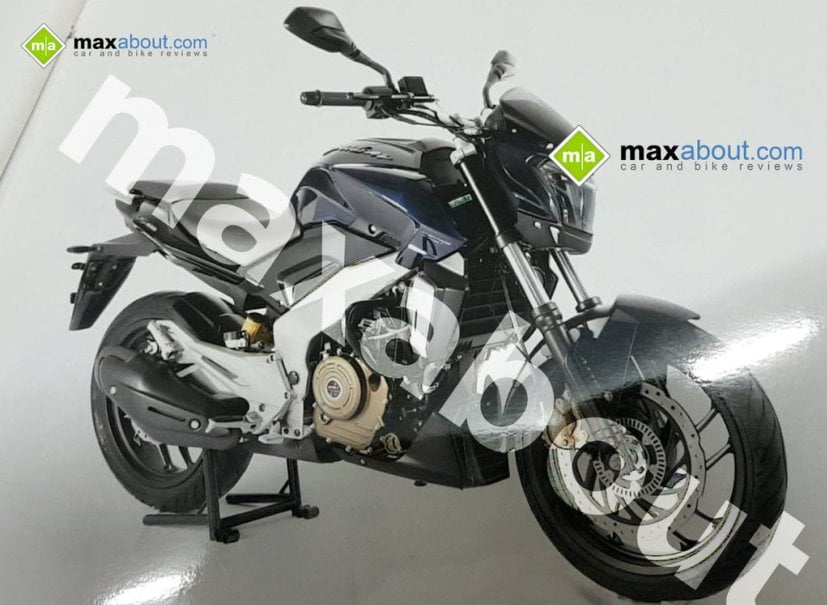 Bajaj Auto is gearing up to introduce the Pulsar CS400 within this quarter in the country and new details have emerged regarding the production version that puts the motorcycle in a completely new perspective. As per the leaked brochure and an ARAI certificate report (both unconfirmed), Bajaj's flagship offering will in fact be called the 'VS400' instead of the earlier speculated CS400, while power output is can be confirmed to be lower than the KTM Duke 390.The leaked images of the biggest Bajaj motorcycle show the VS400 badging on the panels just under the pillion seat, while the fuel tank carries the 'Pulsar' branding. There aren't any more details on the bike visible with the new nameplate. In addition, an ARAI Certificate (not confirmed if authentic) dated July 23 2016, has made its way online and carries the same VS400 moniker. Moreover, the document states that the VS400 uses a 373.27cc engine that will produce 25.74 kW (33bhp) of power at 8000rpm. The gross weight mentioned in the document is 332 kg and includes the bike's kerb weight as well as the weight of the rider and pillion. Expected Launch : Aug 2016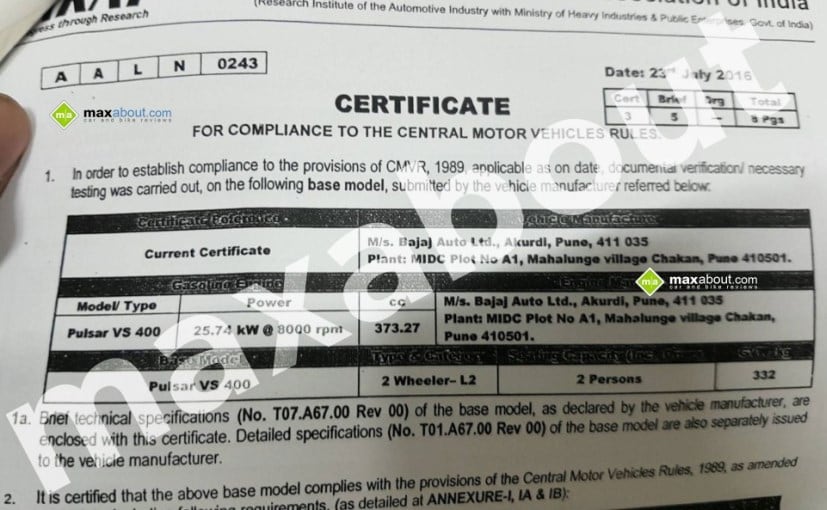 Bajaj VS400 ARAI Document Leaked
If the ARAI document is to be believed, our speculations are in fact true. The new Bajaj Pulsar VS400 makes lesser power than the KTM Duke 390, which churns out 43.5bhp. It will need to be seen though as to what will be the torque output on the sports cruiser.
As for the new nameplate, it shouldn't come as a surprise that Bajaj has changed the moniker on the production version of the CS400. If you would remember, the Pulsar RS200 started life as the SS400 concept that was showcased at the 2014 Auto Expo. This does raise the question as to what does 'VS' stand for. Is Bajaj trying to rub the V15's success on its flagship offering? That would be an interesting take.
In terms of features, the leaked brochure and document convey little, but we do know that the Bajaj Pulsar VS400 will be coming with a host of tech including an all-digital instrument console and a fuel tank mounted digital display, dual channel ABS, split seats, telescopic front forks and a monoshock rear suspension setup as well as a stubby side mounted exhaust. The 373.27cc engine will be liquid-cooled and will come with Bajaj's trademark triple-spark technology, while spy shots have revealed the LED headlight and tail light clusters on the production ready models.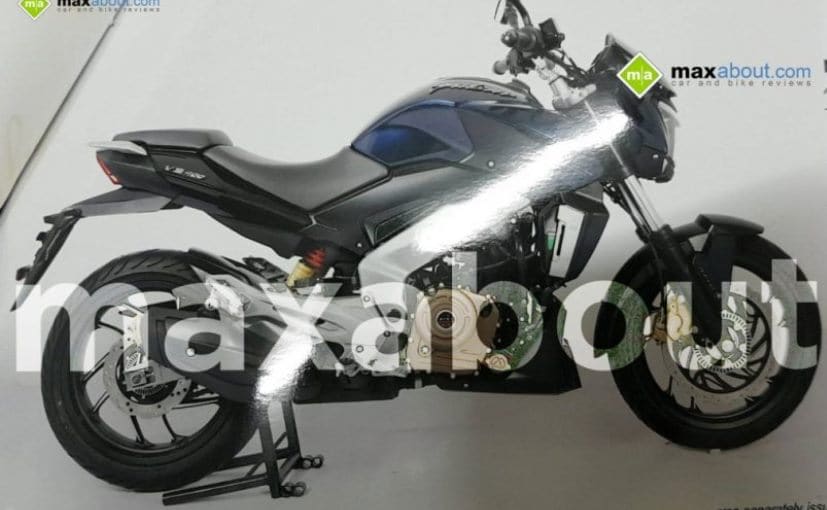 Bajaj VS400 Brochure Leaked Spy Shot
A lot is riding for Bajaj with the new VS400 and the company is banking on the success of the new model to drive its growth in the premium motorcycle segments. With an expected price tag of ₹ 1.8 lakh (on-road), the VS400 will appeal to the masses and will be gradual transition over the RS200, the bike maker's current halo product. Clearly, the buzz around the biggest Pulsar is only going to get higher from here. We expect to here from Bajaj very soon now.
 
["source-ndtv"]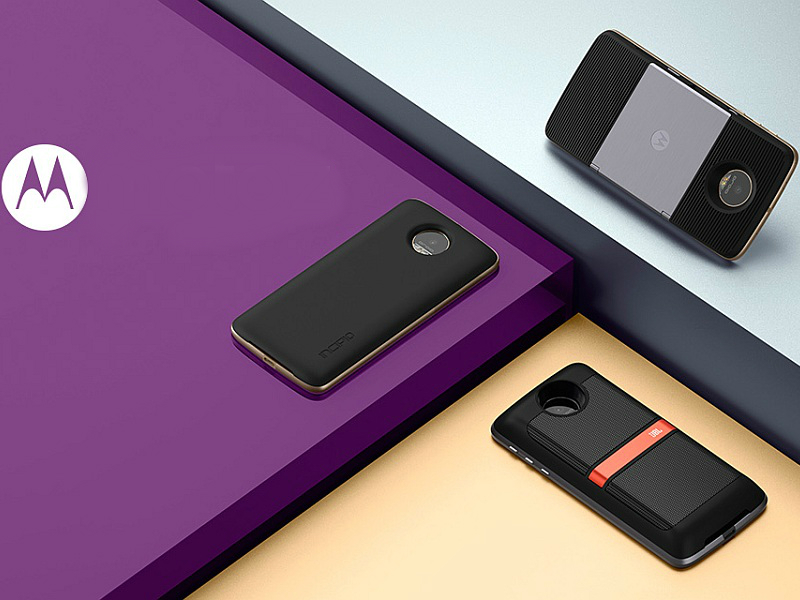 After Sony's announcement, Lenovo has also confirmed its presence at IFA in Berlin this year. The tech firm is hosting a pre-IFA 2016 event on August 30, and has in a video teased the launch of new products from both the Lenovo and Motorola stables – from new Moto Mods, to an innovative new keyboard, and new Yoga laptops and tablets. A new Moto 360 smartwatch was also hinted at, but not mentioned specifically.
In its teaser, Lenovo confirms that new Moto Mods are going to be announced at the event. Lenovo-owned Motorola announced these snap-on back panels alongside the Moto Z and Moto Z Force in June this year. The modular accessories connect to the smartphones via a 16-pin connector on the back. On launch date, Motorola announced the JBL SoundBoost speaker Moto Mod which introduced stereo quality sound from the smartphone, an Insta-Share pico projector Moto Mod (meant to deliver 70-inch projector experience), and the Incipio offGRID Power Pack Moto Mod that claims to provide up to 22 hours of additional battery life.
Lenovo has now released a sneak peek video of what to expect at the event, and new Moto Mods have been confirmed. Perhaps the rumoured camera module will see the light of the day? Soon after unveiling the Moto Mods, Lenovo announced that it will sell the Module Development Kit (MDK) to third party developers. The kit is now sold on developer.motorola.com, and contains all the tools that folks at Motorola use to build the Moto Mods. Motorola will showcase these different Moto Mods created by new third party partnerships at the event.
Apart from the Moto Mods, the company also looks to announce "a new chapter in tablets" and launch "a whole new kind of intuitive keyboard". Motorola is also expected to unveil the new Moto 360 smartwatch at the event, if only because of a brief glimpse in the first segment recounting previous innovations from the company. IFA is set to begin on September 2 and go on till September 7 this year.
 
["source-gadgets.ndtv"]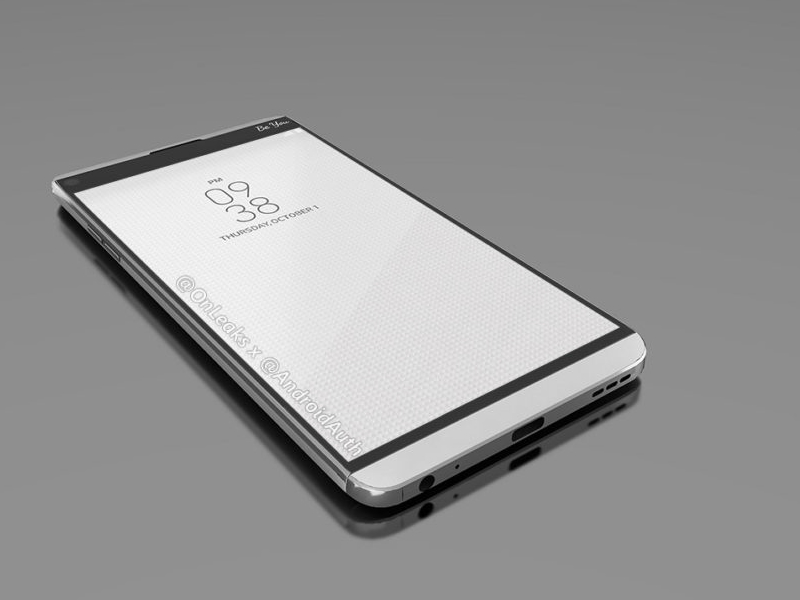 LG on Thursday announced another feature reveal for its upcoming V20 smartphone. The successor to the popular LG V10 will sport a 32-bit Hi-Fi Quad DAC (digital to analogue converter) for enhanced audio playback, LG said.
In an emailed statement, the South Korean consumer electronics giant that when using compatible wired headphones, the Quad DAC on the LG V20 will deliver "crisp and clear" sound to users. The implementation is said to be superior to a traditional DAC, and can reduce up to 50 percent of ambient noise levels.
LG said it worked with ESS Technology to develop the Quad DAC, which will supposedly be the "lynchpin" for several multimedia-related features on the LG V20. To recall, a 32-bit Hi-Fi DAC was also included on the LG V10.
LG worked closely with ESS Technology, a leader in high-performance analog and audio devices, to ensure that the Quad DAC, delivered the best audio experience for owners of the LG V20
In the statement, Juno Cho, president of LG Electronics and Mobile Communications Company, said, "As smartphones mature, we're seeing more and more customers looking beyond just fast processors and big displays in their devices. Higher quality audio is simply the natural evolution of the smartphone, as the industry moves toward a more holistic multimedia consumption experience. We're pleased to continue this long-term partnership with ESS and bring best in class audio to LG V20 users."
LG is definitely working to generate interest in the upcoming V20 smartphone, with the company already revealing that the smartphone would launch at a September 6 event, and that it would run Android 7.0 Nougat at launch. The company claimed that this would make the LG V20 the first smartphone to launch with the Nougat version.
In the meanwhile, the LG V20 has been leaked in a series of press renders, which apart from showing the secondary Always On display, also reveal a dual rear camera setup, and a modular chin just like the LG G5.
["source-gadgets.ndtv"]