Samsung may have dug itself into a hole too deep to come out unscathed. The company is in the process of unprecedented second recall, after 'safe' Galaxy Note 7 replacement units also started to catch fire. While the engineers at Samsung cannot pin down a solid reason for these explosions, a report suggests that the SoC is to blame, and not the battery.
A Financial Times report states that the explosions are being caused due to an SoC tweak made by company's engineers with the aim to speed up the charging process. However, the battery could not handle the rate at which it was being charged, and this is causing the handset to catch fire and explode.
"If you try to charge the battery too quickly it can make it more volatile. If you push an engine too hard, it will explode. Something had to give. These devices are miracles of technology – how much we can get out of that tiny piece of lithium-ion," the report writes, citing a person informed by Samsung executives.
This is in no way confirmed by Samsung, and the company still maintains silence on that front. There is no official word on what is causing the safe units to catch fire, and Samsung engineers are also reportedly unable to narrow down a flaw.
For now, Samsung has completely halted production and global sales of the Galaxy Note 7. The controversy is said to be costing the company billions of dollars, not to mention attract heaps of ill will in the market. In the most recent cases, a Samsung Galaxy Note 7 was caught on video catching fire at a Burger King, and a US plane was immediately vacated after a replaced unit started emitting smoke.
["source-ndtv"]

Since sales for Apple's latest iPhone 7 and iPhone 7 Plus began, users around the world have experienced a number of issues, bugs, and glitches with their devices. Earlier reports pertained to issues like a weird hissing noise, loss in cellular service and Lightning EarPod issues. Recently, two separate polls revealed that spotty Bluetooth connectivity was among the most common issues being faced by users.
The polls, conducted by popular tech sites Gizmodo and 9to5Mac, reveal that many users are unable to connect their iPhones to in-car entertainment systems. The problem, however, is not limited to iPhone 7 and iPhone 7 Plus users. Those who have updated their iPhone units to the latest iOS 10 OS are also facing the issue.
Gizmodo has received 12 different email tips related to Bluetooth connectivity on the iPhone. One of the readers told the site that automatic Bluetooth connectivity failed with the iPhone 7 but worked seamlessly with older units like iPhone 6 and iPhone 6s.
Meanwhile, 9to5Mac has received complaints from BMW owners stating that their iPhone 7 device abruptly disconnects or stops working when connected to their car's system.
Apple has been releasing updates in quick succession in its attempt to solve various bugs and issues. So far, none of the updates have resolved the Bluetooth connectivity issue and one can expect a third update to iOS 10 to roll out soon enough to address that. Notably however, Apple has not yet officially acknowledged the issue.
Spotty Bluetooth connectivity as an issue would not have garnered so much attention had Apple stayed with the headphone jack. However, with the Cupertino giant aiming for a wireless future, Bluetooth connectivity is now a major factor for Apple's latest devices and the company needs to make sure that connectivity is seamless on this front.
["source-gadgets.ndtv"]
Apple is in negotiations with Sharp to secure organic LED displays for the iPhone maker's next-generation of devices, a person familiar with the matter said.
Any Oled supply agreement would depend on the Osaka-based company's output capacity, said the person, who asked not to be identified because talks aren't public. The discussions stem from Apple's desire to increase the number of suppliers for Oled screens, according to the person.
Earlier Friday, Sharp announced it will invest JPY 57.4 billion ($566 million or roughly Rs. 3,780 crores) for the development of Oled production facilities, with the goal of starting output by June 2018. The funds will be used for equipment in Sharp's factories in Mie and Osaka, and to deliver sample products to customers, the company said in a statement.
"Apple has unofficially or as a nod encouraged Sharp to go into it," said Amir Anvarzadeh, Singapore-based head of Japanese equity sales at BGC Partners Inc., in a phone interview. "Apple's general strategy is to increase the competition on the supply side, and dilute the risk exposure to one company."
Sharp spokesman Toyodo Uemura declined to comment on specific customers. An Apple spokesperson in Japan didn't immediately respond to a request for comment.
Sharp's capital investment in Oled is part of JPY 200 billion (roughly Rs. 13,175 crores) that the manufacturer had already committed to Oled technology, part of a strategic plan it adopted with new owner Foxconn Technology Group. Next-generation screens based on Oled, or organic light-emitting diode, technology promise more vivid images and less battery drain. Friday's announced investment will be for smartphone displays, a representative of Sharp said without identifying specific customers.
"This investment is in response to what Apple is doing," said Hideki Yasuda, an analyst at Ace Research Institute in Tokyo. "Production isn't likely to begin until the second half of 2018, so the impact to profit won't be until after that."
Sharp shares rose as much as 2.2 percent after the announcement, but closed unchanged Friday in Tokyo. The stock has climbed 8 percent this year, compared with the broader market's 15 percent decline. Apple accounts for about 27 percent of Sharp's revenue, according to Bloomberg's supply chain analysis.
Earlier this year, the Japanese company agreed to accept a rescue package from Foxconn Technology Group, ending a takeover battle that spanned four years. Last month, the company said its liabilities no longer exceed assets after receiving a JPY 289 billion infusion.
["source-gadgets.ndtv"]
Apple's iPhone 7 and iPhone 7 Plus will go up for pre-order in India starting 23:59 on Thursday night via Flipkart, Apple's newest online partner. The latest iPhone models come in 5 colours including Jet Black and Black, with Apple having revealed the India prices for the entire iPhone 7 and iPhone 7 Plus lineup earlier, alongside the shipping date of October 7. Flipkart has already setup a page for pre-orders.
The iPhone 7 will start at Rs. 60,000 for the 32GB variant. The iPhone 7 Plus will start at Rs. 72,000 for the same storage capacity. The 128GB and 256GB variants of the iPhone 7 will be priced at Rs. 70,000 and Rs. 80,000 respectively, while the iPhone 7 Plus will priced at Rs. 82,000 and Rs. 92,000 for the corresponding storage capacities.
To recall, Apple partnered with Flipkart earlier this month to expand the online availability of the iPhone 7 and iPhone 7 Plus smartphones in India. Until recently, Apple had Infibeam as its only authorised online reseller. Apple's tie-up with Flipkart means the iPhone 7 and 7 Plus will be available at the official launch price at the online retailer. The biggest advantage for Flipkart with the partnership will be that it can source the new iPhone models from Apple directly, instead of Apple partners. Those units still carried Apple warranty, so for end users this is unlikely to be a big change.
The new iPhone 7 series sports a refreshed design and the rear antenna bands have been redesigned to make them less prominent than before. Both the phones feature a brand new home button that uses Taptic vibrations to simulate a physical tap. The iPhone 7 and iPhone 7 Plus also come with IP67 water and dust resistance.
["source-gadgets.ndtv"]
Apple hasn't released any pre-order numbers for the latest pair of iPhones, but the company has let one nugget about sales slip out: If you want a Jet Black iPhone, you may have to wait awhile.
The company says phones with the new, glossy black finish for the iPhone 7 and iPhone 7 Plus won't be on shelves in Apple stores on Friday.
"We couldn't be happier with the initial response to iPhone 7 and iPhone 7 Plus," Apple said in a statement to The Washington Post. "During the online pre-order period, initial quantities of iPhone 7 Plus in all finishes and iPhone 7 in Jet Black sold out and will not be available for walk-in customers."
The Jet Black iPhone models come only in the phone's higher storage capacities, 128-gigabyte and 256-gigabyte.
Shoppers may have luck finding the Jet Black phones at carrier stores or other retail stores, such as Best Buy or Target. But you may want to call ahead before you go to the store (or camp out in line) to make sure you can get what you want.
The iPhone 7 and iPhone 7 Plus are also available in Rose Gold, Gold, Silver and Apple's other Black finish. The firm said shoppers will be able to find all of those hues in Apple stores and other retail stores starting Friday.
Those who really want the shiny Jet Black finish can still order the phone they want – though it will require patience. Orders for the Jet Black iPhone on Apple's website have shipping dates that push into November.
Apple has said that it will not release preorder sales information for this pair of smartphones, as had been its custom, because it thought that the phones will sell out and that sales will be limited only by supply.
Skeptics have said that Apple's decision indicates it's worried that the latest phones, which are more of an incremental update than many had hoped, won't sell in the way we have come to expect from Apple. That's a valid concern, given that some may look at the new phones and decide not to upgrade so quickly.
Early statements from major US carriers, however, indicate that preorders are on pace with past years or better. Verizon Executive Vice President Marni Walden said at a mobile industry conference that iPhone preorders were "business as usual," according to a report from Bloomberg News. Meanwhile, AT&T, Sprint and T-Mobile have said that preorders are higher than for the iPhone 6s. Sprint, a smaller carrier, said preorders were "up more than 375 percent" from the first three days of iPhone sales last year.
["source-gadgets.ndtv"]
Samsung may have to advance the launch of its next flagship smartphone – believed to be dubbed Galaxy S8 – after the Galaxy Note 7 fiasco, claims an analyst. Additionally, new details have started to emerge regarding the new Samsung flagship including the model names, and some new features.
An analyst speculates that alongside the Samsung Galaxy Note 7 recall, a delay in the launch of the next Samsung flagship to the end of the first quarter may worsen the "profitability of the mobile business division". He suggests the South Korean company could offset this crisis by advancing the launch of the Galaxy S8. The launch of the Samsung Galaxy S7 successor would also reduce sales impact from the recall, according to analysts at Mirae Asset Securities.
Kim Sang-pyo, an analyst at the KB Investment & Securities, told Korea Herald, "Regardless of the sales resumption, an earlier launch of a new quality flagship model seems to be the most realistic solution to dealing with the current recall crisis."
In a separate report, Samsung is rumoured to work on two versions of the next flagship smartphone which are being referred to as Dream and Dream2, and said to bear model numbers SM-G950 and SM-G955 respectively. To recall, the Samsung Galaxy S7 came with model number SM-G930.
Sammobile reports that Samsung is giving the number 4 a miss because of "Tetraphobia." The company is said to believe the digit 4 has associations as bad luck and this is one of the reasons it chose to go for model numbers SM-G950 and SM-G955 for alleged Samsung Galaxy S8 Dream and Dream2 models respectively. The report adds that Samsung has done this in past as well when the company launched the Galaxy S4 as GT-I9500 while the Galaxy S3 came with model number GT-I9300.
Another report suggests that Samsung may follow the lead of Apple, and drop the 3.5mm headphone jack in its next flagship smartphone. Digital Music News reports that the South Korean giant is now 'actively and aggressively' exploring ways to use its own proprietary headphone jack. The details were shared by sources operating out of South Korea and who are involved in the supply chain of Samsung's smartphones.
Unfortunately, details on how Samsung will implement its own headphone jack are scarce but we can expect to hear more soon.
Another rumour suggests that Samsung's next flagship will be powered by in-house Exynos 8895 SoC which could reach clock speeds of up to 3GHz. The new chipset is also said to have an improved image processing prowess. The alleged details were shared on Weibo and were first picked up by Phonearena.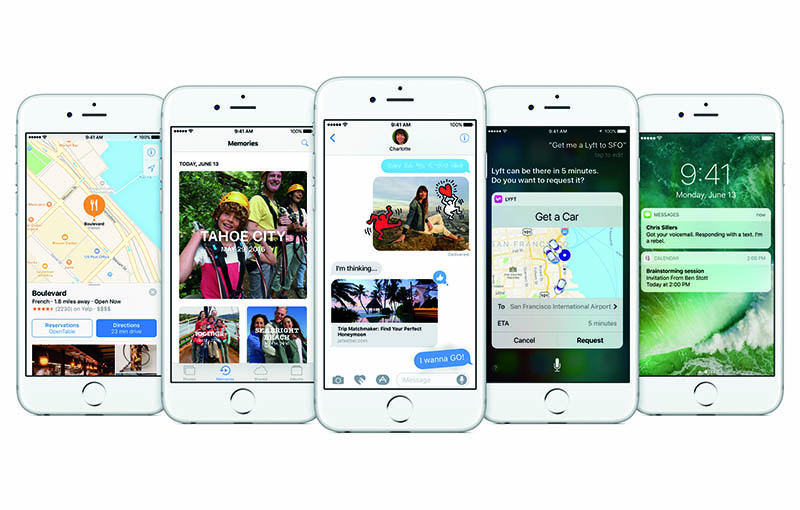 Apple released the iOS 10 update for compatible iPhone, iPad, and iPod touch devices on Tuesday, and some early adopters reported that their devices were 'bricked' while installing the update. The issue was reported by more than a handful of users in the first hour of availability of iOS 10. Apple confirmed the problem and stated that affected users should connect their device to a computer running iTunes to restore the device back to normalcy.
While Apple did not elaborate on the reason that caused this error, Apple told BuzzFeed, "We experienced a brief issue with the software update process, affecting a small number of users during the first hour of availability. The problem was quickly resolved and we apologise to those customers. Anyone who was affected should connect to iTunes to complete the update or contact AppleCare for help."
This incident shows why we advise our readers to always backup their device before installing an update. Apple says users can now go ahead and install iOS 10 over-the-air without any problems.To get step by step help, follow our simple guide here.
If iOS 10 'bricked' your device, connect it to iTunes, look for its icon, select it and choose the Restore iPhone… or Restore iPad… button to bring it back to life. If you'd backed up your device's data locally to this machine, you can also try the Restore Backup… option.
iOS 10 brings heaps of improvements to the interface. The Photos, Maps, iMessages, Calculator apps have been improved and redesigned. The lock screen has new widgets, the notification and control centre design has been improved, and there is a new Home app for consolidated smart electronics management. Apple has for the first time opened up Siri to allow third-party integration. Apple touts this update to be the biggest ever.
Following reports from earlier this week, Samsung has denied it will remotely deactivate old Galaxy Note 7 units from September 30 to ensure that no faulty handset remains in the market.
The tech giant told Android Central that the reports are untrue, and that it doesn't plan on doing any such thing. Furthermore, Samsung said that if any such decision were to be made in the future, then it would put out a statement on its website informing its customers about it.
Reports of Samsung deactivating Galaxy Note 7 units remotely surfaced on Reddit earlier this week, with a user claiming a Samsung customer care employee was the source of the news. The Redditor also claimed that Samsung would begin shipping out packages with a new Galaxy Note 7 handset, a free Gear VR, and a bag to hand back the old handset.
For now, the company has put out a statement urging customers to exchange their old handsets immediately. Cases of explosion have been reported worldwide, the recent casualties being a jeep owner and man whose garage caught fire because the Galaxy Note 7 was left on charge unattended.
Samsung has halted sales and shipments of the Galaxy Note 7, and will only recommence after the exchange process is over. This recall is expected to cost the company up to $1 billion. As the handset is now a safety hazard, airlines all over the world, including India, have banned the use of the Samsung Galaxy Note 7 on flights.
["source-gadgets.ndtv"]
Samsung is now expediting the replacement programme for the Galaxy Note 7, urging all users to participate in the exchange program immediately. A Redditor has also shed light on Samsung's plans to remotely deactivate all old Samsung Galaxy Note 7 devices as a safety measure after September 30.
The Redditor claims that the Samsung customer care has informed him that all the old handsets will be deactivated remotely to ensure that no defected pieces remain active in the market. This will also push all current users who haven't initiated the exchange process, to do so immediately. Samsung has urged all Galaxy Note 7 holders to contact their local customer service centres as soon as possible. He claims that the company will begin shipping packages to every Samsung Galaxy Note 7 buyer across the globe. The package will contain the new handset, the new Galaxy Gear VR, and a bag for putting the old device and handing it back. This replacement process is all done for free, and Samsung is even bundling $25 gift cards for the inconvenience.
Expediting the process was a needed move, as many cases of explosions were being reported across the globe. A jeep was set on fire in the US after a man left his Galaxy Note 7 on charge in the car, and a house garage also lit up after the handset was left on charge unattended. An Australian man was left with a $1400 hotel damages bill, after his unit exploded in the hotel room charring the bed sheet and the carpet.
Samsung has suspended worldwide sales of the Galaxy Note 7. The company has announced that it is working with all regulatory bodies to ensure that all defective handsets are taken off the market. Meanwhile, airline authorities in many countries, including India, have banned the use of the handset on flights.
Samsung looked to unveil the Galaxy Note 7 earlier than tradition to fend off competition from the iPhone 7. However, this defect in its home-grown SDI batteries caused its strategy to backfire badly, earning the company a bad reputation in the process. Samsung was seeing good sale numbers after a couple of years, and it hoped that the release of the Galaxy Note 7 would help push its growth further. However, the exploding Galaxy Note 7 controversy couldn't have come at a worst time for Samsung, and it could reportedly cost the company as much as $1 billion.
["source-gadgets.ndtv"]
Japanese aviation authorities on Friday followed their US counterparts by urging passengers not to turn on or charge Samsung Galaxy Note 7 smartphones on aircraft following reports of explosions from faulty batteries.
The South Korean smartphone maker last week suspended sales of the "phablet" and recalled 2.5 million units following the reports.
After the US, Japan's transport ministry followed suit on Friday.
The phone is not yet on sale in Japan, but the ministry cited accidents overseas for its warning, which also cautioned against using or charging them onboard, or stowing them in checked bags.
"Until such time that safety measures are taken by Samsung, the ministry has requested that Japanese airlines strongly communicate instructions to passengers regarding bringing Galaxy Note 7 on board planes," the ministry said in a statement.
"In light of recent incidents and concerns raised by Samsung about its Galaxy Note 7 devices, the Federal Aviation Administration strongly advises passengers not to turn on or charge these devices on board aircraft and not to stow them in any checked baggage," the US FAA said in a statement Thursday.
Qantas and Virgin Australia also told customers Thursday not to use or charge the devices on their planes.
Samsung is the world's top smartphone maker, outpacing its American rival Apple.
["source-gadgets.ndtv"]