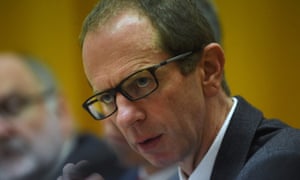 Australia's corporate regulator has revealed 90% of financial advisers who provide advice to self-managed super funds have failed to comply with the best interests of their clients.
The startlingly high figure was revealed during the financial services royal commission on Monday, as the commission began its second round of hearings.
The focus of the royal commission has shifted to the financial advice industry and it has heard a litany of examples of inappropriate advice and misconduct including falsifying documents, with multiple cases of consumers paying ongoing fees and failing to receive regular advice reviews.
Senior counsel assisting Rowena Orr told the commission that the number of "financial advisers" in Australia had exploded since the global financial crisis, from roughly 18,000 in late 2009 to now 25,386 – an increase of 41%.
She said just 8,704 of all financial advisers – or 35% – have completed a degree at bachelor level or above.
Peter Kell, the deputy chair of the Australian Securities and Investments Commission (Asic), said the corporate regulator did not believe the financial advice industry was a "profession" yet because it had not reached the standards of a profession.
"In Asic's view, we would say that the standards around competency and the qualifications you have to have to be participant in the financial advice sector, the ways in which advisers have been remunerated in many cases, and the conflicts of interest that that remuneration has generated between advisers and licensees and the clients  …  [and] some of the conduct and consumer outcomes, that have been very poor on a widespread scale, indicate that we're not yet at a position where we have a profession."
Kell said Asic recently asked an independent expert to review the quality of financial advice that had been provided by 137 licensees to self-managed super funds, and found that 90% of cases had failed to be in clients' best interests.
"It is obviously very disappointing, to say the least," he said.
He said Asic currently had roughly 60 staff trying to regulate the conduct of 25,000 financial advisers across the country.
Orr listed poor behaviour by financial advisers in Australia in recent years, including falsifying documents, miss-selling financial products and charging fees for services that never eventuated.
She said $383.1m had been being paid in compensation over the past decade to clients who had suffered financial loss as a result of financial advice or a failure to provide ongoing advice services.
About 306,000 customers of Commonwealth Bank, National Australia Bank, Westpac, ANZ and AMP Limited have been paid $216.4m as a result of fees paid for no service.
Kell said eight separate financial services entities had reported breaches to the regulator over fees for no service.
"I think it's clear from our experience that the firms in question prioritised fee revenue from their advice businesses over the provision of services to the clients," he said.
Orr also said Westpac, National Australia Bank, and AMP had only recently admitted to the royal commission that they have made payments breaching a ban on banks and wealth management businesses from paying kickbacks to financial advisers.
"NAB did not disclose any of these events of prohibited conflicted remuneration to the commission in the two submissions it provided earlier this year, despite each of them constituting a breach of the Corporations Act," Orr said.
AMP failed to provide satisfactory information to the commission until 9.30pm on Sunday, leaving the commission without time to scrutinise it properly, Orr said.
["Source-timesofindia"]