Sir John Vickers, who scrutinised banking regulation after the crisis, has warned reform is still unfinished.
The system is "roughly halfway" to where it should be with the banks' capital buffers, he said.
The Bank of England has said capital requirements are 10 times those before the crisis for the biggest banks
But Sir John, who produced a landmark 2011 report, said he was "very disappointed" the regulator took the view the system had enough capital.
Crisis anniversary
His comments come 10 years after the Bank of England was forced to provide emergency funding to Northern Rock.
The UK bank collapsed as nervousness about the US housing market caused problems for banks and governments around the world.
Ten years on from the collapse of Northern Rock
How the crisis improved savers' protection
The Independent Commission on Banking, chaired by Sir John, recommended in 2011 that banks should have much bigger capital buffers.
It also called for measures to help wind down failing banks and the so-called ring-fencing of UK retail banking operations from other activities, including investment banking.
Bank of England Governor Mark Carney said last year that UK banks had raised over £130bn in capital since the crisis.
Sir John, a former Bank of England chief economist, told BBC Newsnight: "I think we've done some good building but there's an opportunity there to go a lot further, which should be taken. But the current policy stance is, no we don't need to."
He added: "I think the arguments, the evidence, the costs and the benefits, points to a need to go quite a bit further. I'd say we're roughly – global level – halfway of where we ought to be."
Bank defences
Capital from shareholders is a bank's first line of defence against an economic downturn or other shocks likely to cause losses.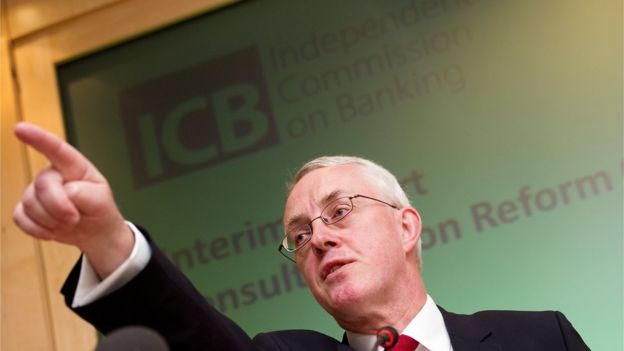 ["Source-timesofindia"]