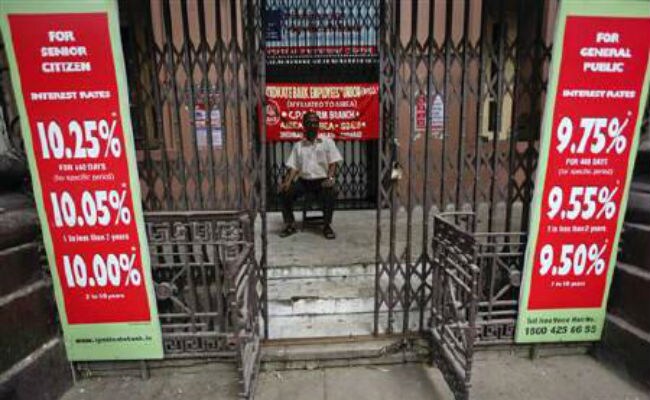 New Delhi/Mumbai/Chennai/Kolkata: Banking operations across the country were hit on Tuesday as over 10 lakh bank employees in more than 1,30,000 branches pan-India struck work — protesting against reforms in the banking sector among other issues — thereby affecting cheque-clearing activity. An official of the United Forum of Bank Unions (UFBU) — the umbrella body of nine unions which has given the strike call — said "over 10 lakh bank employees spread in more than 1,30,000 branches across the country have struck work hitting cheque-clearing activity".
Most public sector bank branches visited by IANS correspondents had their shutters down.
Banking operations in Tamil Nadu were affected with around 55,000 bankers striking work pressing for their demands, said a report from Chennai citing a top All India Bank Employees' Association (AIBEA) leader.
"The strike is a huge success. It is a dawn-to-dusk strike as cheque clearing operations start at 6 a.m. Bankers working in around 10,300 branches struck work protesting the policies towards the sector," C.H. Venkatachalam, General Secretary, AIBEA told IANS.
Venkatachalam said around 12 lakh financial instruments valued at around Rs. 7,300 crore would not be cleared.
With branches closed, automated teller machines (ATMs) might get empty sooner than normal.
Government treasury transactions would also be impacted. Foreign exchange transactions, import and export bill transactions, sanction of loans and others would also be affected.
In most of the places, clearing operations, particularly outward clearing, was seriously affected.
Normally in the three clearing grids functioning from South, West and North — Chennai, Mumbai and Delhi — on an average about 40 lakh cheques and instruments worth about Rs. 20,000 crore are transacted per day. This has been affected in a big way as a result of the employees' stir, Venkatachalam said.
Over 150,000 bank employees in Maharashtra joined the nationwide banking strike, paralysing all financial operations in the country's commercial capital, a union official said in Mumbai.
The strike hit all the 42,000 branches of 21 public sector banks, including the monolithic State Bank of India and IDBI, 18 old-generation banks, eight foreign banks and 56 Regional Rural Banks in Mumbai and Maharashtra, said All Indian Bank Employees Association (AIBEA) leader Vishwas Utagi.
"All cheque clearing operations, financial transactions and other routine daily banking functions are stopped today (Tuesday) due to the strike. Many ATMs, which are now functional, may run out of cash by noon as there will be no replenishment," Utagi told IANS.
The strike comes after the talks here between UFBU on one side and Indian Banks' Association, Chief Labour Commissioner and Department of Financial Services (DFS) failed on Friday.
"All India State Bank Officers' Federation and All India State Bank of India Staff Federation, being part of the UFBU, will participate in the strike. It is likely that our bank will also be impacted by the strike," State Bank of India (SBI) said in a regulatory filing in the BSE.
Among the 17-point charter of union demands, the main relates to the government's denial of adequate capital to public sector banks, thus creating conditions for privatisation, an AIBEA statement said on Tuesday.
"The one-day banking strike has been successful as close to 9,500 ATMs and around 3,000 branches are closed with 70,000-100,000 bank employees participating in the protest in West Bengal," AIBEA's (West Bengal) General Secretary Rajen Nagar said in Kolkata.
All India Bank Officers' Association's (West Bengal) General Secretary Sanjay Das said employees and officers from cooperative and grameen banks including regional rural banks also participated in the strike and private banks' branches were mostly closed as their employees supported unions' demand.
"The strike is 100 per cent successful. Bank employees and officers are conducting demonstration in front of banks' branches and ATMs," Das said.
Thousands of employees of state-run banks began day-long strike in cities and towns across Karnataka, affecting cash and other transactions for the day, said a report from Bengaluru.
"We have received an overwhelming response from all our members for the strike call in support of our demands, including our opposition to the merger of state-run banks," state AIBOC General Secretary A.N.K. Murthy told IANS.
In Bengaluru, hundreds of employees of various banks took out a rally and staged demonstrations protesting against the government's proposal to merge their banks.
Private banks, including ICICI Bank, HDFC Bank, Axis Bank and Kotak Mahindra, however, opened for business as usual.
Banking services were badly affected in the Left-ruled Tripura on Tuesday as most of the major banks remained closed due to a nation-wide employees' strike.
The striking employees were protesting the "anti-people banking reforms" and demanding for compensation to employees for extra work done on account of demonetisation of high value currencies since November 8, 2016, and booking loan defaulters.
According to Nikhil Das, a leader of the striking employees, around 3,000 bank employees belonging to about 414 branches of 15 nationalised, regional, rural and cooperative banks in the northeastern state took part in the strike in Tripura.
[Source"indianexpress"]