A new teaser has surfaced online indicating that LeEco is set to release a new smartphone on September 21. The teaser takes a dig at Apple, and hints that the upcoming smartphone will sport a massive battery. The company is anticipated to launch the LeEco Pro 3 smartphone, aka Le 3 Pro.
The teaser, first spotted by PlayfulDroid, takes a hard-hitting dig at Apple and its latest iPhone 7 and iPhone 7 Plus offering. The image shows that a battery fall from the sky, directly onto Apple's logo, crushing it into a bloody mess.
In this teaser, LeEco took a dig at iPhone's historic battery woes, claiming that its upcoming smartphone will have no such worry. Leaks also suggest that the LeEco Pro 3 will come in two variants. The first one will sport a 5.5-inch (1080×1920 pixels) 2.5D display. It is powered by a Snapdragon 821 chipset paired with 6GB of RAM and Adreno 530GPU. The smartphone is expected to offer 64GB of inbuilt storage. There is a 16-megapixel rear camera, and an 8-megapixel selfie camera, and a 4070mAh battery.
The larger more premium variant of the LeEco Pro 3 is said to pack a 5000mAh battery, a 5.7-inch (1470×2560 pixels) QHD display, 8GB of RAM, and 256GB of native storage. This premium variant has a 13-megapixel dual camera setup at the back, and a 16-megapixel selfie camera in the front.
The tentative price of the LeEco Pro 3 has also been leaked and it is pegged to be somewhere between $314.16 (roughly Rs. 21,100) and $448.86 (roughly Rs. 30,100) for the 6GB RAM variant. The 8GB RAM variant will be in the range of $463.83 (roughly Rs. 31,100) and $598.53 (roughly Rs. 40,200).
The specs, if true, will make the smartphone quite lucrative to own. The specifications were further testified in an AnTutu benchmark leak with a score of 163,546 for the 6GB RAM variant.
Videocon on Wednesday launched the Cube 3 smartphone in India, featuring a panic button that was recently made mandatory by the government to include in both smartphones and feature phones. The 4G VoLTE-enabled Videocon Cube 3 has been priced at Rs. 8,490, and will available from offline stores in the country.
The company says that with the launch, it will be introducing the panic button across its entire portfolio. The panic button is found inside the SOS-Be Safe app, which according to Videocon uses the power button as a panic button to send out an SOS alert to pre-registered numbers in an emergency.
The SOS-Be Safe also offers features like Alert, Walk with Me, and Reach on Time. Users can trigger these features from their smartphone's status bar and set security preferences like time, distance and contacts. The app makes the use of GPS to provide a map view of nearby police stations and hospitals for any critical situation.
Getting back to the launch, the dual-SIM supporting Videocon Cube 3 runs on Android 6.0 Marshmallow, and sports a 5-inch HD (720×1280 pixel) IPS display with 2.5D curved glass and Dragontrail X protection. It is powered by a 1.3GHz quad-core MediaTek MT6735 SoC, coupled with 3GB of RAM.
The Videocon Cube 3 bears a 13-megapixel rear camera with dual-LED flash and PDAF, and a 5-megapixel front-facing camera with LED flash. The smartphone comes with 32GB of inbuilt storage that's expandable via microSD card. In terms of connectivity options, it offers 4G, VoLTE, Wi-Fi 802.11b/g/n, Bluetooth v4.0, GPS/ A-GPS, FM radio, a 3.5mm audio jack, and Micro-USB. The smartphone is powered by a 3000mAh battery.
Speaking on the launch, Akshay Dhoot, Head – Technology and Innovation, Videocon, said, "Videocon Smartphone is a consumer-first brand aiming to create indigenous devices, matching up the growing needs of consumers and smartphone eco-system in the country. Smart devices packed with powerful and utility led features are shaping the consumer aspirations and industry growth. With smartphones impacting our lives in many ways, emergency response system or panic button is certainly the need of the hour. We welcome the recent provision by government for devices with emergency response facilities as it will provide a new direction for the industry to empower smartphone users. We are confident that our latest Cube 3 handset featuring 'SOS-Be Safe' will assist smartphone users during different kind of emergency situations and enhance consumer experience."
["source-gadgets.ndtv"]
ZTE introduced its Project CSX challenge to crowdsource ideas for new products last month. The company has now finalised three new ideas in phase two of Project CSX, and wants people to submit their concepts for the announced ideas. The company will then build the selected idea into a product.
The Chinese telecommunications giant believes that it can build a self-adhesive smartphone which will come with optimised user interface via eye tracking system and will also come with split screen technology. Another interesting idea is for a Power Glove-like wearable that is programmable. It can help users to learn hand movements by simple instructions that are provided by Android-based apps. Lastly, ZTE unveiled the concept of an interactive diving mask which will offer an immersive augmented reality experience to users.
Users can submit their concept ideas for the three products till September 30 and the company will conduct votes from October 1 – 10. After selecting the final product, ZTE claims that it will try to introduce the product in 2017.
ZTE says that the smartphone concept is focused on user privacy. One of the highlights of the phone will be the self-adhesive polymer that can stick to any type of material whether wall, or other pieces of furniture. The eye tracking system said to feature in the phone will consist of two laser-focusing cameras, one on the top and one on the bottom. The two cameras will capture user's pupils' movement in a vertical dimension. The split screen feature is suggested for user convenience and security. It will let users experience different content on the same screen with the help of the dual directional viewing LCD.
For Powerglove, ZTE believes that it will provide a platform for developers to write apps that can automate hand movement.
For the augmented reality mask, ZTE says that users will be able to use it both regularly as well as under water. The mask will be waterproof with IP67 certification and will equip UHD display to broadcast image captured by two cameras located on the front of the device. It will be able to record video as well as take photos under water as well.
["source-gadgets.ndtv"]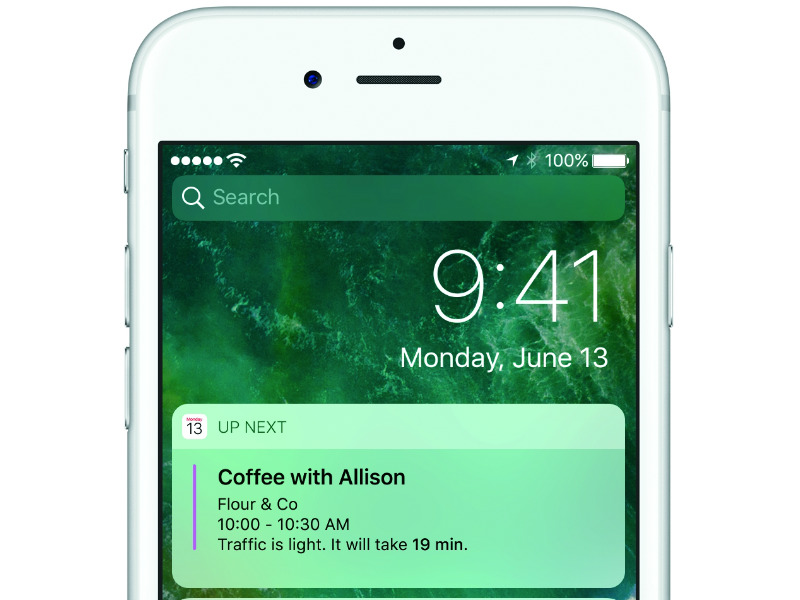 Apple has released iOS 10, watchOS 3, and tvOS 10 updates for its mobile devices, Apple Watch, and the Apple TV 4th generation respectively. The updates bring a host of new features, enhancements, and bug fixes to millions of Apple devices worldwide.
iOS 10 is perhaps the biggest update to Apple's platform for the iPhone, iPad, and iPod touch devices since iOS 7 and it brings enhancements like iMessage apps, improved Siri with third-party integration, revamped Photos, Apple Music, and Apple Maps, plus a whole lot more.
Here are the complete release notes for iOS 10:
Messages

Expressive Messaging

Bubble effects let you send messages loudly, gently, slam or with invisible ink
Full-screen effects to celebrate special moments
Tapback for quick replies to messages, links, and photos
Handwritten messages animate like ink on paper
Digital Touch lets you send sketches, taps, and heartbeats
Tap to replace can emojify your text with just a tap
Rich links show a preview of web pages you share

iMessage apps

New App Store for iMessage
Use the power of apps in Messages to share and collaborate with friends
Download stickers to send and place on text bubbles and photos

Siri

Siri now works with the following types of apps

Messaging apps to send, search and read back text messages
VoIP apps to place phone calls
Photos apps to search for images and photos
Ride service apps to book rides
Payment apps to make personal payments
Fitness apps to start, stop, and pause workouts
CarPlay automaker apps to adjust climate, radio, seat, and personal settings

Maps

All new look

Proactive suggestions for places you're likely to go next, based on your routine or appointments in Calendar
Improved search with new callout design, clustered results and category filters
Home, work, favorite locations, and locations from upcoming Calendar events are displayed on the map
Displays where your car is parked via CarPlay or Bluetooth
Weather for the currently viewed area

Extensions

Make a reservation within Maps using extensions from participating reservations apps
Book a ride to a destination within Maps using extensions from participating ride service apps

Turn-by-turn navigation improvements

Search along route for gas stations, food, and coffee shops
Automatic view adjustment of the road ahead
Use pan and zoom during navigation
Option to avoid tolls and highways

Photos

Advanced face recognition designed with deep learning to automatically group similar faces together
Object and scene recognition to intelligently search for photos by what's in them using advanced computer vision that scans your library locally on device
Places album to see all your photos, videos and Live Photos on a map
Memories

Intelligently highlights forgotten events, trips, and people, and presents them in a beautiful collection
Memory movies automatically edited with theme music, titles, and cinematic transitions
Related memories make it easy to rediscover even more photos in your collection, based on location, time, people, scenes and objects
Easily share with family and friends

Brilliance control applies region-specific adjustments to brightness, highlights and contrast

Home

New Home app to securely manage and control HomeKit enabled accessories
Scenes to control groups of accessories with just a tap
Rich Notifications with quick actions to control accessories
Optionally share home access with family and friends
Remote access and automation of accessories with Apple TV or iPad

Apple Music

An all-new design for Apple Music brings greater clarity and simplicity to every aspect of the experience
Navigate your Library with an improved menu and see all of the Downloaded Music that you can play on your device while offline
See recommendations in For You that highlight mixes, playlists, albums, and Connect posts—selected for you based on the music and artists you love
Visit Browse to more easily see exclusive releases, find curated playlists, and discover the most important new releases—picked by our editors each week
Listen to Radio more easily—clearly see what's live on Beats 1, hear your favorite shows on-demand, or choose a curated station for any genre of music
Play music with an improved Now Playing experience—swipe up to view available lyrics and quickly see or edit songs that are coming up next

Apple News

An all-new design in For You adds bold typography, vibrant color, and distinct sections that make it easier to find stories on specific topics
See the most important stories of the day within Top Stories—updated by our editors throughout the day
Find the most popular stories right now within Trending Stories—selected based on what others are reading
See all of your stories grouped into easy-to-understand sections on the topics you follow or read
Discover the best and most interesting stories of the week within Featured Stories—selected by our editors
Share stories more easily—just tap the icon on any story to send it to a friend right from For You
Receive breaking news notifications from some of your most trusted sources
Subscribe to your favorite magazines and newspapers directly in News
New personalized Today View widget lets you keep up with the latest stories throughout the day

Experience

Raise to Wake automatically wakes the screen as you raise your iPhone
Rich notifications that support real time information, audio, photos and videos
Today view is redesigned and supports all new widgets for apps like Weather, Up Next, Maps, Stocks and more
Control Center is redesigned with easier to access controls including dedicated cards for music playback and Home
Expanded use of 3D Touch

Lock screen notifications to support an expanded view and access to quick actions
New quick actions for built in apps like Weather, Stocks, Reminders, Health, Home, FaceTime, iCloud Drive and Settings
Home Screen widgets
Control Center for access to quick actions for Flashlight, Timer, Calculator and Camera
Clear all in Notification Center

QuickType

New emoji, including gender diverse options to existing characters, single parent family variations, rainbow flag and beautiful redesigns of popular emoji
Contextual predictions for current location, recent addresses, contact information and calendar availability using deep neural network technology
Emoji predictions
Calendar events are intelligently populated using deep learning technology with information from your conversations in Mail and Messages
Multi-lingual typing now lets you type in two languages at once without having to switch keyboards
Rest & Type on iPad intelligently adapts to your unique typing patterns
Predictive typing now uses deep neural network technology for greater prediction accuracy

Phone

Voicemail transcription (beta)
Spam call alerts with spam call identification apps
Support for third party VoIP apps receiving calls on the Lock screen, including support for Call Waiting, Mute and Do Not Disturb

Other improvements

Apple Pay in Safari
View two pages at once using Split View in Safari on iPad
Notes collaboration lets you invite people to work on your notes together
Markup support in Messages, Photos and PDFs stored in Notes
Bedtime Alarm in the Clock app lets you set a regular sleep schedule and receive bedtime reminders
Health adds support for health records and organ donation (US Only)
Stabilization support for Live Photos for improved camera capture
Live Filters support when capturing Live Photos
iCloud Drive now supports Desktop and Documents folders from macOS
Live search results in Spotlight for Chinese and Japanese
Siri support for Spanish (Chile), Chinese (Cantonese – China), English (Ireland), English (South Africa)
Ling Wai and Kaiti Black document fonts for Chinese
Yu Kyokasho and Toppan Bunkyu fonts for Japanese
New definition dictionaries in Traditional Chinese and Danish and bilingual dictionaries in Dutch and Italian
New keyboard for Spanish (Latin America)

Accessibility

Magnifier now uses the camera on your iPhone or iPad like a digital magnifying glass for real-life objects
New range of display color filters to support different forms of color blindness or other vision challenges
VoiceOver adds a Pronunciation Editor to customize the way words are pronounced, additional voices, and support for multiple audio sources
Additional text highlighting options in Speak Screen and Speak Selection, as well as the ability to speak keyboard letters and predictive typing suggestions to support multi-modal learning
Switch control now lets you control iOS, macOS and tvOS all from the same iPhone or iPad, so you don't need to configure switches for the secondary device
Software TTY allows you to place and receive TTY calls without the need for traditional hardware teletypewriter accessories
iOS 10 is available right now as a free download. To see if your Apple device is eligible to receive the update and for detailed download instructions, see How to Download and Install iOS 10.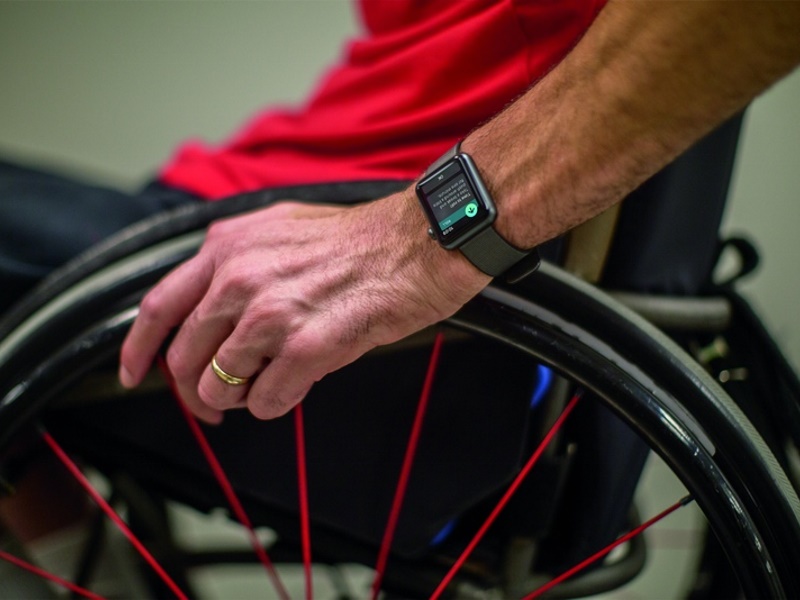 Next up is watchOS 3, the update that is most definitely the biggest software update to the Apple Watch platform. watchOS 3 brings noticeable speed improvements to a platform that many had termed slow, and introduces an all-new dock with "instant access" to apps. The update also brings new watch faces, new workouts, wheelchair use, breathe mode, and more. Here are the full release notes:
Performance and Navigation

Press the side button to access your favorite apps in the Dock
Apps in the Dock launch instantly with already updated information
Add up to 10 apps in the Dock, control music from Now Playing or launch your most recently used app
Swipe edge-to-edge to quickly switch your watch face
Swipe up from the bottom of your watch face to access important settings in Control Centre

Watch faces

New Minnie Mouse, Activity, and Numerals watch faces
Complications now available on Photo, Photo Album, Timelapse, and Motion
New complications including Workout, Music, and Messages
New Face Gallery in the Apple Watch app on iPhone to add and customize watch faces
Discover and add third party complications in the Face Gallery

Activity

Ability to share and compare your Activity rings
Rank alphabetically, or by progress towards Move goal, Exercise goal, steps or today's workouts
Automatic notifications when a friend completes their rings, finishes a workout, or earns an achievement
Customised smart replies for encouragement or smack talk
New Sharing tab in the Activity app on iPhone to view history

Workout

Quick Start for most commonly used workouts
Multiple metric view, customizable for each workout type
New gestures for pause, resume, and marking segments
Labels for "Other" workouts to keep track of Yoga, Pilates, Cross Training, and more
Auto-pause for running workouts
Siri support for pause, resume, and end workouts
Route maps with speed indicators for outdoor workouts

Wheelchair use

Activity rings optimized for wheelchair users
Accounts for varying speeds, terrains, and pushing techniques
Pushes contribute to all-day calorie goals
Time to roll notification and roll ring
New Outdoor Run Pace and Outdoor Walk Pace workouts

Breathe

New Breathe app to take a moment in your day for short deep breathing sessions
Calming visualization and haptic cues guide you while you inhale and exhale
Adjust session length and breaths per minute
Summary upon completion including heart rate
Time to breathe reminders
Weekly summary

Communication

Expressive Messaging

Full-screen effects to celebrate special moments
Tapback for quick replies to messages, links, and photos
Handwritten messages animate like ink on paper
Send recent built-in or third-party stickers
View secret messages with invisible ink

Scribble

Write words on the display and Apple Watch will convert the handwriting to text
Use the Digital Crown to scroll through predicted options
Available in English (US), Traditional Chinese, and Simplified Chinese

Reply options available in the Messages and Mail notification, including Digital Touch, emoji, and smart replies
New emoji, including gender diverse options to existing characters, single parent family variations, rainbow flag, and redesigns of popular emoji
Emergency SOS

Press and continue to hold the side button to call emergency services
Automatically notify SOS contacts and share your location
Display your Medical ID with information about medications, allergies, and medical conditions
Adjusts the emergency number to your current location

Home

New Home app to control HomeKit enabled accessories
Enable scenes created on your iPhone to control groups of accessories with just a tap
Control favorite accessories from your wrist, even remotely with Apple TV or iPad
Support for IP cameras to see live video in rich notifications and accessory controls

Other improvements

New Reminders app for managing scheduled reminders, grocery lists, and more
New Find My Friends app for viewing location of friends and family
Pay with Apple Pay within third party apps
Delete events and switch calendars in Calendar app
Support for FaceTime Audio calls directly from Apple Watch
Search for Settings in Apple Watch app on iPhone
Camera app controls for Flash, Live Photos, HDR, Zoom, Burst, and Front or Rear facing
Siri support for Spanish (Chile), Chinese (Cantonese – China), English (Ireland), English (South Africa)
Refer Apple's website for detailed instructions on how to update your Apple Watch to the latest OS.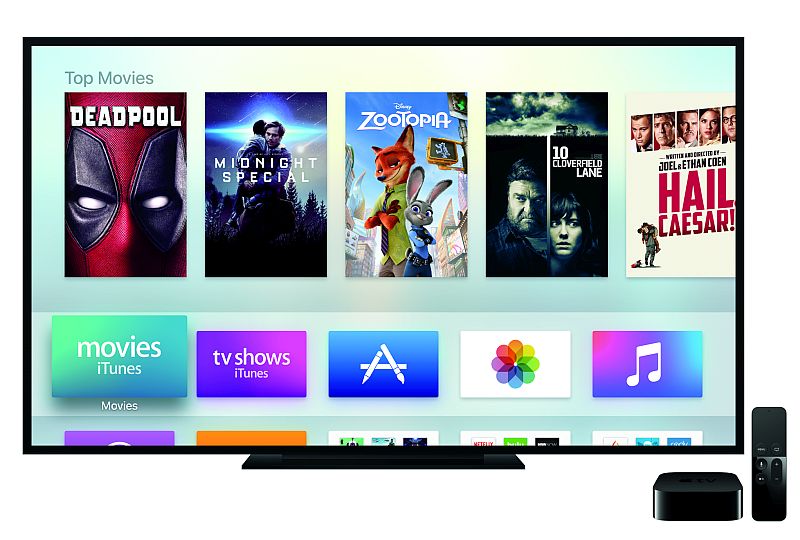 Finally, there's Apple TV, which has got an update of its own, bumping the software version to tvOS 10.0. The update brings a dark mode, improved Siri, and a bunch of other feature. The much vaunted single sign-on for all Apple TV apps showcased at WWDC hasn't rolled out just yet though.
Siri: Siri now understands Spanish in Mexico, Dutch in Netherlands, and Norwegian in Norway, and Swedish in Sweden.
Search with Siri: Ask Siri to find movies by topic or theme. For example, ask for spy movies or the best movies about football. This feature is available only in the United States.
Siri for Podcasts: To find what you're looking for, just include the word "podcast" in your Siri search.
Dictation: You can now use Dictation with Dutch, Norwegian, and Swedish system languages, no matter where you are in the world.
App Store: Automatically add apps that you purchased on your iOS device to your Apple TV. Just sign in to iTunes on your Apple TV with the same Apple ID that you use for iTunes on your iOS device. Then apps from your iOS device appear on your Apple TV Home screen.
Music: Experience a fresh, streamlined design that makes it easier than ever to find the music that you love.
Photos: Enjoy the new Memories feature, which highlights moments from your Photo Library in a lively presentation for the big screen.
HomeKit: From your Apple TV, ask Siri to turn off the living-room lights, change the temperature, and more. You can also use your Apple TV as a home hub. Then you can set up Automations or access your home remotely from the Home app on your iOS device or Apple Watch.
Appearance: You can change the look of your Apple TV. To make your Home screen and menus pop in bright or dim settings, choose a Light or Dark background Appearance.
Apple Remote Keyboard: With this feature, a keyboard appears on your iPhone, iPad, or iPod touch whenever you select a text field on your Apple TV. Then you can quickly enter text on your Apple TV using the keyboard on your iOS device.
Display Accommodations: Colour Filters can help you distinguish colours or read onscreen text.
The much-anticipated Asus ZenFone 3 Deluxe has finally gone on sale in the company's home country, Taiwan. The Snapdragon 821 SoC-powered ZenFone 3 Deluxe has been priced at TWD 24,990 (approximately Rs. 52,000 or $800). The Asus ZenFone 3 Deluxe has now become the first commercial smartphone featuring the brand new Qualcomm Snapdragon 821 to be available in the markets.
According to GizmoChina, the ZenFone 3 Deluxe will be available in Glacier Silver, which will start shipping from September 12, and Shimmer Gold, which will be available from September 23.
Apart from the Snapdragon 821 SoC, the new ZenFone 3 Deluxe also packs a massive 256GB of built-in storage. Rest of the specifications of the new ZenFone 3 are identical to the 'regular' ZenFone 3 Deluxe models. It features a 5.7-inch full-HD Super Amoled display and packs a whopping 6GB of RAM and supports expandable storage via microSD card (up to 128GB). The rear camera sports a 23-megapixel Sony sensor with 4K video support and also packs an 8-megapixel front camera. There is 3000mAh battery on board. It measures 156.4×77.4×7.5mm and runs Asus Zen UI based on Android 6.0 Marshmallow.
Asus at the global launch in May had revealed pricing of the some ZenFone 3 models, the Asus ZenFone 3 (ZE552KL) was priced starting at $249 (roughly Rs. 16,800), the Asus ZenFone 3 Deluxe (ZS570KL) priced at $499 (roughly Rs. 33,600), and the Asus ZenFone 3 Ultra (ZU680KL) priced at $479 (roughly Rs. 32,200). The Taiwanese company however had not announced the pricing for the Snapdragon 821-based ZenFone3 Deluxe back in May.
Recently, Asus India launched the ZenFone 3 series in the country. The ZenFone 3 (ZE520KL) was priced at Rs. 21,999, the ZenFone 3 (ZE552KL) at Rs. 27,999, the ZenFone 3 Ultra (ZU680KL) at Rs. 49,999, and ZenFone 3 Laser (ZC551KL) at 18,999. The high-end ZenFone 3 Deluxe (ZS570KL) starts at Rs. 49,999, with the Snapdragon 821 model priced at Rs. 62,999.
["source-gadgets.ndtv"]
OnePlus on Wednesday announced that the Soft Gold variant of the OnePlus 3 will be launching in India in the first week of October. The company notes the launch timing is meant to coincide with the festive season in the country.
The OnePlus 3 Soft Gold variant will sport the same price tag as the Graphite colour variant, and will be available at Rs. 27,999. OnePlus also announced launch offers for the smartphone, with Rs. 500 worth of Amazon Kindle Credits, a 12-month double data offer from Idea Cellular, and 12-month OnePlus complimentary accidental damage protection via Servify.
The Graphite colour variant of the OnePlus 3 (Review) was launched globally and in India back in June, and we found it to be a smartphone that ticked almost all the right boxes in our review.
The dual-SIM OnePlus 3 runs OxygenOS based on Android 6.0.1 Marshmallow, and sports a 5.5-inch full-HD Optic Amoled display with Gorilla Glass 4 protection. The smartphone is powered by a Qualcomm Snapdragon 820 SoC that's coupled with 6GB of LPDDR4 RAM. The smartphone features a home button which sports a fingerprint sensor. It also comes with capacitive hardware keys, apart from the Alert Slider.
The OnePlus 3 has a 16-megapixel rear camera with a Sony IMX298 sensor, an f/2.0 aperture, OIS and EIS, and PDAF autofocus, apart from RAW image support, 4K video recording support, and a Smile Capture mode. The front camera bears a Sony IMX179 sensor, an f/2.0 aperture on the fixed focus lens, and benefits from EIS. It can also handle 1080p video recording. The OnePlus 3 sports 64GB of inbuilt storage, which is not expandable.
The modem on board the OnePlus 3 offers 4G LTE Cat. 6 connectivity, with support for India's LTE bands. Other connectivity options include Wi-Fi 802.11ac, Bluetooth 4.2, NFC (unlike the OnePlus 2), USB Type-C port, a 3.5mm audio jack, and GPS/ A-GPS. It measures 152.7×74.7×7.35mm, and weighs in at 158 grams. It is powered by a non-removable 3000mAh battery that's bundled with a Dash Charge adapter.
["source-gadgets.ndtv"]
Global Internet and technology conglomerate LeEco on Friday announced the extension of its membership programme from one year to three years for buyers of both its 'Superphones' and Super TVs.
LeEco currently bundles one year of LeEco Membership with every handset, starting with the Le 1s in Eco in May. With the launch of its Super TVs, LeEco offered two years of membership.
Superphone users can now extend their membership to three years with the purchase of a Super TV.
LeEco at the beginning of August launched its Super3 series of televisions in India. Three models of the series are being made available in the country, the 55-inch Super3 X55, the 65-inch Super3 X65, and the 65-inch flagship model – the Super3 Max65. All three offer 4K Ultra HD (3840×2160) resolutions, while only the flagship model supports FPR 3D and comes with bundled glasses.
The LeEco Super3 X55 has been priced at Rs. 59,790, while the LeEco Super3 X65 has been priced at Rs. 99,790, and the LeEco Super3 Max65 has been priced at Rs. 1,49,790.
The LeEco televisions launched in India come preloaded with the company's own content-viewing apps, such as Le Vidi, Le Live, LeView along with other tailor-made apps like Panosearch. LeEco says this will users access to roughly 2,000 films from Hollywood and Bollywood, more than 100 satellite TV channels, 3.5 million songs (which will come soon via software upgrade), and more than 50 live concerts.
["source-gadgets.ndtv"]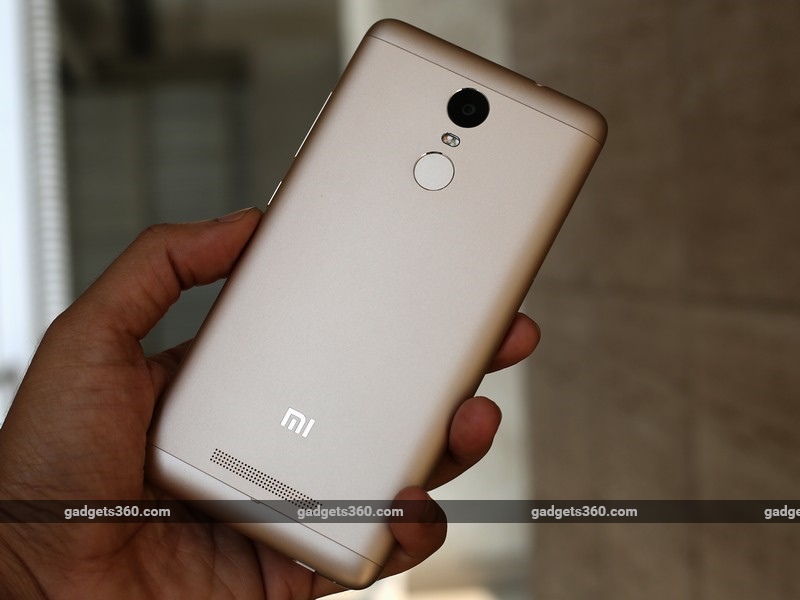 Xiaomi on Monday announced it had shipped 1.75 million units of the Redmi Note 3 in just five months. The company also pointed to a recent IDC report that said it had shipped 880,000 units of the smartphone in the online channel in Q2 2016 – which it claims is almost twice the volume of the next-highest shipped smartphone in India during the period.
The Chinese company quotes Karthik J, Senior Market Analyst, Client Devices, IDC India, to say, "Redmi Note 3 was not only the top selling model in online channel but also a star product for the vendor contributing to the majority of Xiaomi's total shipments in Q2 2016."
A separate IDC statement quoted by Xiaomi adds, "Redmi Note 3 is the single highest-shipped smartphone ever in the history of India's online market in any given quarter."
To recall, the Xiaomi Redmi Note 3 (Review) was launched in India in March.
Xiaomi entered the Indian market in July 2014, and in the two years till July 2016, the company claims to have enjoyed a 72 percent year-on-year growth rate in terms of smartphone sales in the country.
Xiaomi India Head, Manu Jain, added, "It has been extremely encouraging to witness the overwhelming support for Redmi Note 3 in India, such that it has become the best-selling smartphone ever in the online market. We cannot thank our Mi Fans enough for such an incredible response and making this success possible for us. Our commitment towards Make in India has further acted as a catalyst in meeting the demand for our popular Redmi series. We are committed to sustaining the momentum and will continue to launch amazing products here in India."
["source-gadgets.ndtv"]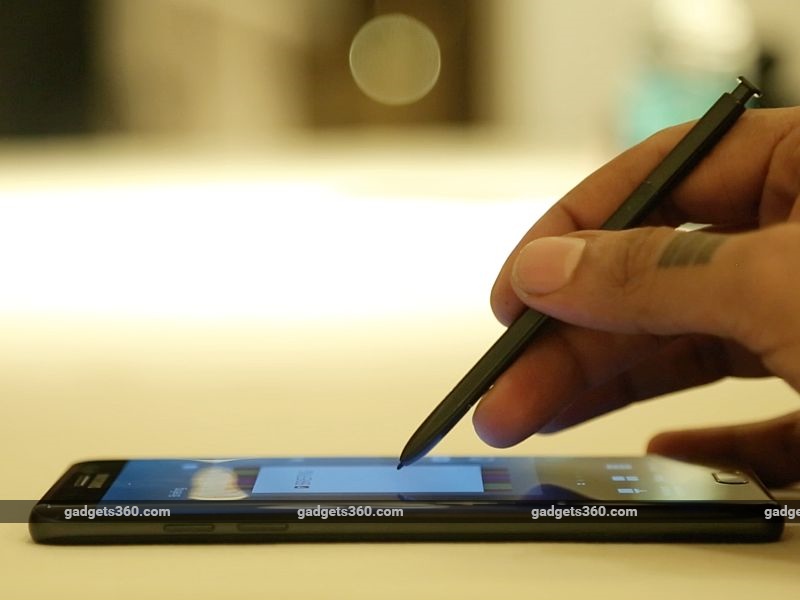 Samsung announced its flagship phablet Galaxy Note 7 earlier this month, and the smartphone was launched in India on Thursday. Even though the latest entry into Samsung's Galaxy Note series will come running Android 6.0.1 Marshmallow out of the box, the South-Korean company has reportedly said that Android 7.0 Nougat is making its way to the smartphone in next two to three months.
According to a report by The Korea Times, Samsung Mobile chief Koh Dong-jin revealed the timeline, and said, "It is very important for us to offer up-to-date information with the new OS, but what's more crucial is to build a stable and seamless platform for users."
"That's why we are planning to do enough beta testing before any OS updates," Koh added.
Android 7.0 Nougat will bring improvements like multi-window support, enhanced notifications, revamped doze, number blocking, and more.
The Galaxy Note 7 has been priced at Rs. 59,900, and will become available in the India from September 2 in Gold Platinum, Silver Titanium, and Black Onyx colour variants. Galaxy Note 7 variant in India will come with Samsung Exynos 8890 Octa SoC (four cores clocked at 2.3GHz and four cores clocked at 1.6GHz), coupled with 4GB of LPDDR4 RAM.
 
["source-gadgets.ndtv"]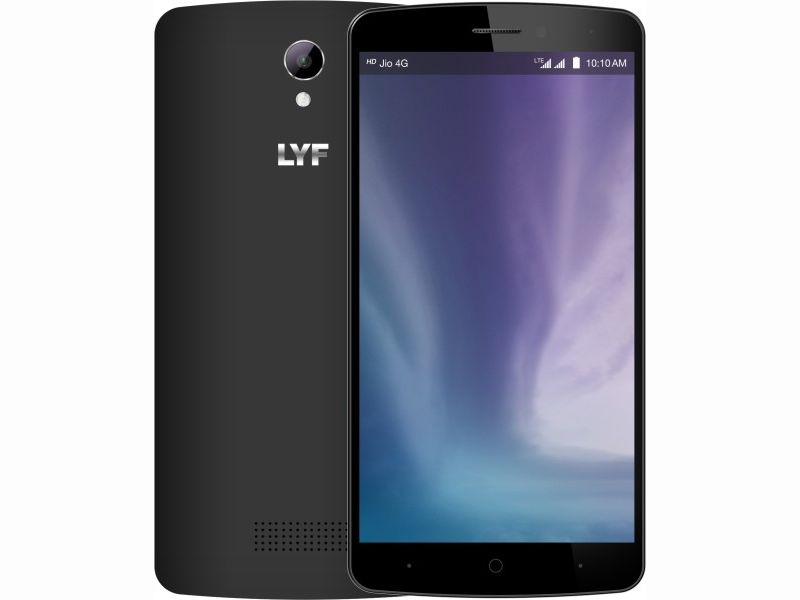 Reliance Retail's Lyf brand is gearing up to launch two new smartphones, the Wind 3 and Flame 8, in India. Both the smartphones will be the first to go on sale via a third party e-commerce website Flipkart. As of now, there is no word whether both these handsets will be also available via the company's offline retail channel.
The Lyf Wind 3 (seen above) has been priced at Rs. 6,999 while the Lyf Flame 8 will be available at Rs. 4,199. Both these smartphones are still listed as 'coming soon', and are expected to go on sale from Wednesday under Flipkart's Freedom sale. The company via its Twitter handle confirms the Wednesday availability of the Lyf Wind 3 on Flipkart, and that it will come with the Jio Preview Offer for 3 months. The Lyf Flame 8 is expected to be available under a similar offer.
Much like other Lyf-branded smartphones, the Lyf Wind 3 and Flame 8 smartphones support 4G LTE bands in India – FDD-LTE Band 3 (1800MHz) and TDD-LTE Band 40 (2300MHz). Both handsets also support VoLTE (voice over LTE) with HD voice call compatibility.
The dual-SIM (Micro-SIM + Micro-SIM) Lyf Wind 3 sports a 5.5-inch HD (720×1280 pixels) IPS LCD display with Asahi Dragontrail Glass and 267ppi pixel density. It runs Android 5.1 Lollipop out-of-the-box. The Wind 3 smartphone supports 4G connectivity only on a single SIM card slot at a time.
The smartphone is powered by 1.2GHz quad-core Qualcomm Snapdragon 410 (MSM8916) processor coupled with 2GB of RAM. It sports an 8-megapixel autofocus rear camera with LED flash and a 2-megapixel fixed-focus front camera. The smartphone packs 16GB of inbuilt storage and supports expandable storage via microSD card (up to 64GB).
Connectivity options include GPRS/ EDGE, 3G, GPS, Bluetooth, Wi-Fi, and Micro-USB, apart from 4G (LTE Cat. 4 support). The handset measures 152.6×76.6×9.4mm and weighs 160 grams. The Lyf Wind 3 is backed by a 2920mAh battery.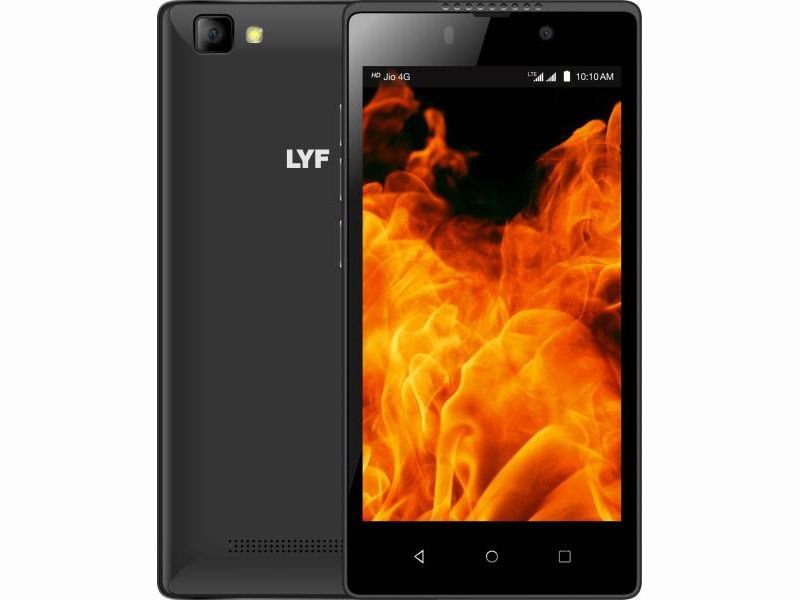 The dual-SIM (Nano-SIM + Nano-SIM) supporting Lyf Flame 8 (seen above) smartphone features a 4.5-inch FWVGA (480×854 pixels) IPS LCD display with a pixel density of 218ppi and runs Android 5.1 Lollipop out-of-the-box. The company says both SIM card slots are 4G enabled; though, at one time only one SIM can use 4G while the other will work on 2G.
It is powered by a 1.1GHz quad-core Qualcomm Snapdragon 210 (MSM8909) processor clubbed with 1GB of RAM. The Lyf Flame 8 packs 8GB of inbuilt storage and supports expandable storage via microSD card (up to 128GB). The Android Lollipop-based smartphone sports an 8-megapixel autofocus rear camera with LED flash along with a 5-megapixel front-facing camera. Some of the camera features include autofocus, face detection, and smile detection modes. Connectivity options include GPRS/ EDGE, 3G, GPS, Bluetooth, Wi-Fi, and Micro-USB, apart from 4G.
Measuring 132.6×66.2×9.3mm, the Lyf Flame 8 weighs 138 grams. It packs a 2000mAh battery and will be available in Black and White colours. The launch was first reported by TechPP.
["source-gadgets.ndtv"]